Rangers fans need to start asking tough questions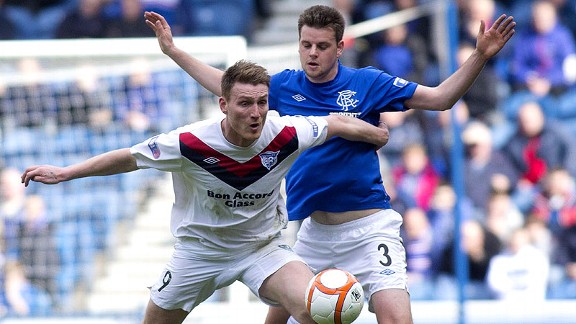 AP ImagesRangers' headaches away from the field were compounded by a home loss to Peterhead.
It's almost impossible to write something coherent about Rangers at the moment, since the club itself lacks any clear direction on or off the field.

Rangers' defeat at home to Peterhead on Saturday was not expected, but also no great surprise. The problems with the team have been well-documented, and except for a brief spell around November and December, they have failed to entertain the support.

- Misery on the pitch for Rangers

When the fans are watching Third Division teams and suffering a hangover from the financial meltdown, there should have been an emphasis on good football to keep the fans coming back, both for this season and the next.

Ally McCoist should be praised for winning the league with a squad that isn't of his choosing, but must be criticised for a standard of football that is near depressing.

Off the field Charles Green has stepped down as Chief Executive, and the search is on to fill the post. Or is it? In any normal organisation such an important job would be advertised and the best candidate would be chosen.

Rumours that Craig Mather -- an investor and a current director of sports development -- could be rushed into the role permanently seems bizarre. If it is on an interim basis then fine, but if not, the indecent haste would be a bad sign.

If some within the boardroom don't want to bring in other candidates to try for the job, then there must be the suspicion that their choice is to protect their own best interests, rather than that of the club. Mather may well be the best man for the job, but why not make sure? Who gains and who loses by his appointment?

Once again, it is the fans who suffer. Stuck between different factions within the boardroom; investors who are only interested in making money from the club and claims that "at least two high net-worth Rangers fans" are interested in making a move to take control of the company, then it seems there will soon be a battle for the soul of the club.

Interestingly, it's not guaranteed that the majority of the fan base would pick the side that wants the best for Rangers. Of course, this would not be a deliberate policy, but there is no doubt that many supported Sir David Murray, Craig Whyte and even Green because they told them what they wanted to hear.

Looking through fan forums trying to gauge opinions, it becomes apparent that there is a large minority who explicitly say they prefer nameless venture capitalists to Walter Smith, Malcolm Murray, or other fans.

Rangers supporters should never get a free pass because they have influence or money (these pages have already asked questions of Smith), but the myth that investors and board members of a business only succeed if the company does well seems like an odd deference to the market. In Rangers' fragile state, profit needs to stay within the club.

Overall, it's a huge mess, and unless the fans get together or a takeover happens with someone who genuinely puts the club first, then it will only continue. A bold step needs to be taken by someone or some group, but so far this is the one thing that has been lacking in the Rangers saga.

Supporters need to stop believing that people with no links to the Light Blues care about the club or are there to see it progress without personal profit. Time to start asking tough questions just in case things take a turn for the worse.