If Green did try and influence St Mirren, so what?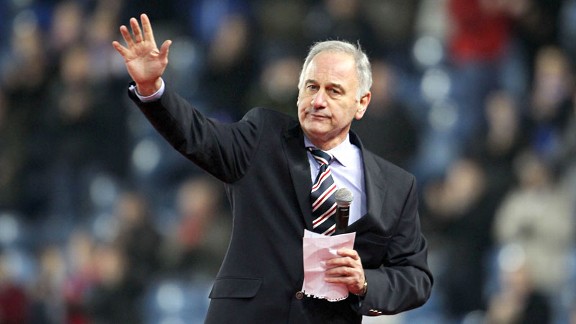 AP PhotoEven the color of Rangers CEO Charles Green's tie while attending a match at St. Mirren has been scrutinized by the Scottish press.
One of the interesting outcomes of Ross County and St Mirren voting against the league reconstruction proposals was the childish outbursts trying to link Rangers with St Mirren Chairman Stewart Gilmour's 'No' vote. The big scandal? Charles Green went to a home game for the Paisley side.

- St. Mirren chairman defends 'no' vote

For once it didn't start on some extreme website, but seemed to come from within some Scottish Premier League clubs. Stewart Gilmour even had to defend himself by saying, "Any club official who would suggest such a thing, we would look at it legally because it is slanderous."

He also added, "Charles Green did attend a game at St Mirren Park. But, like any director, chairman or manager from any football club, when they make a request for tickets by email, they are shown the same hospitality by the club as any other representative. During Mr Green's visit, there was no discussion about league reconstruction. In fact, the only thing we did speak about was agents, players wages, etc."

But that didn't end the gossip and it culminated in a press conference on Wednesday where it was brought up again. If there was a five minute period which showed the infantile nature of Scottish football this was it. It was a media conference in which they even went on to discuss the colour of Green's tie!

The normally savvy sportswriter, Tom English, actually asked, "Are you aware of what it [Green being at St Mirren Park] looked like?" He went on to say he doesn't believe in 'conspiracy theories', yet still felt the bizarre question was worthwhile.

The response from Gilmour was to again point out that he can't be rude and tell a fellow Scottish club board member not to turn up. This is an adequate response, but he should have been stronger. Maybe the Rangers CEO was just playing mind games with other SPL clubs, or maybe Green did try and influence Gilmour. But so what?

Why was there a group of professional journalists so bothered at the possibility of one club trying to influence another? It happens all the time. In fact, 'The Scotsman' published an article a few days before the SPL meeting pointing out that Celtic Chief Executive, Peter Lawwell, would try and 'lean' on the Ross County Chairman Roy MacGregor.

The article goes on to say, "Asked if he would be speaking to MacGregor ahead of the meeting, Lawwell said: 'If that's what it takes, yes.'" After going on to say what a wonderful job MacGregor is doing Lawwell adds, "Maybe he should listen."

So why is there no fuss with this? Is it only Rangers who can't try and give their side of the story to other clubs? What Lawwell said or did is perfectly legitimate, and the same would go for Green if he wanted to discuss the future of Scottish football with anyone he pleases.

That some people feel aggrieved the Light Blues wish to act in the same self-interested manner as everyone else, show the 'witch-hunt' mentality of 2012 has not left the Scottish game or media.

Time for Scottish football to grow up before it is too late.