Rangers board doesn't accept Green's word
With the title wrapped up, and the squad ravaged by injuries, it's pointless to complain that the 2-0 victory over Clyde at Ibrox Sunday had the feel and tempo of a pre-season friendly. The focus for the Rangers staff should be on ensuring the squad for next season is one that will win the division, and play better football.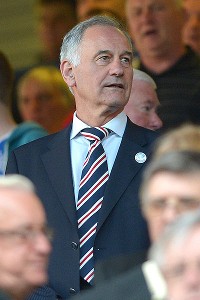 Mark Runnacles/Getty ImagesThe ongoing drama surrounding Charles Green is a headache Rangers supporters don't need.
Unfortunately, much of the focus in recent weeks has been off the field and surrounds the past and present behaviour of the club's chief executive, Charles Green. On Saturday, the Rangers board met to discuss the recent allegations of his links with former owner Craig Whyte, and also his racist language towards commercial director Imran Ahmad.

After a three-hour meeting, the board decided, "it is to commission an independent examination and report in view of recent allegations in the media concerning the Chief Executive, Charles Green, the Commercial Director, Imran Ahmad, and their management of the Club.

"The independent report will be commissioned and completed as speedily as possible and presented directly to the non-executive directors of the company.

"The Chief Executive will not be involved in the conduct of the examination. The Board wishes to make clear that is not prejudging any of the issues involved and that the object of this exercise is to clarify the situation to the satisfaction of shareholders, supporters, staff and Board members."

Many have judged this as a victory for common sense. It certainly sounds fair, since an 'independent examination' should be objective and all will be revealed. But this is to miss the point. Rangers are not a court of law or a seeker for pure truth. What the board have indirectly revealed is that they can no longer trust their chief executive.

It is extraordinary that Rangers FC can be led with a CEO who speaks to his board on an important matter, yet they don't believe him without an investigation. And this is after only one year!

If the Rangers board can't take the word of their CEO, then that should be enough to see change. After all the talk of being a financially responsible and having an open board room with the best interests of the club at heart, it is still the same old murky waters of personal ambition, vested interest and lack of strategic thinking.

What happens if the investigation finds Green was working with Whyte after starting with Rangers, or something equally damaging? It's unlikely, but are they going to publish this knowledge and allow the Scottish Football Association to hammer the club into oblivion? Possibly bringing disaster to your organisation so that one employee might be protected is foolish.

It shows how powerful Green has been at Ibrox recently. No other CEO could have survived what he said about 'p-k-s' or been caught giving statements that later turned out to be untrue or exaggerated.

Even after the misery of Whyte, many within the club and fan base haven't learned their lesson. Rangers need solid professionals who are only interested in doing their best for the club and not employees who bring trouble. It doesn't matter who it is -- if your presence brings discord and distrust, then you shouldn't be at Ibrox.

Even if you disagree with this argument, notice that like David Murray and Whyte's tenure, the interests of Rangers are again secondary to an individual. That alone should tell you something.