Please, no self-righteousness over the Sandaza call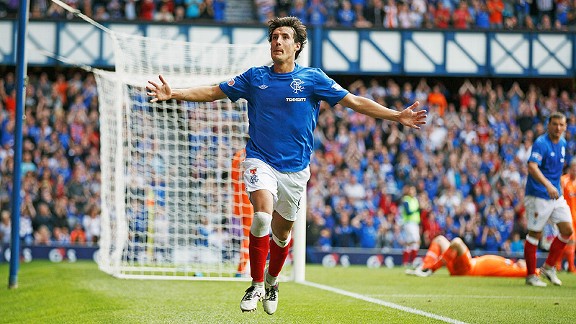 Lynne Cameron/PA Wire/AP PhotoFran Sardanza will not return to Rangers until an investigation is complete.
With Fran Sandaza allegedly duped by a hoax caller into giving contract details and discussing a possible transfer without notifying Rangers, there was a string of faux 'shock' headlines that he was "only there for the money".

Of course he is only there for the money! There are few footballers anywhere who are not at their clubs because they are being paid for it. Or to be more accurate, there are few who would not leave their current employers for a bigger wedge of cash if offered. And quite right they are too!

What Sandaza said was pretty standard for footballers and it is only the allegation that he said, "do not do it officially through the club. Send me the contract first. I don't want trouble if Rangers find out about this," which has brought him real trouble and a suspension.

- Rangers suspend Sandanza after hoax call

When he did this he was probably breaking SFA rules, and presumably his contract, but the rest of the conversation was no big deal as he added, "The money is good. The club is amazing -- it is a very, very big club -- and the supporters are amazing. Obviously if I get a better league and more money I would go. I have been playing all my life to get a good contract for me and my family, so that is why I signed here. I wanted a contract that solved my life. I didn't sign for the level [of football at which Rangers are currently playing]. I signed for the money and because they are a good club."

Is there any Rangers fan who thought he was there for 'the journey' back to the top in the first place? Is Ian Black or Dean Shiels playing for pride or pay? If Rangers hadn't offered David Templeton thousands of pounds per week would he be there either? Sandaza revealed he is earning £4,500 per week, incrementally rising to £10,000 in the final year of his contract, and it can only be assumed many others are on similar pay packets, hence why they signed.

If anything, Sandaza could have been snide about the club or fans, as he assumes it's a private conversation, yet he still gives Rangers and the fans a compliment. The problem isn't what he said, it's the secrecy. And after the events of the 2012 summer, the support are still slightly tender over player behaviour.

Many of the badge-kissers and 'Rangers men' couldn't leave quickly enough when they realised their wages would go down or they would have to play in a lower league.

Again, that is fine, but the real test of character was how they did it. One of the worst captains in Rangers' history, Steven Davis, alongside fellow Ulsterman Kyle Lafferty, left without uttering a word of thanks.

Some who did speak, like Steven Whittaker and Steven Naismith, must now wish they hadn't. In an infamous 'press conference' their words cut into an already traumatised support and it is unlikely to be forgiven or forgotten. Americans Carlos Bocanegra and Maurice Edu -- each of whom had no previous links to the Light Blues -- showed you can leave or go on loan, and as long as it is done with respect, fans don't mind.

Some supporters often say that if given the chance they would play for nothing or for a reduced wage, but that is because they know it is a fantasy. In reality, if someone is employing you then you should get as much as they are willing to pay. And as Sandaza points out, he is only trying to get a contract to support his family.

But that doesn't mean the fans should be happy with him.

They are right to ask for better and if it's proven that he acted unprofessionally he should be punished accordingly. But please, let's ask for no more than that. The temptation to be self-righteous should be tempered.

If fans have to get overly moralistic, then maybe they should be asking why the club has not learned its lesson and is continuing to pay too much for average or above-average players.