Sorry Ally, the performance was still poor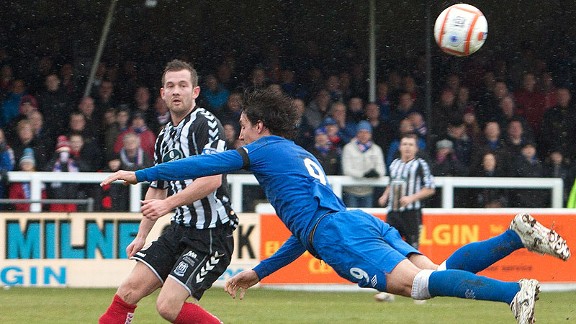 Press Association via AP ImagesRangers didn't exactly soar in their 1-0 win at Elgin City.
A 73rd minute penalty from captain Lee McCulloch was enough to see Rangers defeat Elgin City 1-0 at Borough Briggs. Depending on the Queen's Park results, it means the Light Blues could have the SFL3 title won in the next few weeks.

After the embarrassing 1-2 defeat from Annan Athletic at Ibrox the previous Saturday, it was important for the team to get back to winning ways in good style and Ally McCoist's post-match comments confirmed just that when he said, "The performance was just what was required after the disappointment of last weekend."

The only problem is that the performance was once again woeful. How the Rangers manager can say the way his team played was satisfactory, never mind "what was required" is baffling. There is a growing chasm between the perceptions of the support and management, as there is little doubt that the majority of the Gers support are becoming extremely frustrated with what they are seeing.

Against Elgin, Rangers' only proven goal-scorers, Andy Little and McCulloch, were playing right-midfield and centre-half respectively. Chris Hegarty, who has been playing centre-half, was pushed to right back while defender Sebastien Faure was playing as a holding midfielder.

To be fair, this is not as bonkers as it sounds. Rangers have been leaking goals and McCulloch is the best centre-half at the club. Anestis Argyriou, who had become the regular right back, has been poor for the last few weeks while Faure was brought in to cover the weak central defence.

McCoist knows Rangers are defensively atrocious and came away today with a clean sheet, so he has succeeded here, but it only magnifies how bad the defence is if it needs such protection. But like the rest of the season, it's not so much a poor back line that worries the Rangers support (only Lee Wallace will survive into next season), it's the middle-to-front, both in formation and personnel, that brings the frowns and groans because it should be so much better now.

If the Rangers management persist with the 'one up front' system -- although why they do is a mystery -- then surely as soon as McCulloch is taken away, Little has to start? Fran Sandaza, although he still has much to offer if given the right service, cannot play well in that system. He needs a partner to play off, and is hopeless trying to do anything with long balls either at his head or into space.

Describing the attacking style of this Light Blues side as one-dimensional and predictable has all been said before, so there is no point going over it again. But at least the management didn't say they were happy with those performances as they did after Elgin.

With more and more people criticising how his team are playing, even up to the CEO Charles Green, it's a sign how much pressure McCoist is under. Maybe he feels that criticising the team is now a finger in his direction. In a press conference before the match he showed it was getting to him by saying, "I think there will be massive differences in opinion on the job done. There will people out there, without doubt, who will not give us any credit at all if and when we are lucky enough to win the league. [...] As I say there is no-one from the outside that really knows what's going on. It's very easy to have an opinion without full knowledge of what is going on and that's the beauty of football."

The problem for the Rangers boss is that it isn't really a pack of journalists hounding him; it's the reasonable frustration of the support who pay anything and travel anywhere to see their team. He will win this league, and come the 1st of September, will have the ridiculous transfer ban lifted, thereby untying his hands. He must be given at least another season to see what he can do, but that this is even an issue shows how badly the team are currently playing.