Who in the current team will be there in 2016?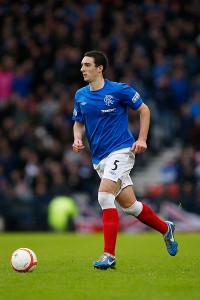 Tom Shaw/Getty ImagesRangers supporters are hoping Lee Wallace is leading the squad three years from now.
In an interesting article for the Evening Times, former Rangers player Ian McCall suggested that only Lee Wallace and Lewis Macleod will be good enough to play in the first team when Rangers reach the highest division again.

It sounds like an overly critical piece and many fans will be unhappy with suggesting their young guns aren't top quality, but it was written without malice, and anyone who believes this current Rangers team will be similar to the one in 2016 is in for a major shock.

Injuries, age, form and transfers will see many changes over the next 12 months, never mind in 36 months. Players might be snapped up by English Premiership clubs or fade into obscurity. It's impossible to tell and anyone who predicts the future of football too precisely is a fool, so let's waste no further time in doing just that!

Firstly, McCall is correct about Wallace and Macleod. The former is an established player who could easily play in the SPL today. If he stays on the journey all the way to the top division, then he will undoubtedly become club captain and a legend. If he leaves before then, no one should hold any grudges since he has done more for the club in one season than all the badge-kissers in history.

For Macleod, unexpected occurrences aside, the only way he will not be at Ibrox in the top tier is if he is playing in a better league. This is a teenager who plays with the head of a 30-year-old, both in vision and maturity. I've described him previously as the hub of the wheel. You don't notice him with fancy flicks or 40-yard passes, but without him in the centre everything stops turning.

So far McCall was spot on, but what about the rest? He gives David Templeton "a chance" to be a regular but this is probably a tad unfair. He's still relatively young and he certainly has plenty of ability so I'll disagree with him here - Templeton alongside Wallace and Macleod will be in Rangers' starting eleven in 2016.

Another two who are good enough to be close to a regular place are Kyle Hutton and Andy Little. It might be easier to score in the fourth-tier rather than the top tier, but the finishing from the Ulsterman has been clinical. You can't teach composure in front of goal, and he has plenty.

Hutton has the makings of a really top midfielder if he continues to work hard at his game. He is strong, good in the air and can tackle and pass. Even this season he seems the perfect foil to Macleod. Whether he, or Little, will be an automatic choice is debatable, but it would be a good bet to think they will be in the squad.

On the negative side -- and you are welcome to disagree since it is only a guess -- Fran Sandaza, Dean Shiels, Ian Black, Chris Hegarty, Ross Perry, Anestis Argyriou and Sebastien Faure will not be Rangers. It shouldn't surprise if most have gone by 2014, never mind 2016.

The first three were SPL standard but have not performed well this season and are unreliable. The last four are simply not good enough for a top-division Rangers starting line-up. It's also safe to assume Neil Alexander, Emilson Cribari and Lee McCulloch will also be gone.

But what about the young players such as Barrie McKay, Fraser Aird, Robbie Crawford, Kal Naismith and Tom Walsh? It's really difficult to say who will fulfill their potential, but the one player who I'd be confident will still be a Rangers player in 2016 is Crawford. He's still to develop physically, but like Macleod, he already has a maturity and class about his play that will only improve with time.

But then who really knows if any of this will come to pass? Life is full of surprises and maybe many more will be in the 2016 Rangers side, or none at all. Since it is only conjecture (and a bit of fun), please feel free to pass on your own views in the comments section below.