The jury is still out on Rangers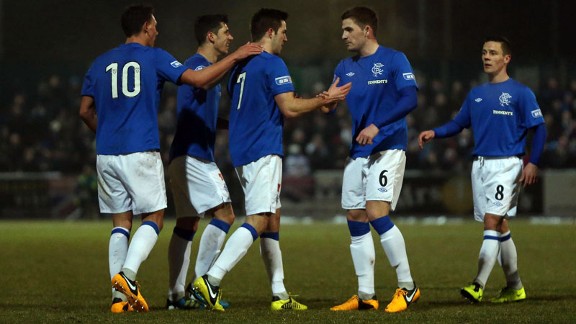 APAndrew Little celebrates his goal
The last time Rangers played Stirling Albion at Forthbank it resulted in the only league loss so far this season and also a major embarrassment. On Tuesday night there was still embarrassment for the Light Blues, although it was tempered by being a 1-1 draw.

As daft as it initially might seem, the result was less disappointing than the performance. If Andy Little, who had a good game, had burst the net in the final minute to win the game then it would still have been a very poor show.

Although Stirling Albion had a few half-chances in the opening period, Rangers were in control, although still in first gear. They went ahead with another good Andy Little goal to confirm that the Northern Irishman was still on fire. But as soon as the home team equalised early in the second-half then the Gers lost all composure.

They resorted to big punts, rushed football, arguing with the referee and lacked the drive to take the game by the scruff of the neck, while each Stirling Albion player grew a foot taller with confidence. Strangely, whether Rangers win or lose they rarely burst out the tunnel to totally destroy the opposition. The majority of fans know this is a makeshift team hampered for a year, but this isn't the Scottish Premier League.

They are playing the worst part-time players in Scotland and regardless how many games have been won and how definite the league title victory, the performances have been ragged.

This season was an opportunity to create a foundation of free-flowing football. Looking back, it was enough for Rangers to be efficient at first, but when they settled down into winning ways, it was then that they should have turned on the style.

Not 'style' relative to Europe's best, but a passing game that is far superior to the SFL3. These players can do it, since in bursts they can play lovely stuff, but for some reason they more often than not fail to keep that energy or movement.

Are they lazy? Do they play in an ill-suited formation? Is Ally McCoist a bad manager or are the players of a lesser standard than their wage packet would assume? They are all obviously good enough to win the lowest tier, but are they good enough to go further?

These are valid questions but unfortunately no-one can definitively answer them until McCoist gets his own team and is not hampered by a transfer registration ban. It doesn't look as if he has a full grip of the squad's system or how they play and the chance of creating a footballing philosophy from scratch seems to be less important than a game by game efficacy, but who really knows since he has both hands tied behind his back.

It hasn't helped that big players have been injured and signings like Fran Sandaza and Dean Shiels have been largely passengers. The big positive is that the young players coming through have been very good, and at times have carried the team forward.

McCoist deserves praise for keeping the club going and for the certainty of a league win and promotion, but he also deserves criticism for many poor performances too. This might be the evidence for and against this team and the manager, but the only real judgement can be made next season when all the resources are available. Until then the jury is still out.