Rangers going through the motions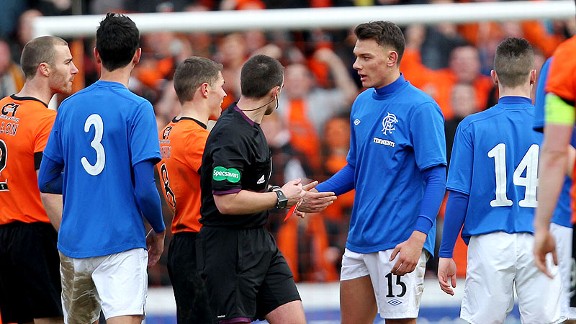 Press Association via AP ImagesKal Naismith's late red card summed up a frustrating day for Rangers.
Rangers are like a boxer working their way through the ranks after a big defeat; incrementally learning new things and gaining confidence until they eventually peak and get another chance to re-take their championship belt.

The big difference is that they are fighting with one hand tied behind their back, with a transfer registration embargo and a lack of preparation being the rope. If they could pick or choose their matches like boxers do, they would wait a few years until they faced Dundee United.

So defeat at Tannadice in the Scottish Cup was hardly a shock and merely confirmed what many already knew: this Rangers team are not good enough for the Premier division. The central defence of Emilson Cribari and Ross Perry is the worst in recent memory and couldn't last 20 seconds before their inadequacies were comically exposed.

- Match report: Dundee United 3-0 Rangers

Some still think one or both have 'a chance' of being a Rangers defender in years to come, and it is not fair to suggest otherwise. The fact that both have struggled in SFL3 should have been a clue that they won't cope well at a higher level -- and they didn't.

What's more disappointing for fans are players like Dean Shiels who are (or were) SPL standard, but who do little to justify that tag in a royal blue jersey. The sad truth is that too many are comfortable just doing enough to get by against part-timers and have lost their edge.

When Ian Black went through the motions on Saturday and made silly tackles ensuring he had no option but to get red-carded and then embarrassed the club with silly gestures as if it was all some big joke, why should he worry when he will probably walk back into the team for the next match?

There is a genuine question among the fans whether there is a lack of professionalism at Ibrox, or if it's simply because of circumstances that the team can be so bad. Whatever the reason, there is no doubt there needs to be some immediate changes.

There's no shame in being beaten by a better side -- and Dundee United are a better side at the moment -- but this Gers team should still be faster, sharper and play better football than they are doing. Their banal performances are continually disjointed and show little passion.

Even the fact more than one person inside Scottish football has questioned the fitness of Rangers players is a bad sign.

Professionalism isn't really about being better than others, although that helps, it's about doing everything to be at your best. Can Rangers' players and management honestly say that they are doing as well as they can? Are they all fully fit? Do they eat the best food? Do they train as hard as they can and study the game as best as they can? Do they try their hardest on the pitch or do they just do what they can to get by?

There are so many questions and only the future will answer them, but for the moment the fans expect the best effort the players can achieve and it's simply not happening.