Poor performances or just growing pains?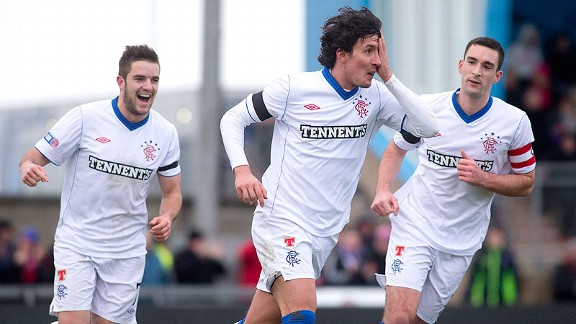 Press Association/AP ImagesFrancisco Sandaza, center, scored Sunday's winner for Rangers
Rangers' 1-0 victory at Peterhead on Sunday keeps the Light Blues 19 points clear in SFL3 and for that Ally McCoist must be praised. He has taken a makeshift squad that was largely foisted upon him and ensured they will be promoted. However, performances remain poor and there are rumbles among the support that it is not good enough.

So is it fair to criticise McCoist or is it unfair considering the registration ban and other constraints placed upon him? It's a difficult question, but maybe the answer is to look at what the management team can control and what they can't, rather than praise or blame them for everything.

There are players in the squad who are only there because of the financial problems Rangers faced in the summer. The defence, except for Lee Wallace, is not one who would be playing in normal circumstances, so leaking goals is something the club and the fans will have to live with until Sept. 1 when the embargo is lifted.

Relying on young players, who are notoriously inconsistent, is not McCoist's fault, either. No one can say this a team chosen by the manager so this has to be considered. The results are fine so maybe he is just doing what he has to do until he can put his own mark on a Rangers team.

However, although much has been out of his control, there are areas he can fully master that seem to be doing worse than expected. This is the best squad in the league by a long way, yet the passing and movement from players is poor. There were a few games at the beginning of December when the fans saw how well they can do when they click, but recently they seem to have reverted back to percentage football.

Instead of keeping possession and letting the opposition chase, the players seen to be hitting the ball into channels or always looking for a killer pass. There's nothing wrong with being direct on occasion, but giving the ball away because you believe you will get it back anyway is a bad habit to pick up, since you won't always be playing such poor teams.

Related to the poor passing is a lack of movement and all this can possibly be blamed on the formation chosen. The one up-front is working in results but not in performance. That might be an answer to any complaint since winning is what it's all about, but only if playing 4-4-2 (or a variant) would not produce results and better performances. Many believe the latter would be the case.

As Derek McInnes said on ESPN while discussing Francisco Sandaza, who scored the winner Sunday: "I think it's important that Rangers have got people who [can] run past him. I always felt Fran needed a bit of pace close to him. When he is straight up and down…it's not his best qualities at taking the ball in and linking it. He's got to have somebody up there closer to him to try and take that burden off him."

In other words he needs a striking partner, something all Rangers forwards could do with. Why the Rangers manager thinks it best to have only one striker, who is usually isolated, is a puzzle to many.

If there was a crystal ball to look into then it would be obvious that these issues show a bigger problem to come, or that it was overly critical analysis of a small dip in a team whose destination is upwards - but we don't.

Full hindsight is a perfect science, but until that stage is reached all anyone can do is point out what they believe is working and what is not, while hoping there is a football strategy in place and the management team are not just living on a match-by-match basis.