Renaming Ibrox part of new financial reality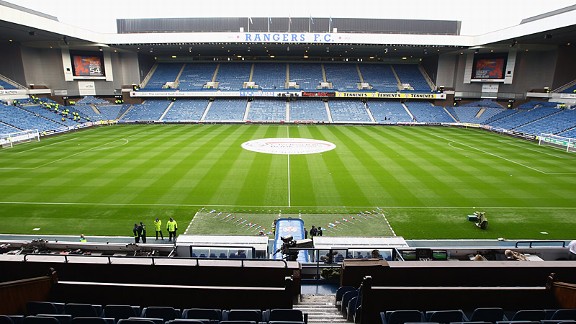 Jeff J Mitchell/Getty ImagesRealistic Rangers supporters should embrace the idea of a sponsor's name being prominent at Ibrox
In the long days of last summer - which felt very long indeed - no Rangers fan knew if they would ever see their football team again. Through years of financial mismanagement in which revenue streams were not fully utilised as much as income was wasted, the club was pushed to its knees and the head was on the chopping block.

While the financial entity did get the guillotine, the football club was saved. In a method similar to what happened to Middlesbrough FC in 1986, the club membership was transferred by football authorities from the defunct corporate organisation to the new. If the Scottish Football Association (SFA) had failed to do this, the club would have vanished.

This is why the powerful European Clubs Association (ECA) still recognise Rangers as a founding member, because for the football club nothing has changed. As Tom English in the Scotland on Sunday pointed out, "Last August, Michele Centenaro of the ECA contacted the SFA and asked for an appraisal of the Rangers situation and whether they could be deemed the same Rangers as before or a new company unworthy of acknowledgment from the ECA. The SFA's response was unambiguous. Different corporate entity but same Rangers, same history, same honours accrued over 140 years."

So Rangers fans, think from where the club was to where it is now. Okay, it's in SFL3, but the support has shown it is more passionate than ever and the dreaded broken timeline (or worse) failed to materialise. Not only that, but the new business structure is solid after a successful share issue. If it had failed and/or the fans had not turned up, the club was still very close to the edge.

Part of this is due to a new financial reality that CEO Charles Green and the board have brought in. The club should no longer pay absurd wages to 'big name' players past their sell-by date. The Light Blues must bring young players through and get a good price in a future transfer.

Money must be saved and all revenue streams should be looked at, including renting out the name of the Stadium for a set number of years. This cannot be confirmed just yet, but it looks likely the Light Blues will do it soon. (In November, Rangers manager Ally McCoist said he was open to the idea.)

It's difficult to say how many fans would be for or against it, but they should keep last summer in mind. Remember when your club was a political football because it didn't have the cash to make its own decisions?

That was humiliating, not someone giving free money to put their name in front of Ibrox. If it goes to helping Rangers get back to the top that bit quicker and stronger, why should they refuse it?

Some might say it's tradition, but it wasn't always tradition to have a sponsor's name plastered over the sacred blue jersey. The same fans who rave about their friendship with Hamburger SV don't seem to mind that the fan-friendly German club (who are better run than Rangers) have renamed the Volksparkstadion three times in the last decade.

If any club in world football should understand that money matters more than a sense of entitlement it should be Rangers. Just because they are no longer in intensive care and will live, it doesn't mean they currently have the strength to rival Celtic.

That will happen, but it will need planning and revenue to succeed. It's all about the ball hitting the back of the net with Ibrox exploding in joy at another Premier Division title win. If you want that more than anything, then you should be realistic that it's sponsorship that helps do that.