McCoist defends fans from repeated season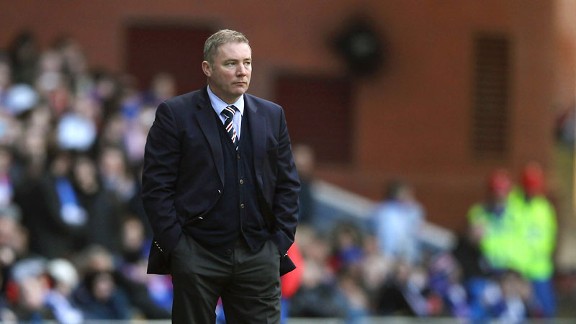 Jeff J Mitchell/Getty ImagesRangers manager Ally McCoist has been sticking up for his team's fans during these turbulent times in Scottish football.
While Charles Green is showing his frustration over the proposed league reconstruction by changing the subject to everything from leaving Scottish football to suing UEFA, Ally McCoist is coolly defending the club and fans in the proper way.

- Redknapp would welcome Rangers, Celtic

Speaking in the Friday press conference he said, "I think there's a complete lack of sporting integrity there. Everyone keeps talking to us about sporting integrity so I might as well bring it up myself. You can't possibly move the goalposts during a season.

By all means have it at the end of a season or plan them for the start of a new one. How can you be aiming for promotion at the start of a season then still be in the bottom league if you earn promotion? If it went through, there would be no point in us playing at the moment and what a slap in the face that would be to everyone else in SFL3, including our fans and our players."

Strong words, but he is correct. Changing the rules halfway through a season so that the SFL3 becomes meaningless is an insult to those Rangers fans who paid hundreds of pounds to watch a competition that essentially didn't exist. Suggesting that the club is promoted anyway so no one should mind is like suggesting that Celtic shouldn't complain if the Scottish Premier League (SPL) award every team the title because they are still winners.

There's another point to be made that is slowly dawning on many. When the first two leagues split into three leagues of eight, Rangers will still be in the fourth league of Scottish football for another season. With no promotion after reconstruction, this seems to go against rule 85 of the Scottish Football League (PDF), which says:

"It shall not be competent to resolve to wind up the League with the purpose or effect of then re-forming a National Association Football League within three years of the date of the resolution to wind up which shall exclude any club formerly in membership of the League or which shall exclude a club formerly in membership of the League from being promoted to a higher division of such League where it had a legitimate expectation of such promotion when a member of the League, unless such club shall consent in writing to such exclusion; and in the event of such a resolution being passed and such circumstances arising within the said three year period such resolution shall be null and void and treated as such ab initio."

In other words, the SFL cannot reconstruct the league if it ensures a team is not promoted unless they have their consent. With reconstruction meaning that Rangers will repeat their time in a fourth level, even after they win it the season before, it seems not only unjust, but possibly against SFL rules.

Add to the fact that there is already precedence for moving up a division to ensure fair promotion. Prior to the 1994-95 season, the league changed from 12-12-14 to four leagues of ten. When Stranraer won the third out of three leagues, they were promoted to the second out of four because otherwise they would still be in the third tier. It was deemed unfair and/or against the SFL rules, yet this is exactly what is proposed for Rangers today.

These are all rational arguments but they don't get through when Green becomes the story. Light Blues supporters will be hoping for a challenge on the facts and not hyperbole. That Rangers will be asked on two separate seasons to win the fourth division of Scottish football is more than enough.