Sandaza deserves more support from Gers fans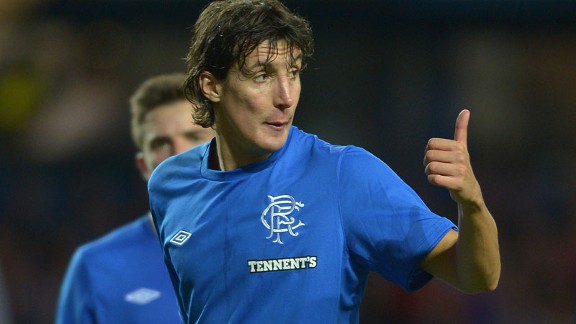 GettyImagesFrancisco Sandaza: Has yet to hit his stride at Rangers
Another away win, this time a 3-1 victory over Annan Athletic, means Rangers go a huge 17 points clear at the half-way stage in the league. Unfortunately, like the triumph over Queen's Park in the previous match, it was well below the standards that the fans know this team is capable of reaching.

With regulars Emilson Cribari, Anestis Agyriou, Lewis Macleod, Dean Shiels and Lee McCulloch all missing, it was a makeshift team that did what they had to do on a seemingly terrible artificial surface. Earlier in the season David Templeton went over on his ankle to badly injure himself and it's no real surprise that the same happened to Darren Cole early in the second half.

Yet for all the excuses - and some are valid - Rangers should have been better. Only Lee Wallace and Neil Alexander can say they played well, so it's more than a little unfair that supporters seem to be focusing much of their frustration on Fran Sandaza.

It's true that he hasn't impressed since he signed but after nearly losing an eye from his horrific cheekbone injury, he hasn't been as bad as many are making out. Against Queen's Park he was more dynamic than Lee McCulloch when he replaced him up-front, and on Wednesday against Annan, he created and worked hard enough to justify his inclusion.

In general, it's never a real worry when strikers miss opportunities as long as they get them in the first place. Sandaza is creating chances but his lack of sharpness and confidence is feeding off each other so that he is overthinking the moment, rather than doing what comes natural.

Look at the first-half header against the bar. Not only did he make space for himself, but he was technically sound in heading the ball into the ground. If he was literally a foot closer to the goal he would have hit the roof of the net and his finish would've looked classy - instead he looked foolish. Don't forget the first goal came from Sandaza chasing a nothing pass from Darren Cole and through sheer desire almost scored himself.

Anyone who has played football knows the feeling of 'the zone' when even your mistakes come off with success, while the reverse is also true. Unfortunately Sandaza is stuck in the latter and just needs a goal, a fluke or a touch of brilliance, to break the spell.

Yet it's not all about him. How much proper service did he really get? There was one good ball which we have discussed, but that was it. He made runs throughout the game, but how many through balls did he receive? Even when he kept possession how many players were around him to link up with? If you don't get crosses, passes and are left up alone then it's no wonder you don't look good.

It's not that those who say the Spaniard isn't playing to his potential are wrong - they aren't. He's been a disappointment, but after his injury he needs time to recover. Other players were given the space to find their feet so why not him? Against Queen's Park and Annan Athletic he was far from the player the fans want him to be, but he was hardly the worst in Royal Blue and instead made a positive contribution.

When he gets the break of the ball he deserves he will start scoring, and he does deserve it. This is a Rangers player who suffered a serious injury while putting his head where it hurts, and when he has come back has worked his heart out and still puts his head in the mix. Don't pretend that he is anything other than brave.

Admittedly such courage can only go so far if the results remain poor, but he should at least be allowed to take his chance. No-one would know if he pretended to still be injured, but he has never hidden on or off the park. That kind of guts is what the Rangers jersey is all about and the fans should be singing his name in praise instead of moaning at him.