Gers flat, but still deserved victory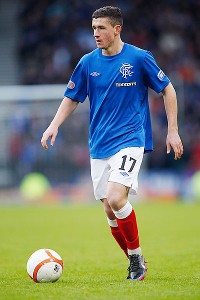 Tom Shaw/Getty ImagesFraser Aird scored the winner in injury time for Rangers
After weeks of good football, Rangers just about scraped enough passes together to beat Queen's Park 1-0 in Glasgow's oldest derby at Hampden Park on Saturday.

With the late win, and Annan Athletic beating Elgin City the same day, Rangers finished a packed December fixture list by going 15 points clear at the top of SFL3.

The Gers were admittedly very flat, but those who say the injury-time winner from 17-year-old Canadian Fraser Aird was an injustice for Queen's are wrong. The 'spiders' defended well enough, but reverse the football strips and you wouldn't find too many people patronising Rangers by suggesting they were unlucky.

After the match, Lee McCulloch looked very disappointed and described it as a 'tired performance', which earlier in the season would have resulted in criticism or worry.

However, this is such a young and inexperienced squad that it should be no surprise to anyone when they occasionally flatline or drop points along the way.

The difference now is fans know they can play good football and win games when it matters, so it's fine to cut them some slack at last.

In any case, the team were also without Dean Shiels, Andy Little and Lewis Macleod who would all have started if fully fit, with the previously ever-present 18-year-old Macleod being the biggest miss.

Over the last few months he has been the hub in the Rangers' wheel, ensuring that everything turns properly. Now everyone can see what the midfield looks like without him and it isn't anywhere near as good.

For all the (mostly justified) hype over Barrie McKay, it's Macleod who is Rangers' best youngster. It was certainly a shrewd bit of business to sign him up on a five-year deal this season because if he progresses the way he should, he will be playing in the top half of the English Premiership before he is 22 and the club will have a big fat cheque in compensation.

And since that is a bold prediction here is another: Fran Sandaza will start scoring in 2013. When Ally McCoist says that he "will come back and score goals - I don't have any doubts about that at all" the fans should believe him.

It's clear Sandaza hasn't played well in previous matches, and suffering a terrible cheekbone injury hasn't helped him get into his stride, but he gave more up-front Saturday when he came on than McCulloch and no one should give up on him just yet. He only needs a bit of luck to kick-start his confidence and he will be like a new signing.

If you are doubtful remember how things can change quickly in football. Who would have thought a few months ago that Gers fans would end the year feeling positive after a miserable summer? He will come good, just as his club did, and like Rangers he will be all the stronger for it.

Overall, it was just one of those days when nothing went right for the players, except for winning in the final moments, that is! Considering the first six months of 2012, if that is all the support have to worry about then they will enjoy 2013.

Have a very enjoyable Hogmanay and a happy New Year!