McCoist's jigsaw coming together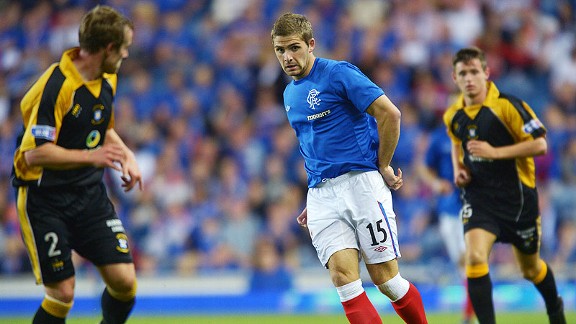 Mark Runnacles/GettyImagesKyle Hutton's passing range and defensive strength have been major assets this season for Rangers.
In addition to their Christmas presents the day before, Rangers fans were hoping that their team would gift them another three points on Boxing Day to go twelve clear at the top of SFL3. With the 3-0 win over Clyde at Ibrox, the players duly obliged.

- Match report: Rangers 3-0 Clyde

It seems a long way from a few months ago when there were cries that this young team would struggle to run away with the title as expected. But after the shock loss to Stirling Albion, the only noise heard, other than the fans cheering each win, is a loud clicking sound as the pieces finally came together.

This group of footballers is no longer a disparate bunch of strangers struggling to cope with the culture shock of Rangers' past financial difficulties or playing league football in tiny stadia and artificial surfaces. This is a team that are growing in confidence with every game they play.

Of course, it would be foolish to exaggerate, but in the context of so many leaving -- the unplanned reliance on youth and a ban on registering anyone new until the 1st of September 2013 -- the Rangers manager and his squad are now showing their quality.

Even the 4-4-1-1 formation (or its variants) that Ally McCoist uses is starting to show dividends. It's a tactic that can only work if the midfield attack with pace and movement, and over the last few weeks the Light Blues have been superb going forward.

If you are a defender, the last thing you want to see is someone coming at you with pace, while those without the ball are making diagonal runs across each other. Earlier in the season, the player in possession would have been left with only a few statues ahead of him.

But with Lee Wallace bombing up the left like a clone of Arthur Numan, and David Templeton, Barrie McKay and Dean Shiels playing lovely one-touch football -- it's not just a case of grinding out results anymore.

Much of the praise has to go to Templeton who more than ever looks like a steal from Hearts' back pocket. Not only is he a tireless worker, both on and off the ball, but with the ability to find a pass or move past a defender, he has an added touch of class that is exemplified in most of his goals. He won't turn his nose up at a tap-in, but if you want a ball deliberately curled into the top-corner, then he is your man -- and against Clyde it was no different.

Another who deserves the plaudits that will surely come his way is Kyle Hutton. Far from missing Ian Black, the team looks better with Hutton alongside Lewis Macleod. He is stronger defensively -- without making silly challenges -- and has a better range of passing.

In fact, such is the way that all the youngsters in the squad have taken their chance, the 2013 team could have a bench of Fran Sandaza, Kevin Kyle, Shiels and Ian Black without being weakened.

At last, it's no longer just a case of individuals playing under difficult conditions grinding out wins to take the 'teddy bears' into the next division, but rather Rangers have become a team with determination and a touch of style. The jigsaw is still far from complete but it's no longer a jumbled mess. McCoist has three years to complete it and already the picture coming through looks good.