Rangers' youngsters are the real deal
With a 6-2 victory over Elgin City at Borough Briggs Saturday, Rangers are now nine points clear in the Third Division with a game in hand. After a sticky start to the season where they had plenty of criticism, this young Gers team now have me convinced they are the real deal. They will still draw a couple of away matches and possibly lose another, but when the final game ends in the division the title will be won by more than 20 points.

The only negative against Elgin City, as in many other games this season, was the lack of a clean sheet. Losing goals is a continual worry for Ally McCoist, but to be fair on this occasion both strikes from City were as good as you will see in any league this weekend.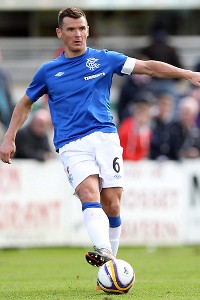 Ian MacNicol/Getty ImagesLee McCulloch, above, and Andy Little both scored twice for Rangers
Although not a huge fan of Brazilian Emilson Cribari, it was fantastic to see him return from injury after months on the sidelines. Not only for his experience and to have the opportunity to prove people like yours truly wrong (although it has to be added that Cribari played well), but as much to release Gers' captain and top scorer Lee McCulloch from defensive duty to doing what he does best - score goals.

Going forward, Rangers are now starting to play nice football, and much of that comes from the younger players in the squad. Against the former Highland League outfit, Barrie McKay and Lewis Macleod were sensational and if they fulfill the potential they have, the Gers will have two superstars on their books.

McKay was gliding past players as if they didn't exist and seems to be improving his decision-making. Earlier in the season he was guilty of occasionally holding on to the ball too long, but recently this has been less of an issue, and it shows.

Macleod was once again instrumental in holding everything together and was equally adept in defence and attack. That McCoist has picked him for every game this season is the biggest compliment the 18 year-old can get from his boss. With good coaching, personal determination and a little luck he will one day become the complete midfielder.

But it isn't just the really young players like McKay, Macleod, Tom Walsh, Fraser Aird and Robert Crawford who are the future; it's also the those in their early to mid-20s such as Andy Little, Kal Naismith, David Templeton, Chris Hegarty, Ross Perry, Anestis Argyriou, Lee Wallace and Kyle Hutton who have plenty of years left. Not only will some of these guys take Rangers back to the peak, but a few will be part of the side that wins the top division again.

Of course some will fall away over the years, while a few will be sold for a big profit, but that is to be expected. As paradoxical as it sounds, selling players for a nice payday is something Rangers will need to do more of to keep progressing. As long as Auchenhowie produces more good youngsters the world will still turn.

The hard truth is that even if the events of 2012 never happened, the club would still have needed to change their strategy from buying established players to developing youth and selling them on. This does not mean the Light Blues will never jump into the transfer market for experience, but the days of ignoring sell-on value or needlessly fearing inexperience is gone forever.

And isn't it more fun this way? As a Gers fan you will watch as skinny young kids develop into top players and lead the club from the lowest rung to the highest. Their journey will be your journey and when the Rangers inevitably lift the top division title it will be a shared victory unlike any won before.