A defining moment for Rangers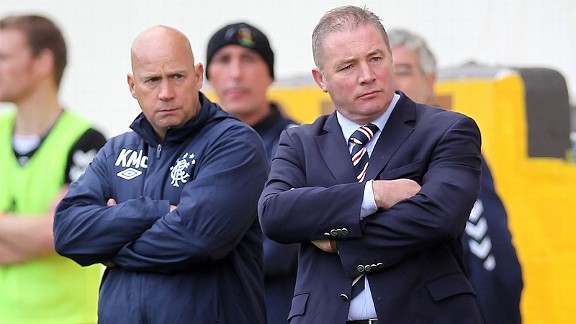 Ian MacNicol/Getty ImagesRangers manager Ally McCoist, right, and assistant Kenny McDowell, left, look on during a match this season. The Glasgow club is boycotting their allocation of tickets for their future Scottish Cup fixture at Dundee United.
Those following the Rangers story knew that when they were paired away to Dundee United for the next round of the Scottish Cup, there would be as much, if not more, talk about football politics than the beautiful game itself.

Whether it has any basis in reality or not is a personal choice, but there is undoubtedly a perception among Rangers fans that during the summer months Dundee United were pushing for punitive measures against their team when they most needed friendship.

It was therefore expected that many of the Light Blues' fan organisations would ask their members, and the Gers support in general, to boycott the match. The umbrella group, the Rangers Supporters Assembly went on to say:

"The Rangers support has waited patiently for the opportunity to send a clear message to those that tried to destroy our club -- starve them of their much-needed cash by boycotting this game. It must also be remembered the disregard this club had for Rangers supporters when it unashamedly refused to offer refunds to supporters for a game abandoned due to a waterlogged pitch in 2009.

We also understand the desire to support the team -- the fans have demonstrated this to unbelievable lengths of loyalty -- but we ask that on this occasion in a one-off display of fan power we show that we have not been beaten or broken."

These are strong words, but not really a shock to hear them from the fans. What did come as a surprise was that yesterday the Rangers Football Club, not only followed in the uncompromising style of the support, but went even further. If there was any doubt that the club holds a lingering feeling of injustice against some within the Scottish Premier League (SPL), they were demolished in an extraordinary statement from CEO Charles Green. The most important part of it said:

"Rangers Football Club will not be taking its allocation of tickets for the forthcoming Scottish Cup match against Dundee United at Tannadice. This is a unanimous decision by the board, senior management and staff at Ibrox. Everyone at this club is dismayed at the actions of certain SPL clubs, which were actively engaged in trying to harm Rangers when we were in a perilous situation and we are acutely aware of their attitude to us. (The rest can be read here.)

To say that this is a defining moment is to underplay what is happening. It's nothing less than a crunching shift in the tectonic plates of how the Ibrox side views itself and others.

For years the supporters complained that the club had lost confidence and were far too compliant with those who didn't have its best interests at heart. That has now changed. It seems the previous summer did not destroy the Rangers many had expected (and maybe even hoped), but instead has galvanised the club and fans in a unity and striving to the top that had all but disappeared.

Even this Saturday against Stirling Albion, 48,000 tickets have been sold with the likelihood of a complete sell-out. There will probably be more people inside Ibrox than all the SPL games added together. How many clubs in the world would get crowds in the fourth-tier of their game that are larger than anything in the top division combined?

The statement is also an open challenge to the SPL over league reconstruction. It's not an absolute one as Green makes sure to say that Rangers only feel this way about some of the clubs, but it's calculated to show in action as well as words, that they will not rejoin an organisation which included some who, in their opinion, pro-actively tried to "harm" them.

And if Rangers will not work with the SPL in its current format it sends a clear signal that they will throw all their weight behind the Scottish Football League's (SFL) plans. Some will see it as a risky strategy, but as the famous Scottish Industrialist Andrew Carnegie once said, "The wise man puts all his eggs in one basket and watches that basket."

In the week of the Light Blues' 140 year history being celebrated at Ibrox, it seems that the club, for good or ill, has found a new focus. There is a mythology starting to build around Rangers' fall and rise that everyone who has any feeling for the club wants to participate in. Those who think the events of 2012 have already been played out might be surprised to discover that the end result for Rangers and Scottish football will not be the one they imagined.