Gers finding more consistency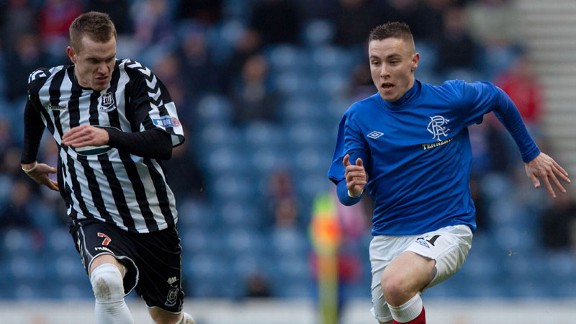 GettyImagesRangers youngster Barrie McKay must keep his feet on the ground
It may have been the bitterly cold weather numbing the bones, but there was a more confident feeling surrounding Rangers' 3-0 defeat of Elgin City at Ibrox on Sunday. It wasn't a great performance, but there is a consistency now entering the play that was previously lacking in the early part of the season. The players knew they had the beating of Elgin and it showed.

See match statistics here.

However, grinding out a win in second gear is not necessarily fantastic viewing for the crowd. Playing Kevin Kyle alone up-front didn't help either as Andy Little, who is completely wasted wide-right, should have played alongside the big striker as a forward pair.

Too often the attacking - especially in the first half - was slow and obvious because there was zero movement. Kyle is terrific at holding the ball up, but he's not very mobile and unless you get crosses into him he won't be very valuable to the team.

One player who did show mobility was youngster Barrie Mckay. He tends to drift in and out of games but Sunday was his best performance since the start of the season. He was always looking for the ball and seemed to glide past defenders at will. If he improves his crossing he can be a really special player.

Rangers manager Ally McCoist said the same after the final whistle: "I thought McKay's performance was as consistent throughout a match as he has been. In other games he has shown flashes of good play and intelligence but he did it throughout the game today."

Like all the young players at Ibrox, the biggest enemy to his future career will be himself. Being a first-team starter at a huge club much earlier than normal can cause some to stop working as hard on their development as they should.

Wasting talent because you think you've 'made it', or because you fall to outside temptations, has happened to much better footballers than those at the Rangers. The fans can only hope that players like McKay, Macleod, Aird, Crawford and Naismith take the good advice offered and have a little luck behind them.

Another who deserves some praise is Greek defender Anestis Argyriou. For a player who came on a free (and as a trialist) he has shown enough solid defending to justify his continual presence at right-back - although for some reason McCoist prefers the currently injured Sebastien Faure.

In a sense Argyriou is the opposite of those young players who are valued more for their future potential than current form. It's doubtful he will be the type of player who plays for Rangers when they eventually reach the top division again, but he is exactly the sort of player the club need to get them there.

Overall against Elgin it was 'job done', as it was all about getting to the next round of the Scottish Cup and not much more. There will be plenty of games like that over the next few years and the fans seem to be aware of that. They know the real goal will be winning the top division again, and until that happens they would be as well enjoying the scenery on the way.