Neil Alexander's loyalty deserves more praise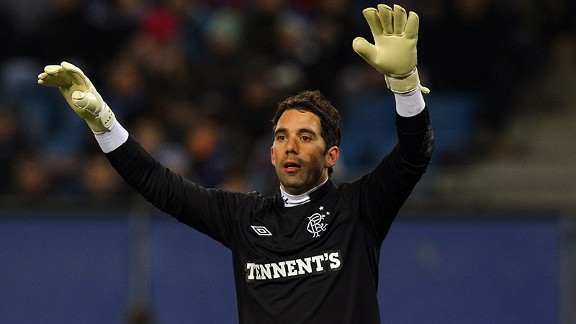 GettyImagesNeil Alexander may just be the most important player for Rangers
When I published my top five players so far this season, there were many who contacted me upset that Neil Alexander wasn't included. Of course, just because he wasn't on my list doesn't mean I was calling him a bad player or saying he wasn't important to the team. Nevertheless, it seemed to annoy more than a few that the Light Blues' number one was not there.

And the more I thought about it, the more I came to believe they had a point. There are many players in the Gers squad who would be missed if gone, yet the team would find a suitable replacement, but what would Rangers do without Neil Alexander?

The only real understudy the team have is Scott Gallacher, and although he has played games for Cowdenbeath and Forfar on loan and is hardly a boy at 23, he would still be a gamble the club cannot afford to take.

Alexander has always been a player I have admired. When second to Allan McGregor, he never complained and was well rewarded with starts in cup finals - including the UEFA Cup final - and claimed title medals as a squad player.

Although not a 'wonder-save' 'keeper that the club had been lucky to have from Goram to Klos and then McGregor, he has a solidity to his play that made it a surprise he preferred the bench at Ibrox to the first-team elsewhere.

With Rangers' old company slipping into oblivion, most of the experienced players left as quickly as they could, including Allan McGregor. But Alexander stayed. Along with Lee McCulloch and Lee Wallace, he was a crucial component to the squad that Ally McCoist badly needed to remain.

The Rangers manager had neither the time nor the money to experiment with a new goalkeeper, and for that reason there is a possibility he was more important to keep than even Wallace or McCulloch. With the latter two recently receiving extensions on their contracts, it is something Alexander is more than aware of.

Speaking recently about his talks with the club on a new deal he said, "I'd like to think I deserve a new contract with Rangers. Not just for the loyalty I have shown in taking the 75 per cent pay cut last season but because I deserve it on form. I would love to play a part in helping to take Rangers back where they should be and this is just the first step. I want to stay longer and help us get back to the SPL. So hopefully my loyalty will be rewarded and I will get the opportunity to do all that."

Many Rangers supporters will also be hoping he gets the contract extension he so badly wants. From their point of view they would love to see the players who stuck by them in their darkest on-field days become legends by taking the team all the way from the third to the top division.

But no matter what happens in the future, Neil Alexander deserves all the praise that goes his way in the present. He might not be the best goalkeeper to play for Rangers, but he might just be one of the most important. So instead of my top five players so far this season, let's make it a top six!