In the last few posts I have looked at league reconstruction from a relatively dispassionate viewpoint. There were a lot of blanks to be filled in, but on the whole it was an attempt at objectivity.

Now, I will give a purely personal opinion on what I think will occur. No one can predict the future - so much of it will eventually be wrong. But on some issues, especially on how Rangers fans will respond, my thinking is on fairly solid ground.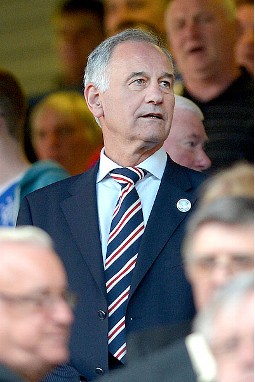 Mark Runnacles/Getty ImagesRangers executive Charles Green is playing his cards close to the vest
Both the Scottish Football League (SFL) and Scottish Premier League (SPL) have put forth separate proposals for league reconstruction. The very fact they cannot sit together around the same table to sort out the future of the game is a pretty strong signal a power struggle has started.

If the SPL really don't need Rangers, as they continually say, then they will stay on top. But if, as I suspect, there is the possibility of no major long-term financial deals signed in years to come without Rangers in the top flight, then we will see them overtly courting the Ibrox club to get them to the top quickly.

Of course, you could reject this scenario and point to Stephen Thompson, the Dundee United chairman who recently said: "Unless we get the voting structure changed I can't see anything happening at all. Rangers can't be voted back in. They've got to earn the right by coming back up through the leagues. I'm not saying it won't but I can't see it happening. There's no way the leagues will be reconstructed for them."

That Thompson Tuesday suddenly resigned as a SPL board member, citing "professional differences", and only a week before the next meeting on reconstruction, is more than striking.

But it doesn't matter what the SPL say or do to start healing the relationship with Rangers. There is no way that the vast majority of Rangers fans want anything to do with them in their current format. Bridges have not just been burned, but the ashes have been scattered to the four winds.

Whether the fans are correct or not, they genuinely believe that when the club was slipping on the edge of the cliff and put out a hand for help, they found the SPL, and fans with their 'no to newco' fervour, pushing instead of pulling.

And with all too perfect timing after Thompson's resignation, Light Blues CEO Charles Green went on Rangers TV to repeat his opposition to the SPL in its current format: "I have said before that I wouldn't return to the SPL in its current form and I stand by that – it just wouldn't happen."

Green is well aware of the feeling among his support, but he is also aware that playing the top-flight clubs has to come about eventually, and that there will no absolute victory for anyone in this power struggle.

When he says, "I accept that while Rangers are the biggest club in Scotland we are not the only club and while we have to do what's right for Rangers we have to do what's right for Scottish football", he is warning the fans not to overstretch.

So my foolish prediction, and it might be totally wrong, is that the SPL will change its name and much of its processes to lure Rangers back into the fold. The fever has broke and many are now becoming aware of the mistakes they have made, and that it's too late to keep the status quo. But regardless, the SFL - if it stays united, and only if it stays united - will along with Rangers gain far more power and influence than before and become, at the very least, an equal power to the SPL.

Then again, I thought Rangers would beat Stirling Albion, so who knows?