Can Gers fans trust Walter Smith's endorsement of Green?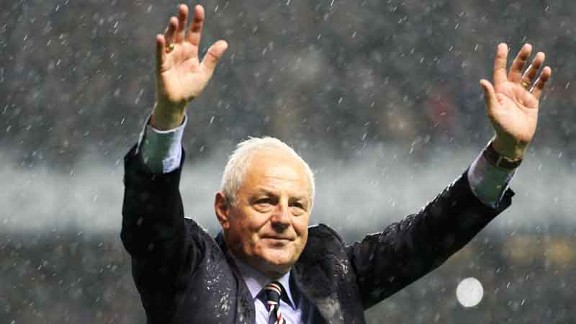 GettyImagesWalter Smith remains a popular figure at Ibrox
There has been universal acclaim for former Rangers manager Walter Smith returning to Ibrox in the capacity of non-executive director. He brings a knowledge and experience that has been lacking recently, both of the machinations of the Scottish media, but also the inner workings of the football authorities.

- Walter Smith joins Rangers board

It's also a bit of a coup for Rangers' CEO Charles Green, as it can only be seen as a minor coronation from the old guard or at the very least an admittance of respectability.

It's well-known that Walter Smith took his time to mull over the offer and asked for advice from various individuals to ensure the best interests of the club was similar to the direction the board are travelling. As he said in his statement: "It is a great privilege to serve the club that means so much to me in the capacity of non-executive director.

"Serious constructive efforts are being made to rebuild Rangers after a very difficult period in the Club's history and if I can play a part helping that process, I am willing to do so. Apart from being a former manager of the club, I am first and foremost a supporter and am no different from the many thousands of other Rangers fans who have shown they're willing to do what they can to ensure Rangers rises again.

I must make it clear, however, that I will not be playing any role in the day-to-day running of the Club or the team. It's the manager's job to run the team and the chief executive's job to run the Club's affairs. The role I will fulfil is to bring my experience of Rangers and football in general to the board table and that is what I will do.

"The people who purchased the Club have shown over the last few months they are serious in their intentions to rebuild Rangers and I am happy, as many other fans have done, to lend my support."

This is all great stuff, but let's play 'Devil's Advocate' for a moment. Is Walter Smith really the best man to ensure that the fans are not put in the same position as before? Can Rangers fans trust Walter Smith's endorsement of Green?

Walter Smith was twice manager of Rangers under Murray, and rarely complained about where the chairman was taking the club. Cutting through the myths you will read online, Rangers had no financial issues at all during Smith's first managerial stint at Ibrox when he (alongside Souness) helped win 'nine-in-a-row', but that was not the case in his second period.

No-one can deny that Craig Whyte played a huge role in Rangers' fall into financial calamity, but if he kicked the ball into the net, then Sir David Murray did all the hard work to set it up. Yet it seems that Smith failed to see this at the time.

A few years back the Rangers Supporters Trust started a 'We Deserve Better' campaign to push the club onto the correct path.

Some of the perfectly normal points that received the ire of many included:

No discernible strategic vision, either on or off the pitch
No long-term transfer or team-building plan
Failure to engage with or interact with the support in any meaningful way<
Treating Rangers fans with disdain as 'customers' instead of valuing and working with them as 'supporters' and part of the Rangers family
Inability to either attract inward investment, or to convince fans to invest in any meaningful way

If anything, it was a very moderate request to improve the relationship between the club and fans, and also protect Rangers future. Far from being wrong they were almost prophetic in their vision.

But it was treated with disdain from those inside the club (the very thing the fans complained about) and Walter Smith was one of them. He unfairly caricatured these fans as an anonymous internet mob trying to make a name for themselves:

"Some of us have had to work hard to achieve a profile. They don't seem to need to work very hard for theirs. One of the differences with present-day supporters compared to the past is that we have this situation where they can use the internet, which allows them to become another person.

They can sit behind their computer, take on another name and write what they want to write. If that's the way you want to live your life then fair enough. Personally, I'm out there. My chairman is out there."

Looking back, his negative views on fans who volunteer to work tirelessly for the club while putting a positive spin on Murray stating "my chairman is out there" is mildly embarrassing.

If he trusted Murray as someone who did their very best for Rangers, how can the fans be certain he understands the off-the-field variables today?

No-one can be certain of anything, but he is a clever man and you would have to believe he has learned from his mistakes. Maybe his poor judgement with regard to Sir David Murray is the reason he is desperate to ensure that the fans are not suckered in again. There is no doubt recent events hurt him deeply, and he may wish to make amends.

Only time will tell how the current regime is judged but it's doubtful that he would put himself in a position to gamble on Rangers' future. Certainly Walter Smith is not perfect, but let's be honest, if after everything that has happened, if the Light Blues supporters can't trust him of all people to get things right this time, then who could they trust?