Gers fans deserve better from players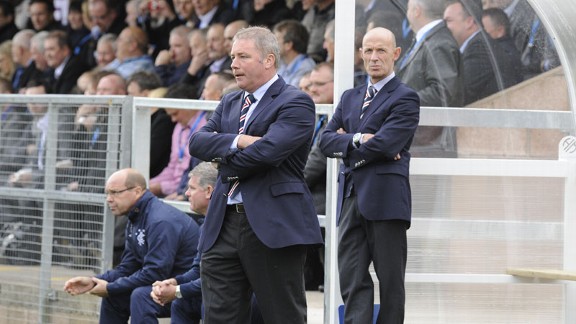 PA PhotosAlly McCoist: The book stops with the Rangers manager
In the Scottish Cup tie against Alloa Athletic on Saturday, there is one man who can't win whatever the result: Ally McCoist. A Light Blues victory will be expected, but a draw or defeat will be more ammunition for those questioning his ability.

- Smith set for Rangers return

Of course Alloa are actually second in the division above Rangers - and to the uninitiated the assumption would be that they would be favourites - but for a few seasons yet, such notions will be thrown on their head as the Gers will be expected to beat all SFL teams, regardless of league status.

And it's a completely fair assessment.

Rangers have better players and no-one should feel sympathy for them if they don't win at the weekend. They not only have the superior ability but are playing at home with a passionate crowd behind them.

There has already been too many excuses for this group of players, and it's time they gave something back to a Rangers support that, not only has the highest average league attendance in Scotland, but on Wednesday had more people at Ibrox than the rest of the League Cup quarter-final ties put together at Celtic Park, Pittodrie and Tannadice.

In normal seasons that would be impressive, but the Gers are currently toiling in the Third Division. Such unique loyalty from the Rangers fans deserves more than the shabby and half-hearted performances that some players have been giving.

In the last few weeks McCoist has received plenty of criticism, with claims that his formation and tactics haven't been working. The truth is they haven't, but even so, his players are letting him and the fans down with their level of performance.

Ian Black is a perfect example. He is a top SPL player that thoroughly deserved his Scotland call-up, but over the last few months he looks barely interested. If only he would spend less time arguing at the sidelines with the fans who pay his wages, and more time winning and distributing the ball, then everyone would be better off.

There are those who might say this is the manager's fault for not having the players motivated, but for this Ally deserves a pass.

If grown men earning thousands of pounds a week can't be professional enough to play better than part-timers on £50 a week, then little will change their attitude except leaving the club.

It might not help if you believe players are played out of position, and the formation hinders, rather than helps the team. But even if McCoist played a 4-6-0 the well-paid professionals in Blue, should be first to the ball and be able to pass it around better than the milkman or postman on the other side.

It will be interesting on Saturday to see if the Rangers management have learned from their mistakes, but also if the team show a little more bite than they have previously. The fans and club in general have been sorely let down by some of the players, and it's time they stopped going through the motions and gave everything they have.

To change the song lyrics of the popular Rangers anthem slightly: it's time to step up and play.

Prediction: Rangers 2-0 Alloa Athletic

Injury News - Wallace, Shiels, McLeod and Little doubtful for the match while Templeton and Sandaza are still out.