Do Rangers have a proper footballing strategy?
One of the curious things about the Rangers in Division Three is how they can't win regardless of the result. Not in the literal sense of course, but the context of who they are in their surroundings. Any win is treated as expected, while a draw or defeat is a crisis.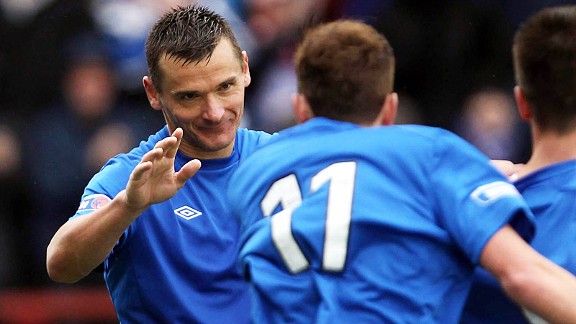 GettyImagesLee McCulloch celebrates after securing the points

Anyone writing about Rangers has to keep this in mind. Praise tends to be dampened and criticism tends to be exaggerated. So a 2-0 victory over Clyde at Broadwood with goals from Dean Shiels and Lee McCulloch - although finally seeing the Rangers earn their first SFL3 away victory - must be seen in the context of that environment.

Whatever happens the Gers will continue to get enough results to win the division. That is almost beyond question, but that should not be the main concern for Rangers right now. This is a chance for the club to build a solid footballing foundation and structure that will serve them well for decades to come.

This is what Ally McCoist and his management team will ultimately be judged on, and it seems he is aware of at least part of this when he said, "Gone are the days when Rangers would go out and spend millions of pounds on players, it's just not going to happen. So the alternative is to bring in your kids, educate them and bring them through.

"So the case of teams like Ajax and Porto is certainly something we would look to follow and in many ways it might be a more exciting challenge. That way you're doing the work with the players rather than buying a nearly-finished product. As a coach you have a lot of work to do with the younger boys coming through and I would think that's a little bit more exciting and challenging for a manager. It could ultimately be a great result for the players and the club."

But it's not just bringing young players through, it's about a complete philosophy of football the club needs to bring into consciousness.

What kind of football do you want to play? What formation and tactics will the players be educated about? How will they treat their bodies as professional athletes? Will a hard work ethic in practice become natural? And so on.

So far, long high balls and being unable to dominate anyone with passing football is not a good sign. Against Clyde the Gers players still looked half-asleep with little intensity; second to every ball and mostly on the back foot. Many fans claim it improved in the second half, but for most of that time the 'Bully Wee' were playing with ten men.

When you have much better players, why would any team play the way Rangers are doing with big lumps up the park? Why would any manager sit and watch that on one single occasion (never mind continually) and not effectively ban it, unless it's defensively necessary? Especially when Rangers' formation is set up to play passing football through the middle.

Everything seems confused and it's still not working. On Sunday, Andy Little was wasted as a right-winger and Dean Shiels the same on the opposite side. Just because the latter scored a wonder-goal does not mean he is being utilised properly.

In defence, Emilson Cribari and Ross Perry are still not playing as they should, and it was surprising Motherwell didn't take advantage in the League Cup a few weeks ago, and thanks to the whims of the football gods, Inverness Caley Thistle will be the opposition on Wednesday. Hang on to your hats for that one.

But a warning: I did say earlier that victory will be expected, and bad performances or results will often be magnified unfairly. Maybe this is overly critical and the Light Blues' performances are getting better. Rangers are top of the league and will probably stay there to the end of the season.

However, although it's incredibly early days in Rangers inevitable journey back to the top - if the fans take a step back to evaluate the last few months - is there really any sign that Rangers have taken the opportunity to build a proper footballing foundation?

After all the trauma of last season and the summer, the fans want praise and pink fluffy clouds, but the cold reality is that except for youngsters playing, which seems more necessity than choice, there is no sign that Rangers' footballing philosophy is being developed. At least not yet.