Gers players need to do their talking on the park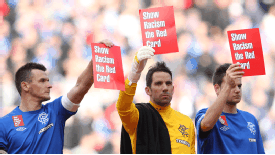 GettyImagesRangers players were on message prior to kick-off but need to speak out to defend themselves on the pitch too
Watching Rangers grind out a result against Queen's Park was a testing experience for the fans and it seems the players agreed. Lee McCulloch has revealed that at half-time there was a 'bit of eyeballing' among the players in response to their bad performance.

He went on to admit: "The guys were disappointed and at half-time there are four or five different arguments. We are all getting uptight.It just shows there are a lot of winners at the club. A score of 0-0 at half time is annoying for the players and they expect more from each other. That showed by the way we played in the second half. It's a healthy thing if boys are arguing, as long as it's not getting ridiculous, which it isn't. It just shows a will to win. And it's good to see the young boys getting involved as well. They are not scared to speak up to the experienced guys."

Much of what he says is true. It is normal for players to argue about a game they are not doing well in. It's fine for a bit of testosterone to get in the air, as long as it doesn't get silly. It is a good sign that players show they care.

However, they should not only be 'loud' off the park, the players need to start being more assertive on it. One of the noticeable things about this Rangers team is how quiet they are and how they lack a more powerful form of mentality and athleticism on the park.

They seem to let hard challenges and bad refereeing decisions pass them by with just a shrug of the shoulder. A team should always play within the rules, but the best teams let the officials and opposition know they are there when things don't go their way.

This is especially true of Division Three. The team needs to start winning the physical battles and start defending each other more.

Anyone who has watched the Rangers in the SFL will have noticed some horrific moments simply ignored by the referee. This culminated in the Stirling Albion game when 'tackles' on Ian Black and Neil Alexander resulted in the latter speaking out.

The Rangers 'keeper said: "In the Stirling game, I had one on myself where the boy went in two-footed and luckily for me I could see it coming. I was fortunate not to get carried off and spend the night in hospital. I asked the ref at half-time, 'what is it going to take for you to produce a red card? For me to spend the night in hospital with a serious injury?' It should have been a straight red but he only got a yellow and there were other incidents later in the game."

Of-course, this could be seen as sour grapes from Rangers to cover for their poor away form, but go to the bottom of this page and convince yourself that the aforementioned moment with Ian Black wasn't worthy of a red card.

Of-course, not every tackle is as bad as that, but Rangers need to realise that they are playing in a far more physical environment, and will need to accept the challenge.

Letting the referee know that you are not happy with certain decisions is part of the game. Ensuring that opposition players know - sometimes verbally - that you are going to fully commit to 50-50 challenges is vital to victory.

Maybe the days of the tough and overly aggressive style of Graeme Souness or moaning style of Willie Miller to referees has gone forever, but that doesn't mean the players should leave their talking to the dressing room or newspapers.

Sometimes you just need to impose yourself on a situation, because if you don't, the opposition will.