Little improvement, yet Rangers go top of the League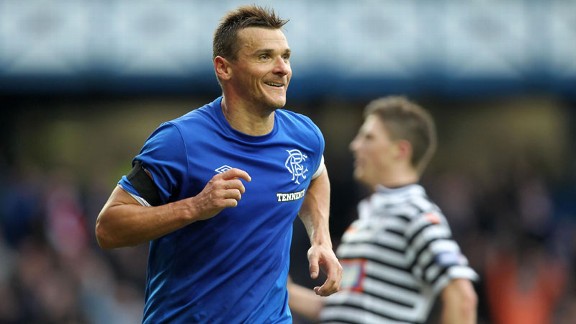 PA PhotosLee McCulloch: Rangers captain has led by example this season
The Rangers are now league leaders after a 2-0 defeat of Queen's Park at Ibrox in front of an incredible 49,463 fans, which the club proudly proclaim as a 'world record crowd for a fourth tier match'.

Rangers just about deserved to win and Lee McCulloch scored a double in what was billed as the 'Original Glasgow Derby'. It was strange to have these two old clubs play each other in the league again, but then as the saying goes, 'the more things change the more they stay the same.'

- McCulloch brace for Gers

Unfortunately for Rangers fans, this could also be used to describe their team's performance. Once again it was slack and lacked intensity. Sometimes it's as if the players awoke on the pitch after a deep sleep and were immediately passed a ball. The recognition of what to do is there, but there is also a touch of panic.

To be fair, the standard of player at Ibrox is not what it once was, and with so many youngsters in the side who will tend to be inconsistent during their development, no-one is expecting previous highs, but context is everything.

In comparison to the other SFL3 sides this squad is much better player for player. The Ibrox side should be demolishing other teams without much difficulty, and as they are not, it shows there is something wrong.

If we take out the anomaly of the occasional 'bad game' that happens to all clubs, the Light Blues are consistent in their poor performances, even when they grind out results.

If we accept that Rangers have superior players, then it's either a bad attitude or poor tactics that stop their obvious ability from shining through.

There is no doubt that in league games, Rangers don't play with the proper attitude. This doesn't mean they are not trying, but mentally they aren't as focused as they should be, while the opposition are giving everything. Needless to say this tends to equalise the game physically.

As regular readers will know, the other issue continually mentioned is Rangers tactics and formation, with one problem being a lack of movement. When a Rangers player receives the ball deep and looks up, all he sees are static Rangers players with their back to the goal looking at him, like a giant Subbuteo team.

In the first-half, Fraser Aird collected the ball on the middle-left of the park and Dean Shiels made a diagonal run from the centre across him. This simple run opened up space for Aird to move into, and although it came to nothing, it was a shock to see Rangers players making space for themselves or team-mates.

Another problem is the formation. The 4-2-3-1 just doesn't work, and the fact Rangers play with a solitary striker is bewildering.

On the positive side, the Rangers management can now see the difference two strikers make when they put on Andy Little as a substitute on Saturday, and by design or player choice, decided to play alongside Lee McCulloch up-front.

Not only did he bring a sharpness previously lacking and gave the midfield some great runs as an outlet, but just by being a second striker he instantly changed the game. No longer could the Spiders' defence crowd McCulloch out of the match as they also had Little to worry about.

Many Light Blues fans will be hoping Ally McCoist has recognised how much of an impact a second striker gave the team, and it will be worrying for them if he has not.

Although the Rangers manager will go on and win Division Three and is already a legend for his playing days, and more importantly, being a driving force in saving the club from extinction, he has still to convince many supporters that he is the man to take the team through the divisions.

As they are top of the league, yet not playing well, only time will tell if we are being too optimistic or pessimistic. A transition period, by its very nature, is an unpredictable time and in hindsight it might seem obvious that it was merely a bump in the road, or if the warning signs were already flashing.

Either way, success will be measured not just by progression through the lower leagues, but by how far Rangers progress as a football team. In both cases the journey has only just begun.