Renaming the stadium: Ibrox or i-brox?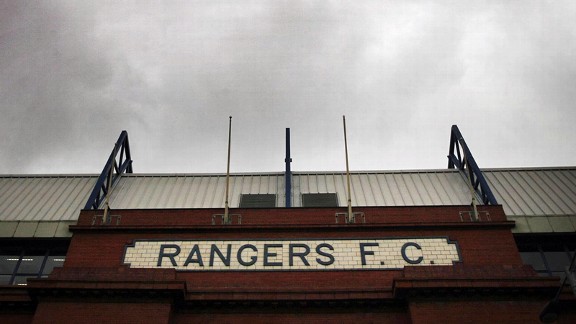 PA PhotosRangers' iconic Ibrox Stadium could be up for a rebrand
In the home leg of Charles Green's world tour of Rangers supporters, the Light Blues CEO mentioned to the fans the possibility of renaming Ibrox Stadium in a sponsorship deal.

He claimed that he was not really sure if it's a possibility, but that they would be consulted if there was an offer, and joked that if Apple wanted to change the name to i-brox he would think about it.

But should it even be considered? Ibrox is more than just a football stadium for Rangers fans. It's a place with an incredible past - charting the highs of sport, to the lows of real tragedy.

Does making it another commodity do justice to all that history?

A few years ago I would have said 'no'. Sponsorship and advertising has its place, but it shouldn't go too far. Tradition should come before cash.

That's still true, but only if you don't need the money in the first place.

It's easy to be morally superior when your belly is full and you are stuffing your face with cream-cakes, but try to keep alive on a diet of abstractions when you go hungry.

The Rangers Football Club were days away from ceasing to exist. Rangers are in the fourth-tier of Scottish football - and although the club is still getting the biggest crowds in the land - the re-building work to the foundation is just beginning.

In reality Rangers need all the money they can get!

Of-course, in the UK this can be an an issue, as we can see from the angry reaction of Newcastle United fans to the renaming of their famous home from St James' Park to the Sports Direct Arena.

But worldwide it's not as if it's something that unusual. Look at the great German club Hamburger SV. Their home ground is the 'Volksparkstadion' yet it's currently called the Imtech Arena through a sponsorship deal, and for the same reason has also been called the AOL Arena and HSH Nordbank Arena. Not only does life go on, but the club gains from it.

However, there are no 'right or wrongs' here and it's still perfectly understandable that there are Rangers fans who don't like the idea of Ibrox Stadium being renamed.

Even if a name-change went ahead there there would still have to limits. The name would have to be socially acceptable, be temporary, and the cash generated should go back into the club itself, and not to a profit for investors.

But if those caveats are met, would more pounds in the bank be such a problem? After the events of 2012, is their not a desire for the club to be in charge of its own destiny, and never be at the mercy of people who wish it ill?

The reality is that the way this is done is to maximise revenue and be financially independent. In other words, make as much money as possible.

Money that will help dampen the effects of a downturn in the financial prospects of Scottish football. Money that could go into helping youth development and buying better players. Money that will help Rangers get back to the top that little bit quicker.

And I haven't mentioned the best bit. It's money for nothing.

And of-course it will still be Ibrox to those who care, and for those who don't what does it matter? It's only temporary and Rangers will be stronger. Isn't that what really counts?