Is Ally McCoist nearing the 'turning point' in the supporters eyes?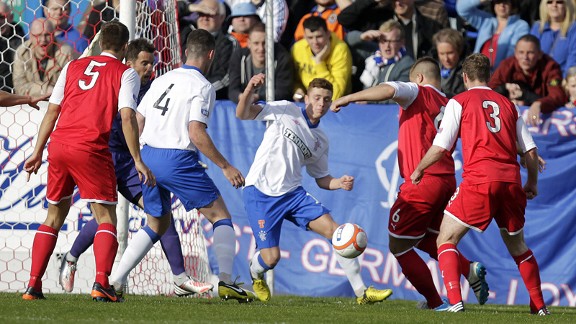 EmpicsBrian Allison scores to put Stirling Albion into the lead against Rangers
Not being someone who knows much about golf, I can't comment on the good and bad of the Ryder Cup, but more than a few informed golfers have told me that when Justin Rose won his match, there was a collective feeling that Europe could actually retain the Ryder Cup.

Discussing that match in a review Joe Posnanski said:

"Turning point? What's usually true in sports, and maybe in life too, is that the turning point is just the point when everyone, all at once, notices what has been happening. When Rose won, the comeback was already in full swing. But his victory made the score 11-11. It was undeniable. And it was incredible."

It was this paragraph that entered my mind when Stirling Albion, at the beginning of the game the worst team in Scotland, defeated the Rangers 1-0 in another shocking away performance.

Did the Rangers fans view of Ally McCoist reach a turning point? As much as the supporters love the guy for almost single-handedly keeping the club together during its darkest (on-field) days, has the tolerance for continual embarrassing results ended?

These are questions that don't have a definitive answer, but it wouldn't be far wrong to suggest that even if this isn't the 'final straw', more bad results will not be tolerated much longer.

Of course, McCoist has been handed the poorest squad in modern Rangers history, but it should still be far superior to anything else in SFL3.

Three wins out of seven is simply not an acceptable ratio, and when you remember Rangers only equalised late against Peterhead, and Berwick had a good goal wrongly chopped off, it could easily have been three defeats.

This is not a bizarre one-off that can happen to any team. This result has been coming for a long time, and there are no excuses left.

Even against the semi-pro Forres Mechanics last week, Rangers were clinging on for dear life at the end. That is when the Highland League team had only ten men.

No-one can say with a straight face that this Rangers squad isn't good enough, or is somehow intimidated playing in front of a few thousand people.

President Truman used to have a sign on his Oval Office desk that said 'The Buck stops here' and if the players aren't set-up correctly, or aren't trying hard enough, then that is still the responsibility of the manager.

Because the Rangers fans are hurting we are seeing the full spectrum of calls for McCoist's immediate sacking on the one hand, to questioning the 'Rangers credentials' of anyone who happens to point out that results aren't very good on the other.

My own opinion is somewhere in between. For what Ally McCoist has done for Rangers should mean he is always remembered as one of, if not the, 'greatest Ranger' in the club's 140 year history.

However, Rangers are in Division Three. The Light Blues simply cannot risk staying there. Rangers' very existence depends on shooting through the leagues as quickly and efficiently as possible. Sentiment cannot be seen to stand in the way of that.

The Rangers manager still has time to turn it around, but he has only enough time - and no more. Given the serious nature of failure, Ally McCoist has probably only until December to turn things around.

Defeat by Stirling Albion might not be the actual turning point in the road for McCoist, but after Saturday more Rangers fans than ever, can now see it in the headlights. And it's closing fast.