Shock Coupe defeat puts transfer talk in perspective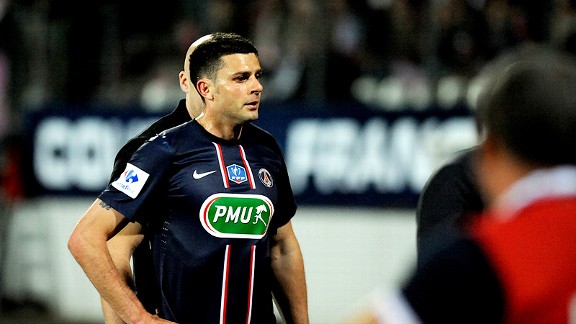 Jean-Pierre Clatot/Getty ImagesThiago Motta's red card only added to PSG's unpleasant night.
Carlo Ancelotti called Paris Saint-Germain's 4-1 penalty defeat to Evian in the Coupe de France quarter-final Wednesday "a disaster" and his side's "worst performance of the season."

That is about as accurate a description as there is of PSG's 1-1 normal-time draw with the Ligue 1 strugglers in Annecy. Also close to the truth were his following comments that "certain players played as individuals." The result exposed the capital club's greatest frailties and laid them bare for all to see with a performance that smacked of arrogance and a lack of passion.

The most positive aspect from a Parisian point of view was Javier Pastore's first-half goal; a sublime volley off the underside of the crossbar after the Argentine had teed himself up gloriously. The praise ends there, though. Pastore and his teammates performed extremely badly, but I won't single out the 23-year-old to bear the brunt of the criticism because he was not alone.

The whole team were disappointing and showed no desire to beat their struggling opponents who, quite rightly, viewed this match as their Cup final and certainly celebrated it that way later.

Evian's equaliser on the stroke of half-time was sloppy from PSG defensively; something that Ancelotti has generally stamped out this season. Pastore played Christophe Jallet into trouble; the Frenchman was unable to keep possession and got dragged out of position. That exposed a static Alex, who was left to mark two men so was unable to move either way, giving Yannick Sagbo all the time in the world to pick out the unmarked Saber Khlifa.

The goal didn't flatter them, either. Nicolas Douchez was kept busy by a determined Savoyard outfit who crucially didn't let their heads drop after conceding Pastore's wonder-strike. Alex came close to snatching the win from a David Beckham corner but that was as good as it got.

The result and poor performance puts recent transfer talk into perspective. Ancelotti's team selection makes it obvious what PSG require ahead of next season and, although the Italian has been spot-on in the league and Champions League this season with regards to selection (especially of late) his starting XI in Annecy was bizarre.

Beckham partnered Thiago Motta in midfield, the Italian seeing red later on for a petulant kick on Evian's Cedric Barbosa summing up PSG's petty mentality on the night. That meant that Blaise Matuidi started on the left, an unfamiliar role for the French international and, to be honest, a pointless one as he was ineffective out wide.

Though Beckham's selection did not cost Les Parisiens, he has to justify forcing players such as Matuidi to play out wide in these games by delivering when he has the chance. The Englishman claimed that he is still up to the task when he joined the club, yet his set pieces have been woeful since arriving even if his general play has been good.

Jeremy Menez starting alongside Zlatan Ibrahimovic in place of Ezequiel Lavezzi was also not necessarily a mistake, but the selection of three central midfielders was. It forced Ancelotti to not only play one out wide, but in forcing Matuidi to play on the left, he moved Pastore from the already-makeshift position that he usually occupies there.

It is a question of squad-building this summer, and to be quite frank, a lot of the players PSG are being linked with will not strengthen the squad. The likes of Samir Nasri, Franck Ribery and Wayne Rooney, while talented, will not change this Parisian team.

In fact, Nasri and Rooney would arguably make it worse in that they offer Ancelotti's side nothing that they don't already have. Rooney would not be the perfect foil for Ibrahimovic and a match like this proves it.

The Swede cannot be forced to shoulder the responsibility for every disappointing performance PSG put in. Yes, he can be criticised for taking a woeful penalty (one he did not look confident in taking beforehand), but he can't be held responsible for the result.

Ibra can't make the difference by himself every time, and he is crying out for a prolific striker to play just ahead of him to make the most of his creativity and also to provide the team with further cutting edge in matches suchas these. Rooney, really? Ibrahimovic needs someone to share the burden with and more important, PSG need an alternative outlet who is more direct and guarantees them a high success rate -- a pure scorer Ibrahimovic has been forced to become by default and Rooney certainly is not.

There is not enough Ligue 1 experience in this PSG side at times. I am not saying that Leonardo needs to go out and buy in every talented player in the league to boost the team's domestic bias, but a squad of international talent is not going to be overly familiar with the nitty-gritty of what was essentially a domestic league encounter.

Those tricky matches are arguably the reason that the capital club have not already sewn up the title and the only way to win those is by either overloading their opponents with direct firepower impossible to handle, or fielding a squad more familiar with the opposition.

Etienne Capoue would provide the directness needed from the midfield that was lacking in this match. The Toulouse man has scored seven league goals this season, and he has been filling in as a centre-back for part of that time.

His two goals against Ajaccio recently are nothing special, but they do demonstrate one key thing that PSG lack: the ability to be direct when playing domestically and to get the job done.

They do not always do this currently and it is for that reason that the title has not been as comfortable to win as it should have been. That is because the regular side assumes too many things when it comes to Ligue 1. Ancelotti needs more domestic know-how, something that does not get exposed on the European stage.

In Annecy Wednesday, he would have been better off playing those who are desperate for a chance to prove themselves, the domestic talent who want to redress the balance within the side.

It is not the result that hurts -- any team can lose a Cup match on penalties against highly motivated opposition -- it is the nature of the defeat that is the most disappointing part.

Next up for PSG: Claude Puel's impressive Nice side at home on Sunday.