Capoue would be step in right direction
Talk of Wayne Rooney moving to the French capital is dominating the headlines at present, but all of the talk regarding potential transfers has raised a more realistic prospect and one that casts doubt over the future of David Beckham.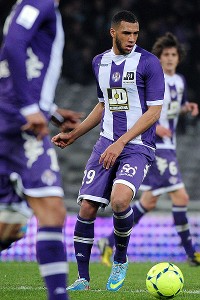 Pascal Pavani/AFP/Getty ImagesEtienne Capoue might not be a marquee name such as Wayne Rooney, but nonetheless would be a good addition to PSG.
Toulouse's French international midfielder Etienne Capoue told the French media Monday that he came close to joining Carlo Ancelotti's side in January, before Beckham's arrival, but remains in contact with the club and is hoping to seal a summer switch.

"There was contact this winter with PSG and there still is today," the 24-year-old told beIN Sport. "I hope there will be plenty more contact between us. We are undoubtedly very close to a deal.

"I am a big PSG fan so to play for them would be a dream. I want to play in the Champions League, but whatever happens it will be a personal choice. For me, a top club is one that is playing in the Champions League."

The five-time-capped international would indeed join a club playing Champions League football next season if he moved to Paris with PSG closing in on a first title in 19 years. But it was Ancelotti's reaction to questions regarding Capoue that are perhaps the most telling indication of the capital club's future plans.

Ancelotti said of the Frenchman:"We wanted him in January but David Beckham was free so that was easier for us at the time.

"We won't be talking about potential transfers until the summer though."

The interest will come as news to Beckham, who was recently told via the French press through sporting director Leonardo and then Ancelotti that if he wants to stay at the club next season he can. The Englishman has proven useful in the French capital so far, but he is by no means indispensable, despite his supposed vital presence according to his teammates.

The arrival of Capoue would be an intelligent signing by the club, but it would make it even more of an uphill task for Beckham to finish his illustrious career on an absolute high as he continues to deteriorate physically. The presence of the Englishman however, is supposedly key to any potential capture of Rooney.

PSG don't need Rooney -- they want him. They need a scorer to take the pressure off of Zlatan Ibrahimovic, the same way they need Capoue in midfield and arguably need a left-back to at least provide competition for Maxwell before usurping his time.

They don't necessarily need Beckham. Given the presence of the irrepressible Blaise Matuidi, the prodigiously talented work in progress that is Marco Verratti and the effective yet injury-prone Italian international Thiago Motta, Beckham is already fourth choice and Capoue's arrival would make him an undisputed fifth.

The Frenchman's all-round ability would give Les Parisiens' midfield the added bite and drive that Verratti cannot guarantee consistently at present. But it represents sage thinking from the club to identify a current French international in need of moving on to the next stage of his career, giving the team's domestic contingent a boost as well as a natural midfield partner for Matuidi.

The Rooney deal is not so well-advised. Michel Moulin's "done deal" comments on the topic of the 27-year-old should be taken with a pinch of salt given Moulin's unreliable past, but his previous PSG connections should also be noted so it cannot be completely ruled out at this stage. Leonardo has so far denied a bid for the Englishman, as has president Nasser Al-Khelaifi.

The Brazilian also moved to quash rumours regarding a potential departure of the talismanic Swede Ibrahimovic, whose goals have been invaluable to PSG this season. His presence and indispensability also casts doubt on a potential Rooney arrival. Why would PSG want to add another high-earning star name who favours playing in a similar role, as opposed to the out-and-out predator that they should arguably be prioritising ahead of next season?

Ancelotti appeared to rule out the possibility of a bid when speaking with L'Equipe:"Wayne Rooney is one of the best strikers in the world," he said.

"I think he is impossible to buy. He is an idol for Manchester United."

Recent rumours have linked Atletico Madrid's Colombian goal sensation Falcao with a move to Manchester. That is the sort of transfer PSG should be looking to hijack, as they did Lucas Moura's proposed move to Old Trafford -- otherwise an Edinson Cavani, or perhaps a Gonzalo Higuain.

The Real Madrid man in particular would represent a move towards higher domestic representation in the PSG ranks. Higuain was born in Brest, despite his status as an Argentine international, and a signing like him is more a priority for the side than Rooney. It would take the pressure off Ibrahimovic, particularly in Europe where he favours a more creative role, and will make Les Rouge-et-Bleu more efficient in the league games they often toil to win. Rooney would not necessarily do that, not least because of the time it would take him to adapt to life in France.

Leonardo has recognised PSG need to boost their domestic player quota, which is also a major progression. So far his acquisitions have almost been exclusively from abroad, and more important in terms of first-team selection, it would quell the criticism that PSG are too much of a cosmopolitan paradise when so there is so much talent of French origin.

Leonardo told Gazzetta dello Sport earlier this week: "The idea of seeing the great French players here is something I like. I'm not necessarily talking about (Karim) Benzema, but maybe (Samir) Nasri, (Franck) Ribery or (Yohan) Cabaye."

Whilst the rumours of Rooney arriving in the French capital has some salivating, the potential and more likely move for Capoue shows PSG are getting their priorities correct in identifying their greater needs before going after another marquee name. Rooney may yet arrive at the Parc des Princes, but Leonardo's admission the club should be looking closer to home for new talent is the next step in PSG's ambitious project, not only for the club but for the league too.

I'm not saying that Capoue as a whole would be a better signing than Rooney. For a start, they play in different positions -- although after Rooney's appearance in midfield against Stoke recently, who knows? But that type of signing is more intelligent for PSG long-term than spending money on a player who has arguably been overrated for the majority of his career and is certainly not in the form of his life, nor fitness.