Miffed Gameiro overshadows Matuidi heroics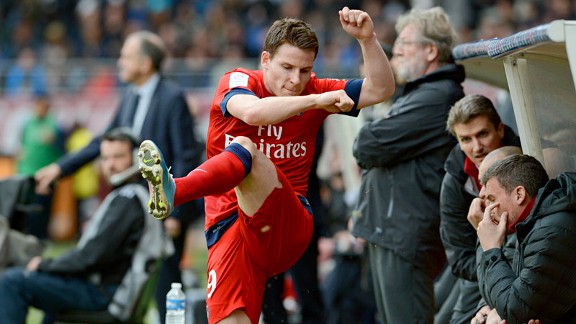 Franck Fife/Getty ImagesA very frustrated Kevin Gameiro is likely to leave PSG this summer.
"It is the same thing every time," Kevin Gameiro declared after making way for Thiago Motta in the 64th minute of Paris Saint-Germain's narrow 1-0 win against rock-bottom Troyes at the Stade de l'Aube on Saturday afternoon.

- Match report: Troyes 0-1 PSG

The Frenchman could easily have meant PSG's inability to take domestic competition seriously after a big European encounter. He could also have meant the capital club's continuing struggle to break teams down without Swedish talisman Zlatan Ibrahimovic. However, he didn't. Gameiro meant the same frustrating fate that he suffers match after match -- seeing his playing time cut desperately short.

Over an hour represents a good shift for the striker these days but given that it was a rare start, the 25-year-old was entitled to have expected more game time. Plus he has a point. Every time that Carlo Ancelotti opts to make a change, plays somebody out of position or overlooks someone in selection, it seems to be Gameiro. By now the French international must know that it is not a personal slight from the Italian, it is just a fact that he is the odd man out.

For all the important goals and vital contributions that he makes from the bench -- take his recent match-winner against Montpellier or his impressive cameo in the home leg of the Champions League clash with Valencia as examples -- and you get the point. The only time Gameiro gets rewarded for his hard work is when Ibrahimovic is either unavailable (he was suspended v Troyes), being rested or when PSG are facing an opponent that Ancelotti feels comfortable enough in handling to give the former Lorient man a rare start.

Ancelotti's sheepish reaction after the Montpellier result told its own story: "Perhaps I should play Gameiro more often," he told the press. It was an acknowledgement that Gameiro deserves to play more often but that the Italian just can't justify it ahead of the likes of the Swede or even Ezequiel Lavezzi. That the Argentine was especially poor throughout the Troyes match, putting in an error-strewn performance, or that the side from the capital scored the solitary goal of the game just a minute after his exit won't have helped his mood. But Gameiro can hardly vent his frustration at Ancelotti. He does persevere in playing the Frenchman as often as he can, a mark of how impressed he has been with a player whose confidence he seemed intent on smashing upon his arrival at the Parc des Princes last year.

Over-playing the point? Perhaps I am, but that is because there really were few other talking points outside of that PSG-wise. To Troyes' credit, the hosts were vibrant, full of enterprise and should have taken the lead inside of 10 minutes. The effervescent Stephane Darbion struck the post, but as has so often been their problem this season, a lack of cutting edge cost them and relegation seems increasingly likely. To underline the point, PSG conceded more shots in the first 21 minutes of their encounter at the Stade de l'Aube, three to be precise, than the two they conceded in the entire match at the Camp Nou against Barcelona on Wednesday.

However PSG finally broke their Ibra-dependence officially; claiming their first three points in the Swede's absence at the fourth time of asking. That the breakthrough came after a defensive change though was fortuitous, but the 65th minute goal from the ever-dependable Blaise Matuidi -- well taken considering his previous lack of prowess in front of goal until this season -- was all Les Parisiens needed. Suspended in Barcelona on Wednesday, that was the former Troyes man's seventh goal in all competitions. Only Ibrahimovic and Lavezzi have scored more times across all competitions this campaign.

Otherwise, it was a lethargic showing from PSG's attacking complement of Gameiro, Lavezzi, the ever-enigmatic Javier Pastore and Lucas Moura. It was a dysfunctional display with Lavezzi especially poor, the Argentine looking jaded after Barcelona and a lack of real group cohesion and motivation was palpable. Moura, too, was very quiet; evidently not fit judging by the ice he was nursing his right ankle with after his late substitution.

On the plus side, another clean sheet takes Salvatore Sirigu to 20 for the season, this one of the more merited ones in his collection after some important stops. Crucially those 20 for Sirigu and PSG in the league rank higher than any other goalkeeper or team in Europe. The result moves the capital club a provisional 10 points clear of Marseille. Sixty-seven points is traditionally an omen for any title-winning team in Ligue 1 after 32 matches, that figure usually sees the team in question claim the title come the end of the season and PSG have now reached that mark.

As for Gameiro, today's public show of frustration merely confirms that he will be seeking an exit from the club this summer. Few PSG fans will blame him. It is difficult to criticise a player who has given everything for the club when given the chance, but has been painfully underappreciated since the dismissal of Antoine Kombouare. It is impossible to imagine him in the capital come next season, but it is to his credit that he has even stayed this long to give it everything. His days were numbered once Ibrahimovic arrived, though, and few, if any, can dispute the Swede's dominance as the focal point of the PSG attack this season. Gameiro will go with the Parc des Princes' blessing, as have others already.

For Ancelotti's side, all eyes now turn to Wednesday's Coupe de France quarterfinal clash against Evian before a potentially tricky home fixture with Claude Puel's Nice on Sunday.