The curious case of Jeremy Menez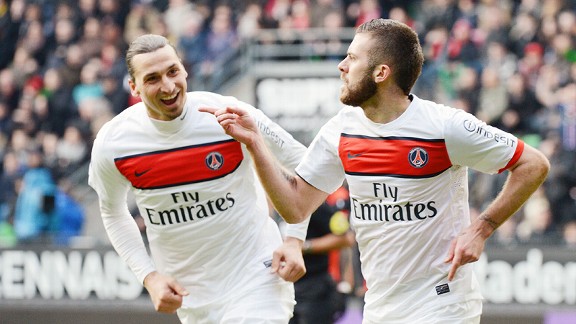 Damien Meyer/AFP/Getty ImagesIt is no mystery that Zlatan Ibrahimovic, left, is much more productive for PSG when Jeremy Menez, right, is on the pitch.
Inconsistent, infuriating and enigmatic are just a few of the adjectives that describe Paris Saint-Germain's perennially sauntering, part-Rembrandt, mercurial attacker Jeremy Menez.

So often with the 25-year-old, flashes of brilliance will be followed by larger flashes of arrogance. But when he is brilliant, it is truly a breathtaking sight. Take Saturday at Rennes for example: Menez was largely anonymous throughout the match but came alive when it mattered most. A mazy run early in the second half left four Breton defenders trailing in his wake before the French international smashed one home past Benoit Costil. It was one of the best individual goals you'll see anywhere this season.

- Tomas: To Messi or not to Messi?
- Cox: The problems with 'Messi dependence'
- Beckham: We can beat Barca
- Leonardo optimistic ahead of Barca test

That 56th-minute strike was a demonstration of Menez's best quality: the direct threat that he offers that few teams can boast. With Carlo Ancelotti's side traveling to the Camp Nou for their Champions league quarterfinal second leg level against Barcelona, poised delicately at 2-2 on aggregate, they trail on away goals, meaning they have to chase the game. That direct approach could prove vital if the capital club is to pull off a miraculous victory in the tie. However, the goal also marked a turnaround in Menez's fortunes. Following a spell out of the team through injury -- suspicious given that it immediately followed a well-documented fallout with the club's management -- Menez has concentrated on his football and is playing his way back into Ancelotti's plans.

In February, during PSG's Champions League round of 16 first-leg clash with Valencia, Menez, brooding following an increased number of substitute appearances since the turn of the year, was unhappy at playing only 15 minutes toward the end of the match. He had been warming up since the start of the second half when new boy Lucas Moura first showed signs of injury, but did not come on until only 15 minutes remained. After the match, he confronted Ancelotti and sporting director Leonardo over his perceived misuse. The reaction was not favourable and made Menez, like French international defender Mamadou Sakho currently, look unprofessional. Now the Longjumeau native's future past the summer, like Sakho's, is unclear.

Back in February after the incident he revealed: "I need to feel trusted and when I don't feel that trust, we will have to find a solution.

"We will see at the end of the season what the club wants. Everyone has to put in the effort, so maybe I have to try harder too."

To his credit he has done just that, when given the chance. The former Roma man has been instrumental in a handful of PSG's important recent goals. An individual effort at home to Bastia broke the deadlock in a frustrating encounter for Ancelotti's side. He then set up Zlatan Ibrahimovic's vital late second goal for PSG at home to bitter rivals Marseille despite being given only five minutes to prove himself. Introduced as a halftime substitute at home to Nancy, he provided Ibrahimovic with the crucial equaliser to turn the tide in a come-from-behind 2-1 win. He also played an important role in Kevin Gameiro's late winner against Montpellier by charging down David Beckham's intercepted pass to Ibrahimovic, before setting the Swede away to square for Gameiro.

There are a couple of recurring themes there. When PSG are chasing a goal, Menez is perfect at hitting a team with his speed and passing, but he also boasts an occasional threat with his own finishing ability. Formerly a vital part of the first team, the Frenchman has lost that importance in the starting lineup to Brazilian sensation Moura. But while statistically Menez appears to be in decline compared with last season -- boasting only 3 goals and 7 assists in 26 appearances (20 starts) this season in the league compared with 7 goals and 12 assists in 33 starts last season -- those statistics don't tell the full story.

PSG's fortunes this season have, rightly or wrongly, revolved largely around the incredible goal-scoring form of Swedish talisman Ibrahimovic. It is no coincidence that since Menez has fallen out of favour, the Swede's goal-scoring prowess has diminished somewhat. After all, the Frenchman has provided five assists for Ibrahimovic this season (in five separate league matches), compared with two apiece from Moura, Marco Verratti and Christophe Jallet. The second-highest total -- three -- actually belonged to the now-departed Nene, who apparently never saw eye-to-eye with the Swede (admittedly a hard task at 1.95m). Yet there is only a paltry one from PSG's other top assist-ranking star Javier Pastore (two if you include Europe), who continues to command a place in the side ahead of Menez despite his general struggles on the pitch. Extend that into Europe and Menez adds a further assist for Ibrahimovic, taking him to six in total.

Conversely, Ibrahimovic has laid on two of Menez's six goals across all competitions this season, one in Ligue 1 and one in the Champions League. That may not represent much in the grand scheme of PSG's season, but it is still one-third of Menez's goals this campaign, perhaps telling more about his shortcomings as a second striker than anything else.

It would appear, then, that in view of the criticism toward the towering Swede that his marginal decrease in form has coincided with Menez's absence from starting lineups. The former Roma man is evidently Ancelotti's key to unlocking the Ibrahimovic enigma on a regular basis, and heading to Spain needing Ibrahimovic to be on song to stand every chance of progressing, Menez has a strong case to start the clash.

It makes his shabby treatment by the club all the more confusing though. Nobody (including Menez himself) can dispute that Moura's talent commands a starting berth, but the issue here is that Menez was the first to be dropped and that this trend has continued despite the under-performance of a more notable first-team regular. Although only two of Menez's six assists have come since Moura arrived, the four he tallied before still doubles the contribution of €42 million man Pastore. The stats suggest that the Argentine cannot combine effectively with Ibrahimovic and that the Swede's slight drop in prolific form is more from trying to force two incompatible players together than the former AC Milan man being off-colour since January.

Ancelotti was disappointed with Menez's attitude at the Mestalla in February (incidentally one of the few occasions this season when Pastore was impressive), and said:

"If he is not happy in June, he can ask to leave, as others have done. He is an important player for the team, but competition is logical in great teams."

He had a point, but he must also be impressed with Menez's positive reaction since then.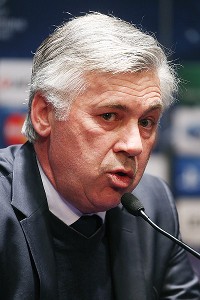 John Berry/Getty ImagesCarlo Ancelotti has a big decision on whether to start Menez or Javier Pastore on Wednesday versus Barcelona.
The real problem lies in his position. Does Ancelotti only see him as a central attacker or is he prepared to use him as a right winger? The former Sochaux man's impressive form last season (first under Antoine Kombouare and then Ancelotti) mostly came from out wide.

But back in September 2011, months after joining the capital club, Menez revealed: "I see myself as more of a central player than a winger. I can concentrate more there than I can out wide."

Menez sees himself as central player, but he doesn't have the consistency or clinical edge to play as a second striker, as he has done at times this season. There are also others who can play in the number 10 role more naturally, such Pastore or Moura. Menez can't do that, so his best place is arguably on the wing where Moura is currently stationed. The Brazilian often looks more dangerous when played through the middle this season and given Ezequiel Lavezzi's inconsistent finishing, deploying him on the left, where he was so effective for Napoli, and Menez on the right with Moura supporting Ibrahimovic could prove potent.

A fan favourite and undoubtedly one of PSG's most creative influences, Menez is more consistent than Pastore and must be given a chance ahead of the Argentine, who continues to disappoint this season after a promising first season in the capital. Similarly to homegrown defender Sakho, Menez is a domestic talent whom PSG are running the risk of losing this summer. Though he can't expect to start every match, he is right to feel hard done by, dumped out of the side when arguably not the most under-performing of Ancelotti's attacking unit, and his recent form does make a formidable case for his inclusion Wednesday.

Rightly or wrongly, Ibrahimovic is seen as PSG's best chance of progressing Wednesday night's clash with Barcelona. If that is the case, Ancelotti's side stands a better chance with the Frenchman on the pitch because of his understanding of the Swede and his individual attributes. Menez may or may not prove to be Ancelotti's unlikely saviour in Barcelona, but he is certainly vital if PSG are to get the best out of Ibrahimovic now, and for the remainder of the season.