PSG prove they can play with the big boys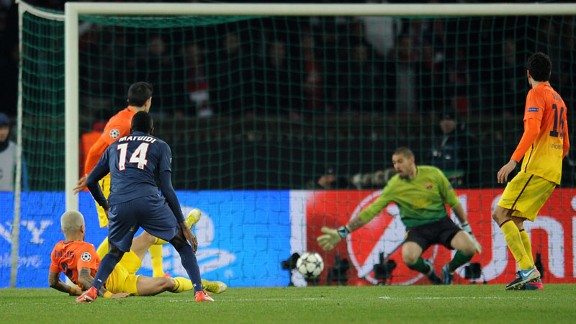 GettyImagesBlaise Matuidi's strike sneaks in to earn PSG a last-gasp 2-2 draw
Big decisions change football matches, but so do big mistakes, and after looking like they were on the verge of travelling to Barcelona trailing in their Champions League quarter-final clash, Paris Saint-Germain head to the Camp Nou level at 2-2 in the tie. Carlo Ancelotti's side were being taught a painful lesson in taking chances in European football until Blaise Matuidi's injury-time strike salvaged a more than deserved draw for the capital club. PSG will arrive in Spain for the second leg with renewed hope after putting in a performance of the highest quality to contribute to a spectacular encounter.

- Tomas: A costly draw in Paris for Barca
- Matuidi hands PSG late lifeline
- Stats: Bayern and Barca secure advantage

A late strike from Zlatan Ibrahimovic had cancelled out Lionel Messi's opener, which came against the run of play in the first half, but a late penalty from Xavi had looked to have won the match for the Catalans. However, Matuidi, so vital for Ancelotti's side this season, scored a fortuitous but thoroughly merited equaliser to send the home fans into delirium. The result, on reflection, is a fair one. PSG were punished for some occasionally naive defending although their struggle to take their chances did not cost them dearly as it could have.

Before the match had even kicked off, the first story of the evening unfolded. David Beckham started his first Champions League match since he played for AC Milan against former club Manchester United in March 2010. The Englishman was preferred ahead of Marco Verratti, whom coach Ancelotti evidently felt too inexperienced to start a game of this stature. The 20-year-old whose "naivety" as the Italian called it in January, has led to a flurry of yellow cards this season and obviously Carletto felt concerned about a potential early caution for the diminutive Italian.

The atmosphere prematch was incredible, the best I have ever seen at the Parc des Princes, with throngs of people congregating outside the stadium hours before kickoff. The stands were full of energy an hour before the start of the match, a real din created by both sets of fans. It was evident that the big match PSG had been waiting for since the two sides last met 18 years ago had arrived. Images of the famous 1995 European Cup victory played on the big screen and it seemed only fitting that the biggest game of the Qatar Sports Investments era should pit the capital club against the Catalans. The scene was set for a special match and it duly delivered with a high-octane first half.

The excitement about Beckham and the atmosphere itself was enough to make everyone forget about the night's other story, Ibrahimovic facing and eventually scoring against his former side. Although the teams had met as recently as preseason, a come-from-behind 2-2 draw for PSG with the Blaugrana winning on penalties, the match was different in every possible way despite the same final score. The early signs were good, Ancelotti's side were dominant and took Barcelona by surprise, throwing caution to the wind while looking to utilise the pace of Ezequiel Lavezzi and Lucas Moura to compliment the physicality of Ibrahimovic. The Argentine in particular looked sharp, and was impressive with his early link-up play involving Lucas Moura and Ibrahimovic. Lavezzi, strong, fast, thoroughly indomitable on the night until his substitution, hit the post inside the first 10 minutes just through sheer determination.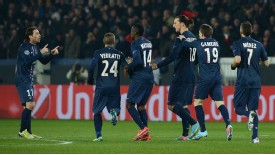 GettyImagesParis Saint-Germain celebrate after drawing level at 1-1 through Zlatan Ibrahimovic
The capital club took the game to their illustrious opponents at every opportunity. While Lavezzi, Moura and Ibrahimovic combined in open play, Beckham zeroed-in from set pieces and produced a great delivery for an early chance, a shame though about the execution from Alex. The Englishman's presence, not what he actually did on the ball, was arguably what had PSG so settled in the first period. Verratti in the same position often dawdles on the ball and losing it to Barcelona in any area that the Italian would occupy could be fatal. It looked sage decision from Ancelotti to start Beckham instead.

Verratti did eventually come on, his early touches demonstrating why Ancelotti made the decision he did. However, he grew into the match and it is something that the youngster will remedy over time, not least because of his considerable skill. Beckham though was solid in midfield and barely put a foot wrong although he was not as involved as his teammates in the action. That didn't stop Ibrahimovic from taking an early free kick from his team-mate in Beckham territory. He did test Valdes though with a powerful low drive.

Beckham's midfield partner Matuidi gradually grew into the match as his defensive capabilities came to the fore with a number of crucial tackles. Thiago Silva was absolutely colossal in defence, the best player in the world in Messi against the man widely regarded as the best defender in the world. It was a perfect match that the Brazilian did not deserve to lose and produced his best performance in a PSG shirt. Alex too was impressive, throwing himself into everything and making the most of his physical presence.

As encouraging as the first period was, PSG did look exposed on the flanks. Barca created chances thanks mainly to their multiple threats from wide. Andres Iniesta whipped one narrowly wide midway through the first half but the Catalans were far from dominant. The Messi goal, when it came, was against the run of play, although it Alves pass to create the chance was sublime. Harsh on PSG, but a lesson for future reference perhaps.

The second half was a different matter, it was more cagey and the exit of Messi obviously impacted Barcelona, whilst PSG's momentum stalled a little. Ancelotti's side still had chances, but they must learn to take opportunities no matter how small. Lavezzi's early chance was not easy, but against sides like Barcelona they must be taken. Ibrahimovic did just that when he poached his late chance and Matuidi's bit of fortune was well-deserved.

And although Lucas Moura floundered a little as he tried to do it all on his own, overall it is hard to fault any PSG player on the evening. It was a superb team performance, something that has not been said too often of Ancelotti's side this season. Rich in industry and full value for at least a draw, the players provided their owners with the positive performance they needed to prove that they belong at this level. PSG are already on course to be on par with the biggest of European sides shortly, if not already.