Sakho feeling on fringes for PSG but starring for France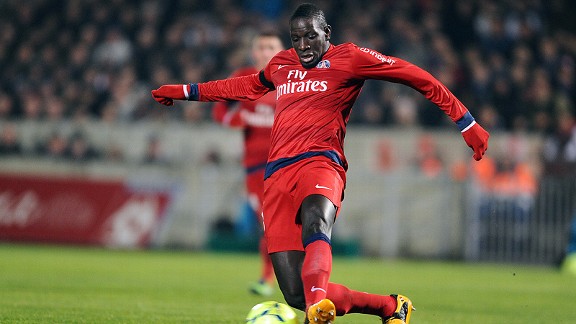 Nicolas Tucat/AFP/Getty ImagesFrenchman Mamadou Sakho isn't very pleased with his playing situation at PSG.
Whilst Blaise Matuidi's position in both Didier Deschamps' France and Carlo Ancelotti's Paris Saint-Germain sides are beyond reproach, club team-mate Mamadou Sakho is in the unenviable position of being first choice for country, but not guaranteed a starting berth for his cub.

- Sakho considers leaving PSG

The 23-year-old PSG youth academy product has long been thought of as one of French football's most talented prospects, and a demonstration of the capital club's ability to source and develop top domestic talent from on their own doorstep. However, since the club was taken over by Qatar Sports Investments in 2011, Sakho has endured a rough time in the capital. Last season he struggled under the weight of being named captain at just 22, a burden he was relieved of this season, and this year he has had to deal with the increased competition for a first team place following the arrivals of Brazilian duo Thiago Silva and Alex in 2012.


The latest in a string of comments regarding his future in the capital came last week when quizzed about his World Cup hopes by L'Equipe. "Next season will be important with the World Cup. It's been tricky for me for a year-and-a-half in Paris. I'm 23, and to continue improving, I need to play," he said before the Georgia match. "A change in the staff at PSG stopped me dead, and I've been pushed down the order. Of course, PSG are my club, I feel at home there, but if I'm pushed towards the exit, it's clear that I have to think of my career."


Sakho's importance to PSG shouldn't be underestimated. Despite these comments, he has made 20 appearances this season, more than captain Silva and the same number as rival Alex. However, when he and the two Brazilians have been fit this season, the Paris-born star has often found himself on the bench. Comments earlier in the season from Silva that he is "more comfortable" playing alongside Alex than Silva were misconstrued at the time, but it is hard to feel that they have not had a damaging effect on Sakho's relationship with PSG. Since that moment, he has found himself as a third choice behind the Samba pair and sees Alex as one of Ancelotti's "soldiers", a risky move from the Italian if true, given the 30-year-old's recent poor form.

Sakho and Alex are in essence two similar defenders, which makes it hard to play them together unless Silva is injured. Both are strong, athletic presences in the backline, often providing the brawn to match the brains of Silva alongside them. Alex provides more of a goal threat from set pieces, but his mobility is questionable (as evidenced by his own goal against Saint-Etienne recently) and he is often caught out when faced with a speedy opponent.

Sakho has youth on his side, not only is he equally as physical as the bulky Brazilian but he is seven years younger. He is also faster and more agile. He is a frightening prospect for forwards with his monstrous presence but his ability to give chase, unlike Alex who can easily be out-manoeuvred by a turn of pace, makes him more of an all-rounder.

Add to that the boon of Sakho being a rare home-grown player in a squad full of expensively assembled, and largely foreign stars, and the Frenchman appears to have the Brazilian licked. However, the one area that Alex does exceed Sakho in is communicating with Silva. The Samba pair undoubtedly speak Portuguese on the field whilst Sakho and Silva would have to speak French or possibly English. Therefore, the decision to favour Alex over Sakho is born out of Silva's ability to better influence the game when in control at the back alongside a player he can fully communicate with. A dangerous game to play when you consider that Silva already usurped French international Christophe Jallet as captain this season, despite yet not even being able to field press conferences in French.

This over-coddling of Thiago Silva is potentially damaging PSG by forcing one of their star talents towards the exit against his will. The team has to come before any one player's "comfort". The decision to field Alex ahead of Silva does little to encourage the Selecao captain to adapt to his environment and master the language immediately. If he had, Sakho is no doubt the better choice alongside him than a creaky defender aptly nicknamed the tank. Recent liable performances suggest he should be renamed the truck, and a sluggish one at that.

The importance of first team football next season for Sakho, who is the only player to have played all eight of Didier Deschamps' first matches in charge of Les Bleus thus far, is amplified further following Friday's 3-1 win over Georgia. He now faces increased competition for a starting berth in an already competitive defence following the arrival of Real Madrid's Raphael Varane on the international scene. Another season of being in and out of the first team at the Parc des Princes not only jeopardises his place in the starting 11 ahead of the likes of Adil Rami, Laurent Koscielny and Mapou Yanga-Mbiwa, it risks him missing out on a trip to Brazil altogether. But that is a situation that Sakho claims he has already "accepted, even if I don't understand it".

Silva is undoubtedly the most experienced defender in PSG's team and the best candidate for the captaincy. However, he needs to master the French language, and quickly too. This season it has become increasingly obvious that the short-term benefits of favouring the Brazilian outweigh the long-term ones of handing Sakho the starting berth. By the time the World Cup in Brazil rolls around, Alex will be 31 and likely not there disputing it on home soil, Sakho will likely be there whether or not he is still a PSG player.

For a club with a history of having spent years rebuilding the reputation of a youth academy that let a plethora of local talent slip through their fingers, letting Sakho leave this summer would be an even bigger mistake.