All hail Blaise, PSG star vital for club and country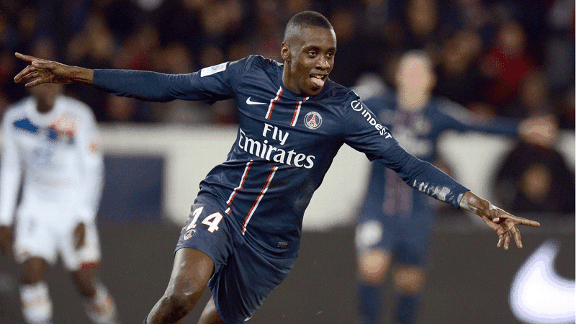 GettyImagesBlaise Matuidi is "indispensable", according to Carlo Ancelotti
During the international break, Paris Saint-Germain's Blaise Matuidi will pay the price of success this season. Having already played 47 matches, scoring three goals in 28 league appearances, his pivotal role at club level is reflected on the international stage with France. Arguably PSG's most consistent player this season, and certainly the most reliable, Matuidi is now an integral part of Carlo Ancelotti's plans. The midfielder was even recently branded "indispensable" by the Italian and "one of the best defensive midfielders in Europe" by club president Nasser Al-Khelaifi.

- Rigg: Varane continuing rapid ascent
- France's Benzema unhappy with critics

In the same way that the capital club were accused of relying on Zlatan Ibrahimovic earlier in the campaign (Ibra-dependence), the team are now the subject of talk of a Matuidi-dependence. Impressive progress this season has coincided with his arrival on the French international scene at the end of the last campaign. Although he made Laurent Blanc's Euro 2012 squad in Poland and Ukraine, Matuidi saw no playing time. Now under Didier Deschamps, Les Bleus are undergoing a transformation from a side ruled by large egos to a team with a blue collar mentality that Matuidi epitomises.


"I don't like to assess myself too much; it is not in my nature," he said recently of his progress to the French media. "The less that I say, the better I play, so I will let the pundits and coaches say what they want to say."

"To hear praise coming from one of the best coaches in the world (Ancelotti) is a real compliment. But all of that can disappear very quickly, so I need to focus on remaining consistent."


Outstanding in his showing in the first World Cup qualifying encounter with Spain, he has been gearing up for France's Paris-based double-header with Georgia and the reigning World and European champions this week. However, one booking away from a suspension, Matuidi is likely to be rested against Friday's opponents Georgia. A good thing for PSG, because in the second half against Saint-Etienne in particular, Les Parisiens' midfield general looked jaded.

Burnout is now becoming a real issue, not just for Matuidi but PSG's entire international contingent, though Matuidi appears to bear the brunt of it being the most heavily selected player on both fronts this season. The next four matches in particular are crucial for Ancelotti's side, at home against Montpellier and Barcelona before a trip to Rennes and then the return leg in Spain. That too is followed by a difficult remainder of April, facing the likes of Troyes, Nice and Evian in both Coupe de France and Ligue 1. Travel thus becoming a particular problem for PSG's players, though this time with Les Bleus playing both matches in Paris, Matuidi's resting period will have been greater than most.

Deschamps though does not doubt his ability to perform, even when not 100% fit. He recently told the French media that he has no doubts over "his capacity to turn in fantastic performances" despite accepting that the player has been heavily used this year. The move to rest the 25-year-old would also further confirm that Matuidi is not only indispensable at club level, but now international level too. Along with PSG team-mate Mamadou Sakho, who is the only outfield player to have played all 630 minutes of Deschamps' reign so far, the former Saint-Etienne man has established himself as a cornerstone of this new-look France team.

Matuidi has capitalised on Yann M'Vila's ill-discipline to make the central midfield berth that had originally been earmarked for the Rubin Kazan man his own. It would appear that by the time M'Vila's ban reaches its grace period approaching the World Cup in Brazil next year, Matuidi will have developed further and will likely be one of Deschamps' most trusted lieutenants on the pitch. That is perhaps the next stage of development for the "new Claude Makelele". Ancelotti has already shown that he sees leadership potential in Matuidi having most recently handed him the captain's armband against Sochaux; and it is something that the PSG man could offer Deschamps on the international stage as Hugo Lloris remains captain out of convenience and a lack of trusted outfield options for the role.

One thing is clear though, whilst Ibrahimovic is scoring the majority of the team's goals and Lucas Moura, Ezequiel Lavezzi and Thiago Silva dominate the rest of the attention, Matuidi has silently become the most valuable player. Much like Makelele at Madrid, who Zinedine Zidane likened to the "engine of a gold-plated Bentley", Matuidi may be surrounded by a plethora of superstars, but has quietly usurped them all in his importance.