PSG need marquee European tie
Paris Saint-Germain await the Champions League quarter-final draw on Friday morning in a very strong position. They have advanced further than most people expected them to in their return to the European stage after an eight-year absence, but now need a thorough test to illustrate the progress made over the last two years.

Part of the reason they have advanced so far is the consistency they have shown during the group stage and a superb first-leg victory in Valencia, but it is also thanks to the good fortune in drawing an unfancied team such as Valencia on the back of a relatively straightforward group.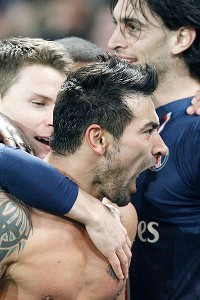 Xavier Laine/Getty ImagesEzequiel Lavezzi, center, should be eager, not hesitant, to face a European power such as Barcelona.
Thus far opposition has been not exactly been easy for Carlo Ancelotti's side but the draws have been favourable for PSG. The likes of Dinamo Zagreb, Dynamo Kiev, Porto and Valencia have pedigree in the competitio,n having spent more seasons accumulating experience in the competition, but they were outdone by PSG's star quality.

That extra experience almost told against Porto and Valencia, where PSG have been run the closest in this season's competition, demonstrating a lack of big-game know-how from Ancelotti's side at certain moments. Those flaws evident were evident despite the presence of Thiago Silva, Thiago Motta, Zlatan Ibrahimovic, Ezequiel Lavezzi and now David Beckham in the squad.

Though unfancied, los Che still boasted a vastly superior level of recent Champions League experience to PSG and they used it to their advantage in the second leg of their round of 16 tie.

Despite fielding an under-strength team because of injuries, the Spaniards coped with the occasion better despite the cauldron of noise created by a vibrant Parc des Princes crowd. Porto beat the capital club, inflicting a first defeat on Ancelotti's then-unbeaten side in October before beating the Portuguese team 2-1 at home to secure top spot in Group A in December.

It was a result that not only reportedly saved the Italian's job, but it also would have seen PSG eliminated on away goals had it happened on aggregate in the knockout stages.

Their berth in the quarterfinals is hardly false, because in a competition like the Champions League, you can only beat the opponents put in front of you and no tie is an easy one, particularly after the group stage. That said, now is the time PSG need to play a big team, one of Europe's elite.

A semifinal having beaten the likes of Barcelona, Real Madrid, Juventus or Bayern Munich will be much better for the team in the long run than an appearance in the final by virtue of being protected from the competition's giants by a fortunate draw.

However, Ezeqiuel Lavezzi, PSG's top scorer with five goals so far in the competition, Lavezzi, had this to say to the club's website ahead of the draw: "I think that if there is a team to avoid, then it is Barcelona. There is no reason to think that any team is better than anyone else now. We are not scared of anyone in the draw."

If the team are unafraid of anyone, then why not relish the challenge that Barcelona would bring les Parisiens and openly welcome the possibility?

Yes, on paper PSG arguably stand a better chance of reaching the semi-final if they face a team like Galatasaray or Borussia Dortmund. But Ancelotti's men would benefit more from facing a European heavyweight.

Individually, they have enough experience and talent to progress to the semifinal, but as a team they are one of the more inexperienced sides left in the competition. Despite the presence of Silva, Motta, Ibrahimovic, Lavezzi and Beckham, the squad remains largely untested in Europe's elite competition and certainly are not familiar with the territory as a unit.

Players who have not faced a team of that calibre in continental competition such as Mamadou Sakho, Christophe Jallet, Clement Chantome and even Salvatore Sirigu and Javier Pastore are better off acquiring a taste for the biggest matches against the biggest teams to sew the seed of hunger for success in the Champions League in future seasons than for PSG to get what might be seen as a "bye" into the semi-final.

There are no "byes" in the Champions League of course, but there are teams more daunting than others when you take into consideration domestic form, their form in this year's competition as well as their history.

Take Dortmund for example -- they may have allowed compatriots Bayern Munich to romp away with the Bundesliga lead domestically, but in Europe Jurgen Klopp's side look better and advanced from the so-called "group of death" that included Real Madrid, Manchester City and Ajax.

Not bad for a club similar in stature to PSG in terms of their previous European exploits (although the German club have won the title once in 1997), and a team who also experienced a long absence from European football's top table.

Ironically, given PSG's strong success on the counter-attack, a clash against the likes of BvB presents Ancelotti's side with their best chance of progression from a purely tactical point of view.

But the impact of the experience that a trip to the Santiago Bernabeu, Camp Nou or Allianz Arena (though sampling the phenomenal atmosphere at Dortmund's Signal Iduna Park would be a world away from their Europa League group encounter in 2010 that ended 1-1) would provide the players in a game of this magnitude cannot be underestimated -- particularly when looking to the future as PSG are according to the goals laid out by owners Qatar Sports Investments when they arrived.

The Champions League was not a realistic target at the start of the season. A first league title in 19 years and domestic cup success was, and still is. The European glory that the club's ambitious owners targeted within at least five years has also moved closer though.

That should not change the fact that this first season back in the European big time is a learning curve for PSG, a taste of what is to come. Only with playing a true European giant will the capital club's expensively assembled stars truly understand what it takes to win the coveted trophy.