PSG wipe away Nancy bogey to push clear at top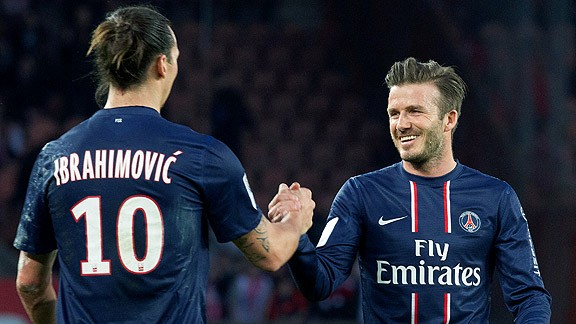 Marc Piasecki/WireImage/Getty ImagesDavid Beckham congratulates Zlatan Ibrahimovich for recording his seventh brace of the season in PSG's 2-1 win over Nancy.
Football is a game of two halves. It is cliched, but Paris Saint-Germain's 2-1 victory over struggling Nancy at the Parc des Princes on Saturday perfectly encapsulated the capital club's Jekyll and Hyde demeanour. Carlo Ancelotti's side were outplayed in the first half by a team fighting for their lives and galvanised by a superb previous record in Paris, but the Italian then coaxed a much-improved second half showing from his players.

- PSG rallies to win behind Ibra brace

In doing so, PSG finally beat their bogey side as Nancy had won on their three previous visits to the capital and a Zlatan Ibrahimovic double put the pressure back on Lyon who host Marseille in the "Olympico" on Sunday. The result was massive for more reasons than just another Ibra double, though. Marco Verratti and Blaise Matuidi were sensational in midfield and Jeremy Menez, yet again, underlined his importance to the team from the bench.

It is Ibrahimovic who will grab the headlines, though. The Swede answered his critics and the speculation over his future, with a well-taken double inside of just three second half minutes. His Coupe de France double against Marseille was not enough to quell all of the naysayers in the wake of a string of disappointing displays, but again he came up big when it really mattered. Ancelotti's side looked out of sorts without the towering striker in midweek against Valencia, but in just 180 seconds he proved why PSG cannot do without him.

There has been plenty of recent speculation regarding Ibra's happiness in the capital amid talk of a PSG swoop for Wayne Rooney; the latest rumour suggesting that the Swede could return to Italy with former club Juventus in the summer. Anybody who thinks that such a move would benefit both parties might want to reconsider that stance after a quick-fire double demonstrated exactly why Ancelotti's side cannot do without him. That was his seventh league double this season.

Rooney, whiet he may be a vastly talented player, would be hard-pressed to better Ibrahimovic's outstanding scoring figures this season. Twenty-eight goals in 34 appearances in all competitions, 24 of which have come in 25 league games, is bettered only by Lionel Messi and Cristiano Ronaldo in Europe. The 1-1 draw with Valencia perfectly demonstrated how vital Ibra is to les Parisiens' style of play due to his absence through suspension. A similar performance against Nancy, albeit against vastly inferior opponents than the Spaniards, but this time with the Swede, proved how crucial he really is.

Ibrahimovic's showing arguably only just eclipsed that of Verratti, though. The Italian youngster was also sensational upon his return from suspension, proving that despite some recent shaky performances, he is missed by the team when not there. The Italian and Blaise Matuidi bossed the midfield; the youngster was fully deserving of his standing ovation when he made way for David Beckham 16 minutes from time.

Matuidi, who was branded "intransferable" by PSG President Nasser Al-Khelaifi earlier in the week, certainly proved himself just that. On the evidence of the Nancy game, and his season-long form, the French international is indeed indispensable. His and Verratti's form, however, condemned Beckham to a fleeting appearance from the substitutes' bench. An unused replacement on Wednesday against Valencia, the Englishman made it onto the pitch this time. However, performances of this quality from the Verratti-Matuidi pairing will likely restrict his involvement further despite a tidy cameo showing.

Menez, though, was more effective from the bench. The French international charged down an attempted Sebastien Puygrenier clearance 13 minutes after replacing the inept Javier Pastore to supply Ibrahimovic with the equaliser. It was not the first time he has had such an impact after being brought on; he did the same against Marseille in the league clash a fortnight ago. Kevin Gameiro, too, as he did in midweek against Valencia, had an impact despite not starting when he replaced the frustrated Lucas Moura before the hour mark.

Not a vintage performance, much like their meeting earlier in the season, but the result potentially has a massive impact on the title race with Lyon and Marseille meeting on Sunday night as Ancelotti's side sit five points clear at the top of the table. A third defeat in four Ligue 1 matches would have been unthinkable and heaped more pressure on the Italian despite being assured earlier in the week that he is "coping very well" and "one of the best coaches in the world" by Al-Khelaifi. The team responded fantastically to their coach at halftime and could be greatly rewarded come Sunday night when they will find themselves in the odd position of cheering their bitter rivals to victory.