Pressure on Moura to back Leonardo's bold talk
"We are not made to play these types of games, we are a team built for Europe," said Paris Saint-Germain sporting director Leonardo in the wake of the Ligue 1 loss to Reims at the weekend.

- Ledwith: Soldado must command Valencia rally

Because of that, PSG head into their Champions League clash with Valencia on Wednesday night under increased pressure. Before the season started, Carlo Ancelotti's side were expected to no more than enjoy their first foray into Europe's premiere club competition in eight years, concentrating on the league and building for a future assault on Europe.

The Brazilian's claims have now put more emphasis on this season's continental campaign as the capital club continue to find themselves unable to free themselves from the chasing pack domestically.

PSG hold a one-goal advantage over the Spaniards heading into the second leg at the Parc des Princes, but are deprived of Zlatan Ibrahimovic and Marco Verratti through suspension and Jeremy Menez through injury.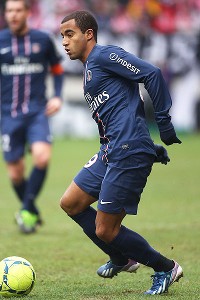 John Berry/Getty ImagesWith PSG missing several key players, the focus will be on Lucas Moura Wednesday in Paris.
If he wasn't crucial enough already, then Lucas Moura - who starred at the Mestalla last month - will be expected to step up and ensure that les Parisiens' European charge continues to move forward.

The Brazilian who was vital against Marseille at home in the league just under a fortnight ago, once again needs to underline his burgeoning credentials in a game where he is expected, once again, to take centre stage.

Ancelotti has had to prepare without the influential Swede in the knowledge that he would be suspended since the first leg, although an additional one-match ban has not helped. The Italian won't have been banking on the absence of Menez though who, since his well-publicised outburst following his minimal involvement in the first leg, has been welcomed back into the fray to play an important role.

The pair's absence puts the onus on Ezequiel Lavezzi and reserve striker Kevin Gameiro who could be in line to make a rare start, but Ancelotti might favour an alternative. When played in the middle this season, Moura has looked deadly. His performance against Toulouse in PSG's 4-0 away victory is by far his most impressive domestically so far, and given the absence of two of Carletto's preferred central attacking options, he could favour Moura paired with another speedy attacker.

Lavezzi appears the most likely candidate despite his horror miss in the first half against Reims, and Gameiro a second. But Javier Pastore's inability to function adequately from so far back in midfield, where he could partner Blaise Matuidi in the absence of Verratti, suggests that Ancelotti may favour moving Lavezzi back out wide and switching Pastore to the right. With Moura up top alongside Gameiro and flanked by the Argentine duo, that would open up an opportunity for either the returning Thiago Motta, or David Beckham, to start alongside Matuidi in the middle.

That approach would enable PSG to be more direct in the absence of the Ibrahimovic focal point than Lavezzi and Gameiro being flanked by Pastore and Moura would, as the Brazilian's tendency to come inside during the game anyway would see him positioned in the middle a lot of the time.

Added to that Valencia are missing two of their key centre-backs, Adil Rami and Ricardo Costa, meaning Ernesto Valverde will likely be playing Victor Ruiz alongside left-back Jeremy Mathieu as a makeshift central defender. The potential for Moura to wreak havoc with a weakened backline, short of pace and unfamiliar playing together is massive. Ancelotti refused to disclose in his pre-match press conference whether the team would change formation or not. Instead he insisted that PSG would retain their "style of play," which recently has been to favour two up front.

With the Brazilian international still yet to officially open his account for the club (his opener v Marseille was credited as a Nicolas N'Koulou own goal), he will be eager to impress once again. With three assists in seven appearances so far in the league, the 20-year-old's domestic form has calmed down after an impressive opening run of performances. It has not helped that he was played at half fitness against Marseille in the league and then in the wake of a bout of flu against Reims. But arguably, his explosive showing in the first leg was the best the PSG fans have seen from the rising Samba star.

The Valencia game also provides him with the perfect opportunity to further stamp his authority on a team that, in recent weeks, has started to look like his own. Ibrahimovic may be highly influential when playing, Menez too, but Moura has shone regardless of who he has played alongside because of his ability to do things by himself. That talent leads the team forward and as his teammates continue to adapt to his style of play, the more it will become an integral part of PSG's match strategy.

Played wide or through the middle on Wednesday, Moura will be a danger for Valencia. But with the Spaniards short of first-choice defenders, it makes sense to move him more central to exploit that weakness. Ancelotti's side have the advantage and Moura has already proven that los Che could not handle his pace in the first leg.