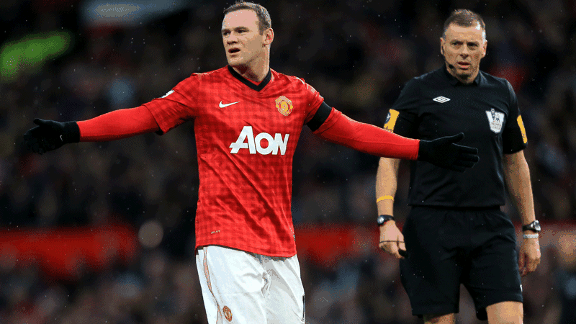 PA PhotosWayne Rooney: PSG are reportedly interested in the Man United striker
With David Beckham helping Paris Saint-Germain make headlines on the pitch in the past week, he has had to share the limelight off it with compatriot Wayne Rooney. That comes after PSG were linked with an audacious £40 million bid for the Manchester United star this summer by an exclusive report in The Times on Wednesday.

- PSG linked with summer Rooney bid

The report suggests that Sir Alex Ferguson may be tempted to part with the England international for a considerable sum, and would reallocate the 27-year-old's £250,000 per week salary. Only a few clubs in world football could match those sums currently, and the Qatari-owned French giants head that category.

Rooney has been put in the shade at Old Trafford by the arrival of Robin van Persie who has scored 23 goals in all competitions for the Red Devils, compared to Rooney's 13. PSG's ambitious owners are believed to be salivating over the prospect of pairing Rooney alongside mercurial striker Zlatan Ibrahimovic in the summer, with the Swede having already bagged a phenomenal 26 goals in all competitions from 32 games.

The link raises more questions about Ibrahimovic's future though than offering encouragement about a possible future partnership with Rooney. The 31-year-old has come in for criticism of late for his below-par performances against Valencia in the Champions League where he saw red, in defeat at Sochaux and then in the 2-0 home win over bitter rivals Marseille in Ligue 1. The Swede did react with an impressive double in Wednesday's Coupe de France rematch with OM, but whether that was to hit back at rumours linking Rooney with the club or at some of PSG's fickle fans, as sporting director Leonardo alluded to when defending his star man, remains to be seen.

Both coach Carlo Ancelotti and the Brazilian fought the towering striker's corner in the build-up to the Coupe de France clash after he took some flak for a third consecutive disappointing showing on Sunday, despite scoring a fortuitous goal that secured the 2-0 win. The questions are also amplified following quotes attributed to Ibra by an interview with German magazine 11 Freunde last week, regarding a possible link with German powerhouse Bayern Munich.


"Sure, the Bundesliga interests me," said the Swede.

"One day perhaps. A little bit of time still remains for me so yes. When I go to Germany, then I'd choose Bayern Munich. For me it is one of the top five clubs in the world."


Of course the former AC Milan striker was speaking hypothetically after being asked the question of if he was to move to Germany which club would he pick, but the link with Rooney now appears to support the idea that Ibra could leave the French capital after one highly productive season.

What is more likely though is that, to finance such a move for the Englishman, PSG would have to sell one of their high profile stars. Javier Pastore has made no secret of his desire to play for AC Milan at some point in the future, and the Argentine currently seems the best option for Ancelotti's side to dispense with on the pitch, without changing their style too much.

Ibrahimovic's relationship with the club has not gone sour despite the fans ungrateful reception of their star man on Sunday. He has 26 goals in 32 appearances in all competitions for the capital club, an impressive feat by even Lionel Messi standards. The Swede undoubtedly has plenty more to prove before he is done with this PSG project, however, a move for Rooney may not see Ibra thrive the same way he has done this season.

A move for a player to play slightly ahead of Ibrahimovic, a Falcao or Edinson Cavani perhaps, may work better on the pitch though. A predator would enable the Swede to indulge himself in dropping back to collect the ball as he does so often, offering him the perfect foil to bring his superb creative skills to the fore. Rooney and Ibrahimovic whilst completely different players, occupy a similar position on the pitch, and les Parisiens may be better investing in a prolific hit man as opposed to Rooney.

The criticism of Ibrahimovic from sections of the PSG support, "hecklers" as Ancelotti calls them, has been completely unwarranted. Of course there is no disguising that he has had a few disappointing performances as both the Italian and Leonardo admitted. But the Swede has scored 26 goals in 32 competitive fixtures, 22 goals in 23 league matches and five goals in three games against the club's most hated rivals (more than any other opponent this season). If that is not enough to please those fans then nothing will satisfy their sky-high and, at times, unrealistic ambitions.

If that strike rate does not keep the supporters happy, it would be a huge surprise to see Rooney equal or even better it to win over further support and adoration. If Ibra can't do it no one can, or so it would seem. But Rooney or, Rooné as he might soon become known, would be well advised to consider Ibra's running battles for adulation with the fans and media before deciding pursue a future at the Parc des Princes.