Beckham to put Barton and Marseille in the shade in Sunday's Classique?
David Beckham's arrival in Paris has been greeted with euphoria for the most part in France but with cynicism and negativity elsewhere. Come Sunday night at the Parc des Princes, though, it is time for the talking to stop and for the Englishman to prove his value on the pitch.

Beckham couldn't have picked a bigger game to make his debut in. Paris Saint-Germain face bitter rivals Marseille with only five points separating the pair and the capital club facing the prospect of entering the match level on points with Lyon come kick-off. The game of course also pits him against Ligue 1's other Englishman, the devilish (according to France Football) Joey Barton.

But whilst most pundits and players are making a lot of noise about his age, his lack of mobility, his supposed obsession with the media and lack of concentration on his football, a minority (including myself) disagree.

Barton has claimed, "Beckham is a star off the pitch, but on the pitch he's no great cause for concern. It would be naive to focus on him." Whilst OM teammate Andre Ayew said: "He's not my idol. I appreciate him more in the fashion domain than for what he has achieved."

However, French football pundit Christophe Dugarry thinks: "Those who think Beckham is in Paris to do business make me laugh. Beckham doesn't need PSG to do that. What an honour to see such a player in Ligue 1. Those who criticise him should hold their tongues."

Former OM striker Tony Cascarino added: "He's an incredibly gifted player, he would never have lasted so long if he weren't. He's still an excellent footballer when he has the ball at his feet. His ability to pick a pass and at set pieces, he hasn't lost that."

It is perfect ammunition then for the 37-year-old who, come Sunday night, will have a personal "Beck-Cam" courtesy of Canal+. With most, including Elie Baup's men, focusing on the glitz of his arrival in Paris, they are overlooking what Beckham will offer PSG on the pitch.

Professionalism

One of Beckham's strongest qualities on the pitch, and one that has been recognised by almost every coach he has ever worked with, is his professionalism. Carlo Ancelotti denied in November that he and the former AC Milan loanee would once again link up, but he still took the time to praise the Englishman's "professionalism."

Upon Beckham's arrival in the French capital, the Italian had this to say: "I want to emphasise his professionalism and quality on the pitch. I am very happy with his arrival. Coaching him at Milan for six months was an exceptional experience."

High praise indeed from someone who coached the likes of Paolo Maldini, Alessandro Nesta and Filippo Inzaghi in the twilight of their illustrious careers, not forgetting Kaka and Andriy Shevchenko, whom he successfully blended into the side at AC Milan that kept the Rossoneri at the summit of European football.

The likes of Javier Pastore and Ezequiel Lavezzi in Paris are similar figures to the latter pair, only they have less experience of success than Kaka or Shevchenko. In the same way that Maldini, Nesta and Massimo Ambrosini kept the pair, and the Ukrainian's replacement, Alberto Gilardino, grounded.

Beckham will be expected to do the same with the likes of Pastore, Lavezzi and young Brazilian star Lucas Moura. It's also worth remembering that an Inzaghi double won the 2007 Champions League when he was supposedly over the hill.

Off-field influence

Moura himself expects Beckham to bring his renowned hard work ethic with him to Paris and is eager to play alongside the player, although it likely won't happen Sunday as Moura struggles with an ankle injury.

The 20-year-old recently told Globo Esporte: "Beckham is a football icon, a star, both on and off the pitch. His quality will add a lot to the team. It will be an honour to play alongside him."

Moura isn't the only youngster in the team, though. Others include former captain Mamadou Sakho, fellow youth academy graduate Clement Chantome, Jeremy Menez and Blaise Matuidi, all of whom are French internationals, not to mention young Marco Verratti. All five should form a big part of PSG's future, and Beckham's enthusiasm and appetite for self-improvement will be expected to rub off on the developing players.

Coupled with Thiago Silva, Zlatan Ibrahimovic and Thiago Motta, Beckham brings massive influence to the dressing room. In a role similar to Patrick Vieira's at Manchester City towards the end of his career, the Englishman will help breed a culture of success in a small but talented young group.

Winning mentality

Bringing us to the subject of winners. Ancelotti wants to create a team of "winners" in the French capital, and David Beckham is a winner.

PSG were expected to sweep all before them last season but, against the odds, were denied by a team whose assembly cost a fraction of les Parisiens' annual salaries. This led the club's hierarchy to question the calibre of their squad and to address this, Leonardo spent big on the likes of Ibrahimovic, Silva and Lavezzi to rectify it.

Everywhere he has gone, Beckham has overcome adversity and widespread criticism to triumph and win over even his most ardent doubters. Who's to say he won't do the same in Paris?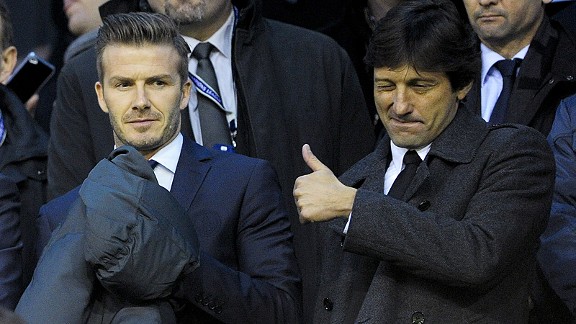 GettyImagesDavid Beckham and Leonardo watch PSG's Champions League victory at Valencia
Beckham the player

Unsurprisingly, Beckham arrived on time, fit and raring to go. Taking everyone at the club and in the league by surprise that he'd be ready for the clash with OM.

Whilst every player's physical attributes naturally erode with time, Beckham's technical ability remains untouched. His pace, or "lack of it," as he amusingly reminded everyone during his unveiling, has never been a problem for him despite regular criticism of it.

Since converting to a central midfield role, Beckham has maintained a similar level of productivity to the one he enjoyed out wide with Manchester United and Real Madrid. Coach Ancelotti even sees parallels with AC Milan legend Paolo Maldini in Beckham's longevity and determination to stay at the top of the game.

"Beckham is not young, but he has experience," he recently told BeIn Sport. "Maldini won the Champions League at the age of 39, so he still has plenty of time ahead of him."

It is worth noting that Maldini was Mr. Milan in his playing days and his career there spanned 24 years. He was also Italian. Beckham is going to be an influence, but he is an Englishman arriving at a club with diminishing domestic influence. Whilst his footballing experience is considerable, his knowledge of French football remains limited, meaning he must do his talking on the pitch.

But why then would Ancelotti want a player who would only be there for five months? PSG's creative deficiencies from central midfield, at times, need a long-term fix. So surely there are already plans afoot to extend Beckham's stay.

There is also the issue of free kicks. Swedish talisman Ibrahimovic currently holds a monopoly on them, and Beckham has been careful not to assume that he would take that duty away from the 21-goal striker.

PSG's prowess from dead balls is limited by Ibra's Jekyll and Hyde success rates; Beckham offers a new dimension to the capital club's range of artillery.

Conclusion

Beckham's level of success is beyond reproach: He has been a success wherever he has gone; it is part of the brand image. Why would he risk setting himself up for a fall in a move that could tarnish his career?

Obviously PSG benefit hugely from this deal off the pitch in gaining a massive media boost, but on it they gain a player who genuinely loves the game. For all the hysteria that surrounds him and the criticism he receives for the attention he attracts wherever he goes, Brand Beckham's biggest advantage is that on the pitch he backs up everything that is claimed off it.

"David Beckham is a great professional; his arrival represents the realisation of a dream for us," Nasser Al-Khelaifi claimed on RMC Radio shortly after Beckham's unveiling. "And off the pitch this represents a unique marketing bonus. David is David."

Indeed David is David, so people should not be so fast in forgetting the player who for so long held the weight of English expectations on his shoulders as arguably the best player the country has produced in the modern era.

Everybody is writing Beckham off in his latest sojourn before it has even started. Don't be surprised if, starting Sunday, David Beckham has started to prove his considerable worth once again.