French influence diminishing as PSG prepare for Le Classique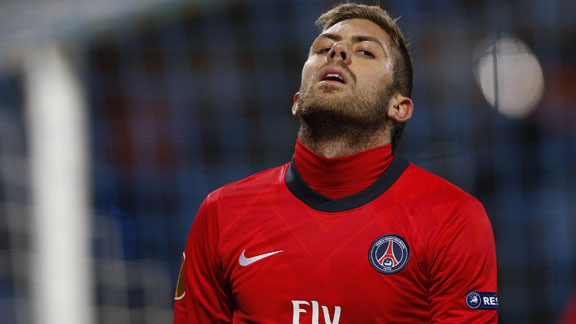 APJeremy Menez didn't react well to being overlooked by Carlo Ancelotti in Valencia
Paris Saint-Germain and Marseille gear up to face each other in this season's second double header as Sunday's Ligue 1 clash looms large before a Coupe de France matchup the following Wednesday. The hosts though approach the games with a dilemma surrounding their use of domestic talent.

- Video: Barton doesn't fear Beckham

Rocheteau, Djorkaeff, Leroy, Lama and Dhorasoo are just some of the French names to have influenced the proceedings of past "Clasicos", as the game is known to some fans, in the capital club's favour over the years. However, their most memorable successes over their bitter rivals have been secured by prestigious foreign talents such as Portuguese striker Pauleta, the club's top scorer in the fixture, and the likes of Ronaldinho, Marco Simone and even Branko Boskovic.

This season, PSG's French contingent appears smaller than ever, and for the first time in years domestic representation doesn't even appear to be that important going into the clash. Whilst there are players in the squad well-versed on the importance of the fixture who have grown up staunchly anti-Marseille, the declining French influence on events in the capital was summed up last week by Jeremy Menez's conflict with Coach Carlo Ancelotti and Sporting Director Leonardo.
Following a disagreement with Ancelotti and Leonardo following the capital club's 2-1 victory over Valencia in the Champions League last week, Menez sought answers regarding his future at the club. Since the arrival of Lucas Moura, the Frenchman has found himself out of the starting line-up on a number of occasions and, like Mamadou Sakho, it seems that he fears for his future in the capital as he struggles to secure first team football.
The increased emphasis on foreign talent will be underlined on Sunday by David Beckham's potential debut, and PSG could soon be playing France's biggest match without any French players in the starting XI. Menez's situation is a case in point. If this sort of problem continues, the fixture will lose its value in the capital because the players don't understand its importance.
"The transfer market is over, Menez has to stay here," said Ancelotti of the conflict. "If he is not happy in June, he could ask to leave, as others players did. He is an important player for our team, but competition is logical in great teams."
The Italian's answers, whilst honest, will hardly inspire any French players looking at Menez's situation and the club's general attitude towards players who have not cost astronomic fees.
Talented international-quality players such as Sakho, Kevin Gameiro, Clement Chantome and Christophe Jallet have played varying roles within the side this season, but only Blaise Matuidi looks assured of his place in long term. Even Sakho and Menez, who have played over 20 games each this season, appear back-up to the likes of Brazilians Alex and Lucas Moura.
Menez's reply to Ancelotti was to tell Telefoot: "I need to feel trusted, and the day I don't feel that, we will have to find a solution. We will see at the end of the season what the club wants. Everyone has to make sacrifices, and maybe I have to do that more."
The incident has cast doubt on Menez's first team hopes for the rest of the season. What is more surprising though is the treatment of the players, not the added competition. Of course the Frenchman can't expect to play every game ahead of the likes of Moura, given the form of the young Brazilian. However, his decision to just discard Menez with little explanation or justification leaves a bad taste in the mouth given everything he has contributed on the pitch since last season.
Last term Menez contributed seven goals and 12 assists, this year he has two and five. Hardly top form but also consider that the 25-year-old has been playing a more advanced role this year that he had not played before. He is not the only one though, the same thing happened with Jallet who started the season as captain and now finds himself playing second fiddle to Dutch right-back Gregory van der Wiel.
'Le Classique' is France's most prestigious match; therefore it represents everything good about the domestic game. This Sunday's encounter is set to be a long-lasting advert for Ligue 1 as PSG inch towards an important title and Beckham prepares to expose a whole new level of interest to French football on his debut. It will be missing a large part of its heritage though if domestic influence within the capital club continues to be marginalised at the expense of the club's new found wealth.
Poignantly, last week's defeat in Sochaux saw the debut of promising academy graduate Kingsley Coman, the latest in a conveyor belt of rich talent that has been produced on the capital's doorstep. What chance does he realistically have of featuring in a game like this though if the club continue to make their domestic produce feel second-rate?
The likes of Menez, Sakho, Chantome, Gameiro, Jallet, the now-departed Guillaume Hoarau, on-loan Adrien Rabiot and Jean-Christophe Bahebeck all deserve better than to be there just to serve the purpose of boosting a homegrown domestic quota and to only play when injuries and suspensions dictate it. It is not a convenient rolling door of productivity. Admittedly there is an abundance of talent in this current PSG side above this crop of players in terms of individual ability, but that doesn't mean that they have no part in this project and should be ushered towards the exit.