Menez absence raises questions in PSG defeat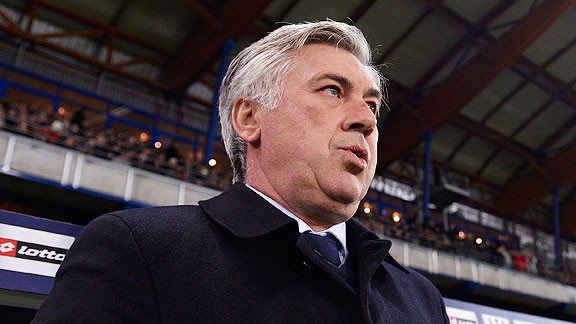 Harold Cunningham/Getty ImagesWas Carlo Ancelotti's exclusion of Jeremy Menez from PSG's starting XI really due to injury or for personal reasons?
It was bound to happen eventually, but a 3-2 Paris Saint-Germain defeat to lowly Sochaux in Montbeliard on Sunday night was hardly the end to an eventful week that coach Carlo Ancelotti had in mind.

Outplayed over the 90 minutes by a determined Lionceaux outfit, the capital club can have no complaints over the scoreline but the result highlighted a few key problems for the Italian boss. With Marseille to visit the Parc des Princes next Sunday and only five points now separating the top three, it was hardly ideal preparation for 'le classique', but still not quite a disaster.

- Match report: Sochaux 3-2 PSG

There can be no arguing that Sochaux deserved the victory. Eric Hely's side showed more desire than PSG, despite their lack of star names. Their play was enterprising, full of invention and the team were clearly motivated. Ancelotti's players, on the other hand, looked like a side that expected victory before they entered the field and were surprised by the resistance that they faced. The result must serve as a reminder to les Parisiens that they can't expect to have everything go their way from now until the end of the season. They'll have to earn the title.

Conceding three goals in a game was a first for this season, but now that it has happened it is perhaps for the best. PSG can approach league games, particularly away from home, with less pressure now that their impressive run has come to an end. Nine games after suffering a similarly surprising defeat in Nice, Ancelotti's men have been served a reminder that nothing can be taken for granted in Ligue 1. The impending return of Thiago Silva will boost a back line that looked devoid of confidence, even if Mamadou Sakho and Alex did net the visitors' goals, and Lucas Moura will boost the side with his return. The Brazilian's absence was heavily felt as les Rouge-et-Bleu lacked a direct threat going forward despite the presence of Zlatan Ibrahimovic, Ezequiel Lavezzi and Javier Pastore.

The 20-year-old's injury also highlighted the absence of Jeremy Menez. The French international reportedly missed the match through injury, having picked up a strain during training in midweek. However, the lack of Menez against the club where he started his career comes just days after he clashed with Ancelotti and sporting director Leonardo following PSG's Champions League tie with Valencia. Coincidence or not, the 25-year-old was missed and his omission, if indeed for disciplinary reasons rather than sporting ones, could cost the capital club.

When he plays, Menez brings a direct approach to his team both for club and country. On Sunday at the Stade Auguste Bonal, too often PSG's frontline were looking static and lacking the kind of driving presence that the French international brings. Although frustrating to watch at times because of his selfish approach and self-aggrandising approach to team play, there can be no doubting Menez's importance to the cause. Two goals and five assists might not yet be close to last season's seven and 12, but he has still contributed at key moments and his ability to act as a foil for Ibrahimovic at times has been instrumental.

It can't be expected that he will start every game now thanks to the arrivals of Moura and David Beckham, but to unceremoniously dispense of such a creative player's services similar to the club's treatment of Nene before his departure undermines the club's position. Menez from the bench or from the start is a threat to the opposition, and his frustration at a lack of playing time is understandable and it speaks well of the player that he is prepared to challenge his exclusion in recent weeks.

Although Menez's absence was perhaps most keenly felt, it can't be ignored that Ancelotti's side conceded three sloppy goals that would have been scored even had Menez been on the pitch. Salvatore Sirigu can hang his head in shame for his part in Sochaux's second goal, but the defending at times was poor at crucial moments. In fact, the hosts should have had more than three goals given some of their chances. Also, Marco Verratti once again picked up a suspension for accumulating too many yellow cards. What was originally naivety is now turning into an annoying and costly habit.

That said, as captain Blaise Matuidi put it after the match, "It is bad but not a complete disaster." A win at the Parc des Princes next week over bitter rivals Marseille in le Classique will ensure at least a three point gap stays between themselves and Lyon, knocking OM out of the title race in the process. Beckham is also expected to make his debut after staying behind in Paris to continue his return to fitness instead of risking the trip to Montbeliard.