PSG risk alienating homegrown players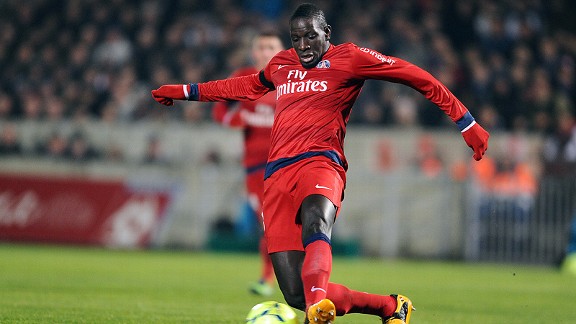 Nicolas Tucat/AFP/Getty ImagesFrenchman Mamadou Sakho isn't very pleased with his playing situation at PSG.
At the risk of revisiting the past, when Thiago Silva claimed in October that he was "more comfortable playing alongside Alex than Sakho because of his experience," it was a throwaway line. That throwaway line though appears to have had massive repercussions for Paris Saint-Germain in that promising young homegrown centre-back Mamadou Sakho is still considering his future. That's appears to be the case despite Sakho having played more matches than either of his Brazilian centre-back partners this season.

Speaking ahead of Wednesday's France-Germany match at Stade de France, Sakho, who is now a regular in les Bleus coach Didier Deschamps' starting XI, spoke of his current predicament at club level.

"People get the impression that I am behind Silva and Alex in selection. But in my head, I am not a third choice," he said.
"I will discuss my situation with the club in the summer because I can't only play bits and pieces of games. I don't doubt my abilities because they've never disappeared. But if it's a question of keeping my place for France, then I will move."

Those were strong words from the 22-year-old and something of a surprise given how much he has been playing of late and how well he has performed in the absence of both of the Samba stars. However, it is clear that Sakho feels that he is just providing temporary relief for coach Carlo Ancelotti as both recover from injury.

The fact that the former captain has even had to question his future at the club, let alone issue a play me or lose me ultimatum, raises valid concerns once more over PSG's lack of interest towards domestic talent and homegrown players. The fact that he is by far the team's most established Frenchman should make it even more concerning for the club who have received plenty of criticism for a "loss of identity", as UEFA President Michel Platini called it following the 2011 takeover

While it would be understandable if a player like Clement Chantome, a youth academy product and local lad similar to Sakho who plays in a position with fiercer competition (Blaise Matuidi, Thiago Motta, Marco Verratti and now David Beckham) wanted out, Sakho is the capital club's seventh most selected player this season. That reflects a player unsure of his status within the team, lending credence to the observations from many that the club is disregarding domestic talent.

History should have already told PSG that it is dangerous to overlook local talent and let it escape from their grasp, given that the likes of Thierry Henry and Patrice Evra, to name just two French international stars, slipped through the net the last time the club took their eyes off of the youth academy. It took the best part of a decade to catch up again, and a multi-million Euro takeover to claw back the ground that their domestic rivals had built up by taking French talent more seriously.

This time it should be more obvious. Sakho has been a prodigious talent for years, explaining the interest from the likes of Arsenal, Liverpool, Manchester City, Newcastle United and a host of other European clubs in the past. However, Kirikou as les Parisiens' fans affectionately call him, is more than just a player for the club. He is a valuable piece of their identity and alongside Chantome, he is proof of the strength of PSG's ability to nurture talent as well as buying it, in much the same way Iker Casillas represents Real Madrid's values and Andres Iniesta epitomises Barcelona's.

Taking it back to the pitch though; if the club can even consider parting with arguably their best defender alongside Silva this season to the experienced but cumbersome and ageing Alex, just for the sake of prolonging Silva's acceptance of the necessity to fully adapt to a French-speaking partner, is insanity. Sakho's partnership with Silva will long outlive Alex's and it is stronger now. No doubt that the 30-year-old expects to be a starter as does Sakho, but in both of their absences the youngster has proven himself the more worthy of the two options to persevere with.

His recent performances have been exceptional. He was instrumental in helping Salvatore Sirigu keep a record breaking clean sheet in the home victory over Lille before a goliath performance at the heart of the defence last Friday in Toulouse where he even managed to bag himself a goal. Paired alongside the veteran Sylvain Armand in a makeshift centre-back pairing, Sakho excelled and showed great maturity. Some of his interceptions even have eerie similarities to those of Silva in the way that the Frenchman moves his body to position himself. Obviously someone has been taking lessons on the training ground.

The issue will not definitively be solved until the summer, but if Sakho is allowed to leave then Ancelotti and Leonardo will have a problem on their hands trying to repair the damage that such a departure would have on the project's credibility. Nobody expects PSG to champion a team full of French produce, although it would be possible, but to overlook such an obvious talent is foolhardy. History it would appear is in danger of repeating itself.