Too many star cooks spoil the PSG broth?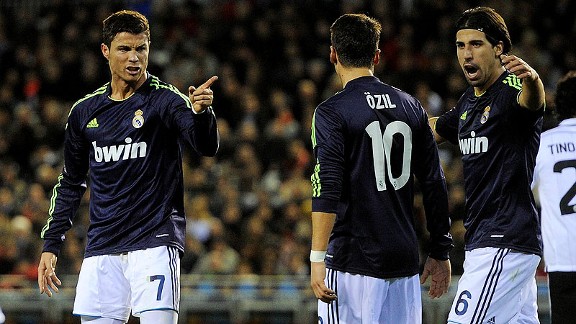 Gonzalo Arroyo Moreno/Getty ImagesReal Madrid's Cristiano Ronaldo has been linked with big-spending PSG
Since the opening of the January transfer window, the Paris Saint-Germain rumour mill has been in overdrive, as predicted. The capital club have been linked with the likes of Cristiano Ronaldo, Radamel Falcao, Gonzalo Higuain and Nicolas Anelka, to name but a few, since the turn of the New Year. This is no surprise since the Qatar Sports Investments-owned club recently splashed €45 million on prodigious Brazilian talent Lucas Moura, a player already making an impact despite only having arrived in France less than a month ago. The club have also started to let a number of surplus players leave with former key player Nene, reserve striker Guillaume Hoarau and want-away defender Diego Lugano departing.

However, despite the guise of a dubious league leaders tag, PSG have only looked truly convincing on a handful of occasions this season. That is not to say that the team don't deserve their position at the top of the table, many of their current results have been hard-fought battles against sides with added motivation to take down Ligue 1's money men. But, the team are far from the finished article and it is showing on the pitch at the moment.

It begs the question then, why are PSG thinking about further big-name signings when they are struggling to dominate their domestic league? They shouldn't be, and boss Carlo Ancelotti knows this.

Speaking to RMC regarding rumours of a move for reportedly unsettled Real Madrid star Ronaldo, Ancelotti said:


"Can Zlatan and Ronaldo can play together? All quality players can play together. You know, it's not hard to manage a guy like Ibrahimovic. Ronaldo is a fantastic player, but today, I do not think of him."

"We don't have to buy. The transfer window is closed for us."


He is right. PSG don't need any further big names, superstars or players with grand reputations. They need to start winning games convincingly and meeting the sky-high expectations of their owners and fans before they can consider adding further weight to an already top-heavy array of stellar talent. Currently they risk failing to meet a number of key objectives this season, namely the league title and domestic cup dominance, because of their difficulties in settling on a preferred system built for success.

The booing of Ibrahimovic in the recent home clash with Ajaccio demonstrates this point perfectly. Les Parisiens are a one-man team too often to yet be classed as a great side. There is the potential there but when the Swede doesn't find the net, Ancelotti's side often don't win games. That is not Ibra's fault. It is unfair and unrealistic to expect him to either win every game by himself or to ensure that PSG are victorious by contributing a crucial goal. It is also a reflection of the team on the pitch not yet being the finished article in terms of unity.


"We have to be champions," Ancelotti stated. "We clearly have the qualities to win. It all depends on the coach. If the manager does his job, then PSG will win."


One problem for PSG is that their fans often seem too eager to celebrate mediocrity (often image, inflated price and excessive, non-constructive show boating) instead of paying attention to what is actually happening on the pitch. The bottom line is that recently, a number of high-profile, big-name arrivals have simply failed to justify their considerable price tags. Take Javier Pastore's return of 13 goals and five assists from 33 appearances last year, his first playing in France, and that was acceptable, impressive even. This year's contribution of one solitary goal and five assists from 17 games is not.

Whilst his individual performances may have improved in recent weeks, certain sections of the PSG support are kidding themselves that this record deserves defending, less applauding. Teams are not built and do not progress without constructive criticism. The exodus of some of the pre-QSI era signings and the imminent departure of some of the early arrivals that have not worked out will allow the capital club to address the balance on the pitch, trim the fat within the squad and then invest once more in the summer with a streamlined squad.


"The next six months are very important for the team," said Ancelotti. "We have to win the league title. Perhaps we can win against Valencia in the last 16 of the Champions League."


The Italian's side now needs to get it right on the pitch with their current superstars before investing heavily on others, no matter how talented the purported targets are. The likes of Ronaldo, Falcao, Higuain and even perhaps Anelka in a squad role, would strengthen the team, but now is not the time to do that strengthening. Currently the team lead Ligue 1, even just if it is on goal difference. In order to finally pull away at the top of league, greater consistency is needed no matter how good the side is in comparison to their domestic rivals.

At times this year PSG have taken their status within French football for granted. Buying extra talent is easy to do when you have this sort of money available, but teaching that talent to function well as a coherent unit is the real challenge. If Ancelotti is able to do that as his reputation and pay packet suggest, then given the club's lofty European ambitions, that would be almost as satisfying as ending the 19-year drought for a top-flight title.

I welcome readers' thoughts on my articles and appreciate the feedback left on this page. Feel free to contact me further regarding my work on Twitter @Jon_LeGossip, or via e-mail at jonathanjohnson01@gmail.com