Could Ancelotti's expectations crush his players?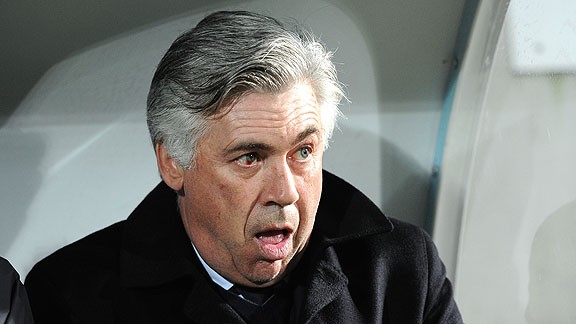 Philippe Huguen/AFP/Getty ImagesPSG manager Carlo Ancelotti can't mask his displeasure during Sunday's match at Arras
"Tonight, all the players wanted to attack, there was no balance. Jallet and Pastore didn't work well defensively. Verratti was too slow. He has to be more aggressive, better positioned on the pitch. Tonight, it wasn't the missing players we were lacking."
Paris Saint-Germain coach Carlo Ancelotti Sunday after his side narrowly beat Arras 4-3 to progress in the Coupe de France

Valid points of course, but perhaps a bit harsh given that PSG in fact won the game? Maybe. The main problem with the Italian coming out and publicly criticising his players after a result like this is that he could not really have asked for more from his team than getting past their lowly opponents.

Yes, on paper Ancelotti's side were far superior despite a couple of noticeable absentees, but they are superior to most sides they face domestically these days. The challenge was getting past Arras and not letting their undoubted complacency cost them an embarrassing defeat.

Despite racing into a two-goal lead inside 11 minutes, there was no way PSG would not get complacent about their opponents' lack of quality at some point. It was up to them to either avoid it or offset it, which they did by netting four goals.

What concerned Ancelotti most though, and rightly so, was the defence completely switched off. Nicolas Douchez was the only PSG starter with no senior international experience and - despite the absence of Brazilian captain Thiago Silva - Douchez, Mamadou Sakho and right-back Christophe Jallet (club captain at the start of the campaign) were part of a more than capable defensive unit.

"When there is less quality, your opponent tries to make the match about intensity and aggression," Ancelotti said. "Arras played superbly. At 2-0 after 10 minutes, you think it'll be easy. And that's when the team did not concentrate on defending."

Concentration and attitude is something the manager has needed to question before, publicly laying into his players after a string of home defeats in November put his position in jeopardy. Once again he singled out Javier Pastore for criticism, suggesting that despite some improved showings on the pitch, Ancelotti still isn't convinced by the Argentine's attitude. Marco Verratti too was targeted just weeks after being branded 'naïve' by his boss. The 20-year-old clearly still has a way to go before he can reclaim his place in Ancelotti's starting XI.

The problem for PSG is they seem to expect to win games and are not prepared for the level of commitment shown by opponents who relish the chance to face the capital club. Playing PSG is now a huge motivating factor for any opposition across all competitions given the money that they have spent. But in the Coupe de France especially, the opponent will always be motivated if from a lower league.
Perhaps that is also part of the problem; Ancelotti just didn't expect Arras to be quite so stubborn and their tenacity surprised him and the players after racing into an early lead.

The team's attitude and application does need to be questioned, but not nearly enough credit is paid to these teams who make the Coupe so exciting. Arras gave everything to try to match their illustrious visitors - for them it was their Coupe final. Ancelotti's comments seem to cheapen the performance that the regional outfit put on when really; the side should have been better prepared to face a team fuelled by adrenaline and enthusiasm.

Of course when PSG resume the league campaign at home to Ajaccio on Friday there will likely be no sign of the same complacency given the improved quality of the opposition. But Ancelotti's side have demonstrated a disdain for taking their domestic commitments seriously at times this season. ACA is approaching the clash with a new coach and on the back of a disappointing Coupe exit, so on paper it seems straightforward.

That is the type of thought Ancelotti wants to rid his players' heads of, though. Right now, they can't assume that they are good enough to beat everyone before they even step onto the pitch. They just have to do the business and ask questions later.

So while Ancelotti's outburst is questionable in terms of timing, he does have a point. What PSG need to be doing now is winning games at all costs and looking like they are interested when on the pitch. The team's body language at times has likely encouraged opponents who see a vulnerable side; the capital club need to start looking like champions and not just sounding like them.