Moura Vital to Ibra's Record Hopes?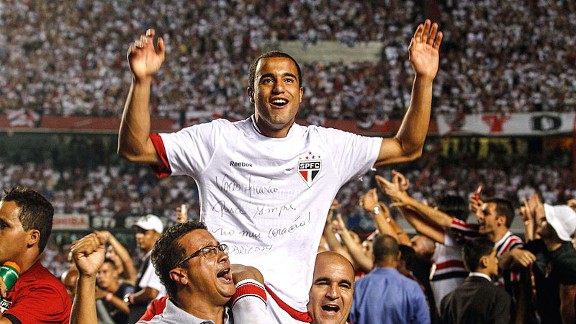 Levi Bianco/News Free/LatinContent/Getty ImagesLucas Moura, who left Brazil a Copa Sudamericana champion with Sao Paulo, will try to help PSG and Zlatan Ibrahimovic win honors starting in January
"Records are there to be broken." That was the ominous statement by Paris Saint-Germain's Zlatan Ibrahimovic as he finished 2012 in style with a goal against Brest for his sixth goal in five league games.

Ibra has a Ligue 1-leading 18 goals in 16 appearances - he's seven ahead of Lyon's Bafetimbi Gomis in the standings - and is on course to challenge Josip Skoblar's record 44 strikes for Marseille in 1970-71 as well as Carlos Bianchi's PSG record of 37 in 1977-78. Given he has 50 percent of his side's goals, Ibra's crusade to top the scoring chart will be pivotal to the capital club's overall success.

"My job is to score goals," he told the PSG website. "I've started the season well, but I'm not setting myself any targets. My aim is to always improve on what I did the previous season (28 with Milan)."

Although Ibra insists he is not thinking about records, the Swede will be aware of his opportunity to re-write French football history if he maintains his current form. Already undoubtedly the focal point of PSG's attack, manager Carlo Ancelotti needs to get the rest of the side to contribute around him and help where possible. At times this season the 31-year old has seemed like a one-man band.

With the arrival of Lucas Moura to complement the attack and the return from injury of Ezequiel Lavezzi, that one man's backing group will now be more formidable.

Ibrahimovic's halfway total matched the previous record of ex-PSG coach Vahid Halilhodzic with Nantes in 1984-85. However, the Bosnian only had ten the rest of the season. Ibra looks set to eclipse that mark given his contribution to the team's progress and indications are he will be able to continue his incredible scoring exploits.

However, PSG's big concern is that given the Swede's motivation to continue in form, teammates will find it easy to once again lurk in his shadow. Arguably the only thing that has prevented Ancelotti's men from clearly topping the table has been the players' inability to function without Ibra. With the addition of Moura in the attack, it will give the team another focal point and given the Brazilian star's considerable speed, an important alternative approach to games in attack.

At times this season, PSG's play has not been as direct as it should be given the presence of Lavezzi, Jeremy Menez, Javier Pastore, Kevin Gameiro and the soon-to-depart Nene. The bite in les Parisiens' attack in consistently provided by one man in Ibrahimovic, and before he arrived, either Nene, Menez, Gameiro or Guillaume Hoarau. There has rarely been a full functioning attacking unit; rather the team have depended on an individual stepping up to deliver in any given match. The big difference now is that one player is a world-class talent who scores wherever he goes and wherever he plays.

That remaining problem needs to be remedied despite the Swede's ongoing quest to bag another top goalscoring gong. But Moura's impending arrival no doubt adds another dimension to the PSG attack, and his relationship with Ibra will be key to les Rouges-et-Bleus' form over the second part of the campaign. Menez's deployment as a default second striker could be reconsidered to best use Lucas to full effect. His pace through the middle in particular is something PSG have lacked at times. Gameiro is whippet-like when played but appears to make more of an impact as a substitute; Moura will no doubt claim an almost immediate starting role in the attack third. Menez could be pushed back into a wide position at the expense of Pastore, who can't naturally play out wide.

That issue will only be resolved once Ancelotti's side get back on the pitch against Arras Jan. 6 after a prestigious winter friendly with Lekhwiya in Qatar Jan. 2 But for now, Ibrahimovic has ensured that it was a Merry Christmas for PSG's players as they sit top of Ligue 1 on goal difference until Jan. 13 at least.