Pastore talking his way out of Paris?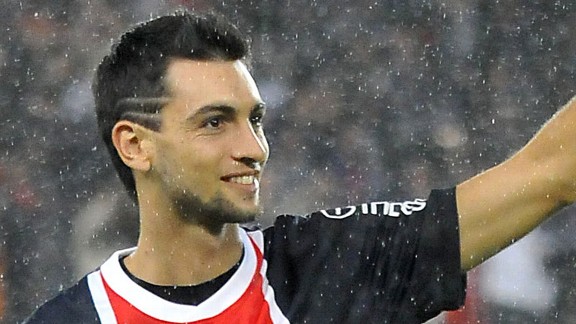 PA PhotosJavier Pastore waves to the PSG fans at his unveiling in August 2011
"I came here to win titles. That was the main reason I wanted to come here," was what Javier Pastore said upon joining Paris Saint-Germain in August 2011.

Just over a year later, a difficult 12 months admittedly, he uttered this statement to Italian magazine Chi: "Sooner or later, I will play for the Rossoneri. I have a wonderful relationship with Adriano Galliani. We will have lunch together away from prying eyes when we next meet up in Milan. Milan is a magical club. That's how I feel about it."

Galliani of course is AC Milan's vice-president and Pastore's words couldn't have come at a worse possible time. Currently amidst a poor run of form, the Argentine playmaker has failed to recapture anything close to the form he showed last year in the French capital and incurred the wrath of coach Carlo Ancelotti recently. Given the recent rumours linking the former Palermo man with a switch to both Milan giants, these comments could signal the end of Pastore's short-lived time in France. The situation showing increasing parallels with that of Manchester City's Robinho in 2010.

"The media are hostile - especially with foreigners. They always protect their fellow countrymen."

"With the French media cheering for the French players it has been very difficult for me to settle down."

The 23-year old does have a point; the problem is that it is a minor one. The bottom line is that he is not performing on the pitch and his recent attitude portrays a player who quite simply doesn't want to be in Paris. Brought in at high cost and amidst great fanfare last summer, Pastore was supposed to be 'the face of the new PSG' and to inspire the fans to dream of success. This hasn't happened.

Despite superlative comparisons with Zinedine Zidane from the French press in his early days with the club (six goals and two assists in his first 10 games); Pastore quickly became something of a figure of hate for the critics because of his emotionless demeanour on the pitch. Those matters weren't helped by his early admission that he became 'homesick' as he struggled to adapt to Paris once he became frustrated on the pitch before last Christmas. The problem had been brewing for a long time though before Ancelotti decided to speak out.

"I am disappointed with his performances and I believe he is disappointed too," Ancelotti told the media recently.

"I am no psychologist, I am a coach. I believe Javier has lost confidence in his own ability. I can help him rediscover it."

It remains to be seen whether he will get the chance. Pastore was no doubt a Leonardo buy and the Italian inherited the Argentine from predecessor Antoine Kombouare, but he has not been able to fit into the former Milan manager's rigid formation thus far, despite it being of Italian origin. This season Pastore has managed one goal and five assists in 14 games, a long way off of beating last season's 13 goals and five assists in 33 appearances (considered only adequate from a player who spent long spells out of form). However, the simple fact is that a player like el Flaco has to either be fully accommodated in his preferred central attacking position behind the striker(s) or loosely deployed as a support striker. Neither will happen in Paris currently.

The arrival of Zlatan Ibrahimovic has given les Parisiens the focal point that Pastore was unable to provide and as a result, Ancelotti has sought to deploy him elsewhere. It hasn't worked. Marco Verratti has excelled in the deep-lying playmaker role that the Italian had earmarked the Argentine for, and Blaise Matuidi occupies the berth on the left of the midfield trio where Carletto has also tried fielding him. Now he is taking to the pitch as a makeshift left winger.

Pastore hasn't become a bad player overnight but it has become increasingly obvious over the past months that accommodating him will take major compromise from one of three parties: Ancelotti, Leonardo or Pastore himself. Either the Argentine decides to apply himself and accept whichever tactical decisions Ancelotti deems fit, or he asks for a transfer. The Italian has indicated a willingness to persevere with the enigmatic player and Sporting Director Leonardo is unlikely to be eager to admit failure on a player who his credibility as PSG supremo rests upon.

One thing seems clear: Pastore is a lost soul. Obviously unhappy in France it is up to the club now to make some key decisions with the Argentine having made his feelings clear. They can either put their arm around him and bend over backwards to accommodate him, risking pushing other players (possibly including future arrival Lucas Moura) out of the first team, or they can show him the door along with Nene, another who has recently spoken out of turn. With recent rumours of interest in Real Madrid duo Cristiano Ronaldo and Jose Mourinho confirmed by the club, it seems PSG will be busy once again this January.