PSG, Ibra Well And Motoring; Lyon Up Next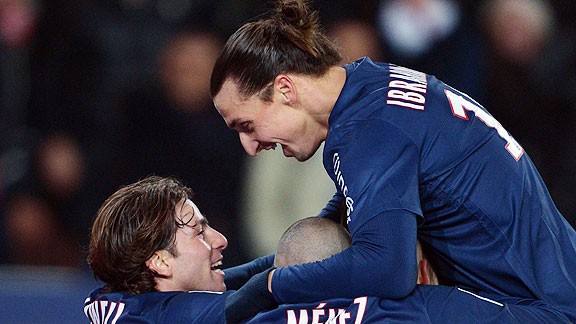 Miguel Medina/AFP/Getty ImagesPSG's Zlatan Ibrahimovic stood tall with his first Ligue 1 hat trick
Paris Saint-Germain threw down the gauntlet to title rivals Lyon in spectacular style Tuesday night, thumping Valenciennes at the fortress that was the Stade du Hainaut, 4-0. It was PSG's second consecutive four-goal win in three days following Saturday's romp over Evian by the same score.

Zlatan Ibrahimovic bagged his first Ligue 1 hat trick to continue his superlative form, taking his season league total to 17 with Ezequiel Lavezzi getting the fourth. The result whittles Lyon's title lead to two points with Remi Garde's side playing Nancy Wednesday, putting les Gones under massive pressure heading into Sunday's clash at the Parc des Princes.

- Ibra's hat trick leads PSG

Carlo Ancelotti's side had failed to win in their previous two away league fixtures but spectacularly blew open a Valenciennes defence that hadn't tasted home defeat since PSG's 4-3 victory there in May. It wasn't just the result that was impressive though; it was the manner of the performance the capital club displayed.

After comprehensively dismantling Evian on Saturday, they annihilated VAFC who simply couldn't cope with PSG, who approached the match in a more attacking 4-4-2 formation to give the side more impetus in the final third.

Ancelotti's decision to ditch the trio of central midfielders he so dearly favours paid dividends as his side dominated pretty much from start to finish. Admittedly the hosts' tactics (or lack of them) played into les Parisiens' hands, but there can be no doubting PSG's clinical edge on the night.

Yes a large part of the victory was thanks to Ibrahimovic's goals, but they were three opportunistic finishes following good team moves, Ibra wasn't the one cutting the VAFC midfield to shreds with darting runs or sumptuously turning his man on the halfway line to exploit a static and ludicrously high defensive line like Lavezzi.

It is almost impossible to look beyond the Swede as the match winner in this game, but it was an absolute team victory. The defence were solid, coping well after the first-half exit of Alex through injury and Mamadou Sakho coped well on his return to the pitch. The midfield duo of Blaise Matuidi (who returned from suspension) and Thiago Motta was solid. Meanwhile, Javier Pastore and Lavezzi feeding Ibra and Jeremy Menez better suited all involved - each of the goals involved Pastore, Menez, Lavezzi and Ibra.

Ibrahimovic in that role has less of a burden in feeling the need to drop back and pick the ball up from deep and that way, he can play as the out-and-out striker in the team. This freedom empowered him in and around the box, allowing him to be more of a predator and the result was three simple but vital goals.

The Lavezzi finish was more encouraging for a different reason. Until lately the Argentine hasn't been fit enough to really hit full throttle. Now he obviously feels much fitter and his confidence is growing with every passing match. The goal was the perfect example of why PSG need Lavezzi; he has a turn of pace few in Ligue 1 can match and certainly no defenders can live with.

His first league goal of the season Saturday could have opened the floodgates as his involvement going forward saw many chances falling his way.

Looking ahead to the Lyon game, Ancelotti needs exactly the same sort of showing, having built up such momentum. Impressive as the victories are, neither Evian nor Valenciennes are as good as Lyon. Garde's side will not fall apart the same way and it is likely that OL's two-point lead will be restored to five come the end of Wednesday night.

What was vital, however, was to sew that seed of doubt in Lyon's minds, to bring the extra pressure of knowing you are facing one of the league's most formidable sides.

Whether PSG won 1-0 or 4-0 in Valenciennes didn't matter - what they needed to do was win. That they did it so comfortably is a bonus for Ancelotti, who will now drive his team forward with the bit between their teeth having answered their coach's, and critics', questions regarding their desire with an emphatic volley of response. The answer was clear: PSG want this title.