Ancelotti To Push PSG Into Full Attack For Visit To Valenciennes?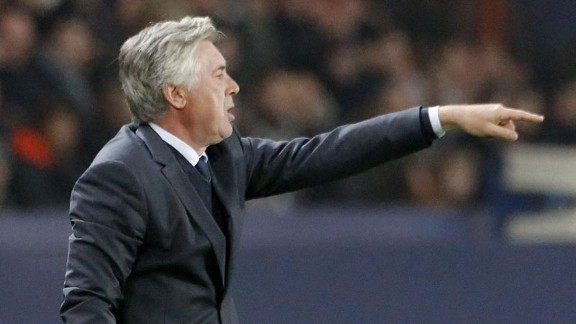 PA PhotosCarlo Ancelotti
Following Paris Saint-Germain's emphatic 4-1 victory over Evian on Saturday, Carlo Ancelotti's side demonstrated to their coach that they are capable of putting on devastating attacking displays when they want to.

So it begs the question, heading into Tuesday's important clash with high-flying Valenciennes, when will the Italian be tempted to move away from his trusted three-man midfield lineup and plump for a more exciting, forward-thinking variation? Saturday's rout saw a number of attacking talents impress, not least Javier Pastore, and with the clash with table-topping Lyon looming on Sunday, PSG need to be firing on all cylinders from the front.

With the return of Kevin Gameiro to action and goalscoring form, the improving efforts of Pastore following Ancelotti's public dressing down of the Argentine and the omnipresent goal threat of Zlatan Ibrahimovic, King Carlo's squad selection could be picking itself at present. Ezequiel Lavezzi has also impressed, improving game after game as he returns to full match fitness and Brazilian winger Nene talks his way out of the club. Given the prolonged absence of Italian wizard Marco Verratti in midfield and his partner in crime Blaise Matuidi who will serve the last of a two-game suspension, Ancelotti has the perfect chance to experiment with his side again.

Pastore functioned brilliantly as part of the midfield selection on Saturday, orchestrating two of the capital club's goals: first with a slick backheel to allow Christophe Jallet to provide Ibrahimovic with his 14th goal of the season, before allowing Gameiro to complete a flowing team move with a glorious cut-back across goal. The Argentine's shift of position into the middle area will allow Ancelotti to focus on the development of Ibra, Lavezzi, Jeremy Menez and Gameiro as the side's main attacking options and the VAFC game provides an ideal opportunity to give the former Lorient man some vital prolonged game time, ahead of what will no doubt be a cameo appearance against OL at the Parc des Princes on Sunday.

At times this season and particularly away from home, Ancelotti's midfield trio has been a hindrance to the team's chances of claiming maximum points and has not safeguarded the defence in any way. Take the 1-1 draw in Montpellier or the 2-1 defeat in Nice, neither game saw les Parisiens benefit from the presence of three midfielders and if anything, it was the midfield that cost Ancelotti's side the three points (Matuidi's criminal loss of possession against MHSC in particular). In games like that, this PSG side who are set up to play an almost perennial counter-attacking game even at home, could perfect their approach to matches on the road to start claiming vital points to claw the ground between themselves and Lyon back.

Captain Jallet also illustrated his importance to the attacking cause on Saturday with an impressive performance, capped by that assist for Ibrahimovic but particularly encouraging was his link-up with Pastore. Evidenced in that Ibra finish was an understanding between the Frenchman and the Argentine, a rare occasion this season that Pastore has appeared to have formed a rapport with one of his team-mates (the other being Verratti's assist for Pastore's lob v Toulouse).

Now appears to be the time for Ancelotti to put the team into full attacking mode, maximising the talent in the midfield and his plentiful options on the touchline to give the side a bit of variety. At times this season PSG have looked starved of a Plan B when Plan A has not garnered the desired results. With the return to action and immediate form of Gameiro and Lavezzi becoming more important by the match, the Italian can now settle on his favoured starting team for the first time this season when Lyon come to the capital at the weekend. Before that though, Valenciennes is the perfect dress rehearsal.