PSG ease pressure off Ancelotti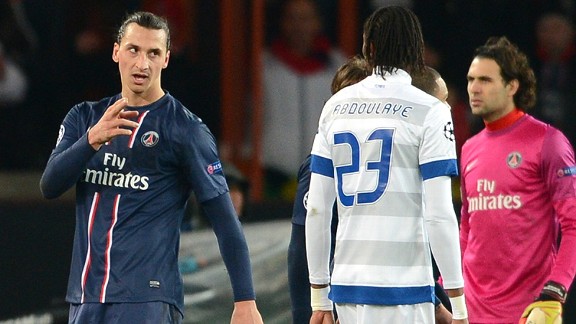 Martin Bureau/AFP/Getty ImagesPSG's Zlatan Ibrahimovic offers a simple reminder to Porto's Abdoulaye Ba as to who finished top of Group A in the Champions League.
Paris Saint-Germain eased the pressure on coach Carlo Ancelotti with a solid, if unspectacular, performance in the Champions League to beat Porto and finish on top of Group A. The Italian had gone into the game under intense scrutiny given PSG's disappointing league form but his side have looked impressive in continental competition and advanced with 15 points from a possible 18, potentially the highest total in this season's edition. Importantly, the capital club delivered when they really needed to and a victory over Evian in Ligue 1 on Saturday will go some way to repairing the damage done in recent weeks.

The hosts started well looking determined and purposeful as they put the Portuguese under early pressure. Jeremy Menez, Ezequiel Lavezzi and Zlatan Ibrahimovic were particularly menacing with the Argentine going close after just a few minutes. Javier Pastore, selected by Ancelotti despite criticism of the playmaker from many including the Italian, made a bright start despite his almost exclusive role on the left. It was his through ball to Menez that enabled the Frenchman to win the free-kick that provided PSG's opener.

Set pieces have been the preserve of Ancelotti's side in the competition this season although ironically, two of their three conceded goals so far in this campaign have come from dead ball situations. Thiago Silva leapt to meet Maxwell's whipped cross to head home and it capped an impressive performance from the Brazilian who looked assured as captain. The most disappointing thing however is that no sooner had PSG taken the lead than they immediately switched off as Porto equalised through a Jackson Martinez header following some static defending. The side's concentration levels have been a problem for Ancelotti so far and it seems there is work to be done ahead of the latter stages.

Lavezzi though, les Rouges-et-Bleus saviour in Zagreb earlier in the group, once again came to the rescue with a fortuitous winning goal thanks to a howling error from Porto's Brazilian goalkeeper Helton. No less than the Argentine deserved for a night of heavy lifting and high effort with little reward, his tireless display in attack gave PSG a direct threat that they had been lacking in his absence due to injury and suspension.

The biggest talking point of the evening is arguably the lack of communication on the pitch which is palpable when watching from the Parc des Princes stands. When the team are in full flow and the players are playing by instinct and making snap-second decisions, they show their real technical ability and play some great football. Where it all falls apart right now is that there is a lack of communication on the pitch when the game is static. Often the ball will be in defence to start the move and there will be little movement or indication from the midfielders and attackers, in tonight's case Silva and Alex in defence, to let them know that they are available. Perhaps that comes from the mix of nationalities within the team and it is something that will improve with time, but right now it is clear that not everybody is on the same wavelength.

Overall, it is a highly satisfying result for Ancelotti who, if nothing else, has created a team that are able to produce a victory when under the cosh in Europe, even if it is not pretty. The victory eases the pressure on the Italian and with continental football now taking a break until 2013, the team can focus on becoming more of a unit.

Admittedly PSG were expected to waltz out of Group A when the draw was made and credit to them because they have done just that and finished with one of the highest points totals of the group stage this year. That doesn't necessarily count for much, particularly given some of the sides who finished in second place and could therefore face the capital club.

But at this moment, it was a much-needed win and a top place finish in the group represents progress for this young side. They are not the finished article as everyone seems to expect them to be, but by the time February rolls around, expect it to be a different PSG side that we are talking about.