Knives Already Out For Ancelotti Ahead Of Porto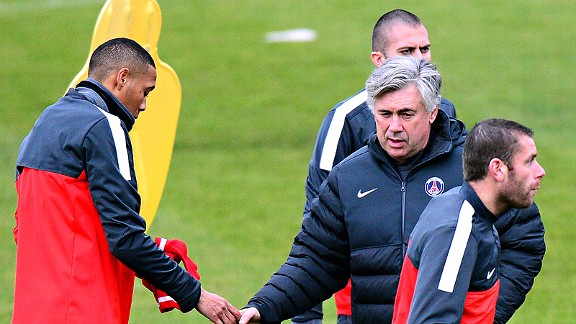 Franck Fife/AFP/Getty ImagesGuillaume Hoarau, left, offers support to PSG manager Carlo Ancelotti during training Monday
"My players don't make a team. They're still a group of individuals. We still don't have any consistency in our game. It's neither solid nor unified. The work of a coach is to find a solution very quickly."


So spoke Carlo Ancelotti in the wake of Paris Saint-Germain's disappointing defeat to Nice at the Stade du Ray Saturday. The Italian will have to find that solution extremely quickly if he wants to avoid becoming a surprise managerial dismissal before Christmas as the capital club battle to prove their domestic supremacy, now trailing leaders Lyon by five points in Ligue 1.

PSG's home Champions League match with Porto Tuesday gives Carletto an opportunity to relieve some of the pressure if they can beat the Portuguese champions to top spot in Group A. But at this point that victory would only paper over the cracks.

Since the start of November, les Parisiens have struggled in le Championnat with continental competition proving the only consolation in what has been a difficult month that culminated in an agonising Coupe de la Ligue defeat on penalties to title rivals Saint-Etienne.

Ancelotti clearly has not been able to turn his expensively assembled collection of superstars into something more resembling a team and the pressure, it appears, has now begun to tell. The first signs came after home defeat to Rennes in which PSG looked poor, shy of confidence and badly in need of their absent talisman Zlatan Ibrahimovic.

But not even the 12-goal striker's presence against Troyes and Nice has been able to galvanise les Rouges-et-Bleus and following a third defeat in five Ligue 1 games, Ancelotti's position is already becoming increasingly untenable.

"As coach, I have to take my share of responsibility, but the players have to do the same," the former Chelsea manager said after the Nice defeat. "I get the impression that the players feel the club's project and the problems in the team's play are of no concern to them."

The Italian is not one to dodge responsibility. But of real interest and perhaps more telling were his comments regarding Javier Pastore, the supposed 'face' of this new Paris Saint-Germain side and the club's most costly acquisition to date at 42 million Euros.

A pet of Ancelotti's since his arrival late last December, the Argentine has failed to impose himself upon the team this season and has become something of a peripheral figure in recent weeks after a decent start to the campaign. The former Palermo man was criticised at times for his attitude last season, and despite finishing with 13 goals and five assists, his contribution was considered disappointing.

This season has been even worse, with just a solitary league goal and four assists with an extra strike in the Champions League.

Speaking to the French media about Pastore's frustrations, Ancelotti said: "I am disappointed with his performances and I believe he is disappointed too.

"He works hard and is concentrating on improving his fitness and confidence. I am no psychologist but I am a coach. I believe Javier has lost some confidence and quality on the pitch, so he has to find trust again and I can help him."

Although he stopped short of writing Pastore off, his comments regarding the playmaker cap a remarkable change in attitude towards towards the club's record transfer. In early January he was undoubtedly the star of the team along with Brazilian winger Nene, but has since fallen out of favour and become well acquainted with the Parc des Princes bench.

The criticism now begs the question: has Ancelotti been compromising his team's chances by trying to accommodate players such as Pastore who are just incompatible in the same side? With the Argentine international, that seems the case; last season's top scorer Nene has also fallen out of favour as the Italian favours his newly assembled attacking lineup.

Europe has often provided solace for Pastore this year but there is a sneaking suspicion that he could still be PSG's Robinho, in that he opened the door for other players to join the club but has achieved little there himself.

Arnaud Hermant of Le Parisien follows the team day-to-day as Ancelotti seeks the 'radical change' he has promised. Speaking in an interview on Monday, Hermant believes that the diminishing presence of PSG's domestic talent is the real problem that is costing them on the pitch.

"I think Ancelotti has now decided to base his team on players inexperienced in France, so mostly foreigners like we saw against Kiev. Some of the French guys were injured like Jeremy Menez, but soon we will have a whole squad of foreigners with no home-grown talent. This is a problem, especially as some current members of the side are relatively unproven still."

Mamadou Sakho is one of those who has recently lost his place in the side after a red card in the 1-1 draw with Montpellier; he could return to the heart of the PSG defence against Porto. Captain Christophe Jallet should retain his place in the side and Blaise Matuidi will once again anchor the midfield before he begins a two-game suspension for his late dismissal on the Cote d'Azur. Marco Verratti could return alongside the French international after missing the Nice defeat and Menez also returned from injury in the match.

Despite having played a relatively large role in the campaign thus far, the onus will now heavily be on PSG's home-grown talent to compliment Ibrahimovic's goals and provide the glue so that Ancelotti can finally stick with one favoured approach. Rumours are already circulating in the French capital that the club are looking at Real Madrid's Jose Mourinho and former Barcelona mastermind Pep Guardiola to lead the team to relative immediate success.