Ibrahimovic reaches out to beckham for helping hand
"If David Beckham still wants to win more trophies then this is the right club for him to join," so says Zlatan Ibrahimovic. Paris Saint-Germain's talismanic Swede expressed his desire to see Beckham shun one final adventure in China, Russia or Australia to return to Europe, but only to a club that he believes is capable of challenging for top honours. Ibrahimovic believes that the 37-year old and former AC Milan team-mate can still play at the highest level, amid interest from Queenss Park Rangers, West Ham and French rivals Monaco.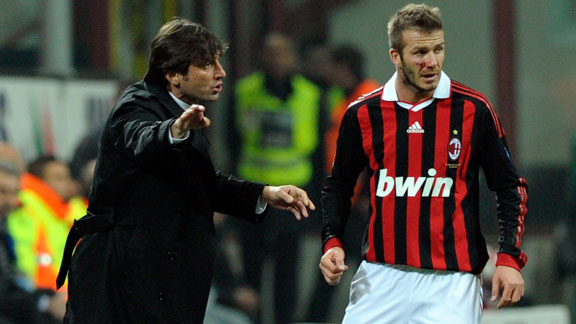 GettyImagesDavid Beckham could be reuinted with former AC Milan coach Leonardo at PSG
Speaking on the subject recently he said: "I am sure there will be many offers for him from clubs all over the world, but it is a very exciting project here in Paris. We can win the Champions League over the next two seasons with the team that is being built."


If PSG want Beckham then now is the time to strike after last winter's failed bid - because of the Englishman's insistence that he was not prepared to uproot his family from their happy life in California. With that now seemingly not a problem, Carlo Ancelotti's side have been presented with a fresh opportunity to snare the LA Galaxy man. Arguably last time Leonardo and Qatar Sports Investment came knocking the PSG project fell flat and lacked the real necessary talent to help the club realise its ambitions. Now though with Ibra and Thiago Silva at the club, les Rouges-et-Bleus have certainly added more glamour and top ability on the pitch through their summer signings, but crucially they have more credibility to the project with their array of superstar talent and Champions League participation.


Speaking about his future in the wake of interest from nouveau riche Ligue 2 outfit Monaco who are now coached by former Chelsea manager Claudio Ranieri, Beckham said: "I am very flattered that I've still got managers like Carlo Ancelotti, Harry Redknapp and Sam Allardyce coming out that are saying they'd love me to play, it means a lot to me. I still feel I can play and I'm not considering retiring."


Despite his 37 years of age, the interest in Beckham suggests that he still offers plenty on and off the pitch. On the pitch he is a leader, a player of the highest experience which is something sometimes lacked by PSG this season and off it he is an icon, a brand and an extremely marketable tool who attracts interest from all parts of the globe wherever he goes. The Englishman who boasts 15 domestic trophies from three different club sides is a proven 'winner', exactly the way Ancelotti describes Ibrahimovic, and no matter where he has played his almost flawless technical ability is not diminished by his ageing legs. Beckham's experience would be invaluable to a bright crop of young talents such as Adrien Rabiot coming through in the French capital currently, but his presence would also take the pressure off of the likes of the towering Swede and Silva, who at times look like they are trying to lead this PSG side by themselves (as evidenced by PSG's Coupe de la Ligue defeat to high-flying Saint-Etienne).

Like Monaco, PSG will have seen the opportunity to gain new followers that the name David Beckham gives as it opens up new markets to French football. Les Monegasques, who are now owned by ambitious Russian billionaire Dmitry Rybolovlev, find themselves in the second tier despite comfortably being one of the country's most affluent clubs. They can still offer an exciting, challenging and ambitious project to Beckham though however, the club's lack of a widespread fanbase and the perceived apathy towards football surrounding ASM could deter Beckham from that option.

The capital club then appear to be Beckham's best chance be part of something big that would be able to potential deliver the same satisfaction that the former Manchester United man is looking for. Also for PSG, given Ligue 1's rapid growth over the past 24 months, French football potentially has more longevity if it can capture the imagination of new fans now given its high entertainment value. For so long domestically France has been derided as a 'backwater' league and now with genuine superstar talent playing their trade there, David Beckham arriving the capital could be the arrival that finally helps Ligue 1 make its highly anticipated breakthrough.

Beckham said upon his announcement that he was leaving MLS that he seeks "one last challenge" before he retires. There is no doubt that Monaco's project offers the former England captain an ambitious project to work towards, but with all due respect Monaco is not and never will be like Paris in football terms. A move to PSG if he does decide to return to Europe makes sense for all parties concerned and the Qatari millions on offer are far more likely to be able to offer a more immediate recognition of the completion of this "challenge" than les Monegasques. All talk though takes a back seat on Saturday as Beckham prepares to make his final appearance in the MLS Cup final in California as the Galaxy take on Houston Dynamo. Meanwhile, his potential future team-mates travel to Nice in the unfamiliar position of second in the table.